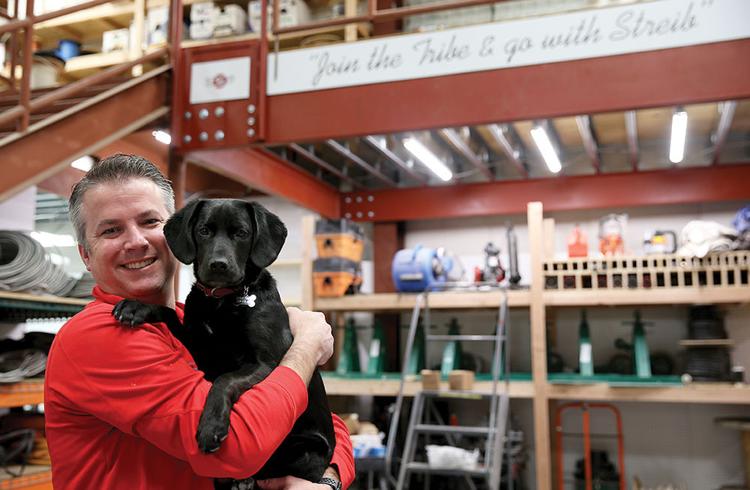 With one man, a truck and a home office in Shrewsbury, Tom Streib started Streib Company.
"I started in the trade right out of high school in 1995 with a dream and a passion for business," said owner Streib. "Gaining years of experience and focusing on the vision, I took the leap of faith in 2003 and Streib became official in 2004.
"Today, we are 80-plus people in the business plus our newest addition, Lulu the shop dog, headquartered in our 18,000-square-foot building in Crestwood. We've called this home since 2015," he continued.
Streib offers electric, media and security contracting.
"From repairing the smallest electrical problem to wiring your entire home or office, we've got the team to perform it all," said Streib.
That includes boosting a home's wi-fi, installing smart-home audio or video, and designing and building a full smart-home experience. The company also handles home security from monitored security systems to cameras and door-access control.
While the size of the business has changed, Streib Company is still passionate about the consistency in the delivery of its product.
"When we were smaller, this was easily communicated throughout the company," Streib said.
"As we grow, we have learned to develop more effective ways to communicate and deliver the Streib brand.
"It is the Streib family that continues to be our solid foundation on which this company is built – from the Streib team to our great customers," Streib said. "Continuing to listen to our great team, we are always challenging ourselves to refine the process and improve the product so that our customers can expect consistency of excellence in our brand."
Streib Company
9225 Watson Industrial Park • Crestwood
314-487-7474 • www.streibco.com