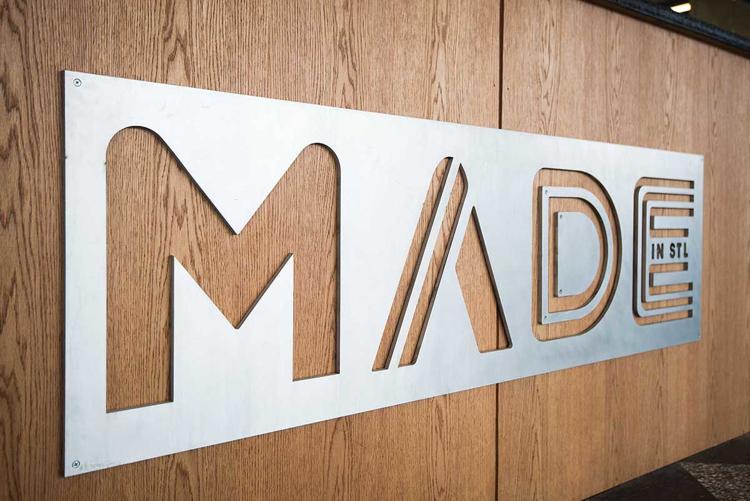 On any given day, MADE is humming with the sounds of laser cutters, 3D printers, welding equipment, woodworking tools, sewing machines and more. It's a place where dreams come true for many St. Louis makers and creators.
Dubbed St. Louis' premiere modern makerspace, MADE — which stands for Makers, Artists, Designers and Entrepreneurs — is true to its name. Whether it's a bright idea, budding business, passion project, side hustle or hobby, MADE is where the magic happens.
At the intersection of where dreams meet reality, the space on Delmar Boulevard in the city's Academy neighborhood is where prototypes are tested, designs are put into production, sparks fly in the welding bay, projects take shape in the woodshop, and makers roll up their sleeves to create and collaborate.
More than half a million dollars of equipment is housed in the 32,000-square-foot building at 5217 Delmar Boulevard, across the street from Third Degree Glass Factory. Since opening in November 2018, the space has become a hub for creators of all kinds and capabilities, from skilled experts to newbies excited to learn.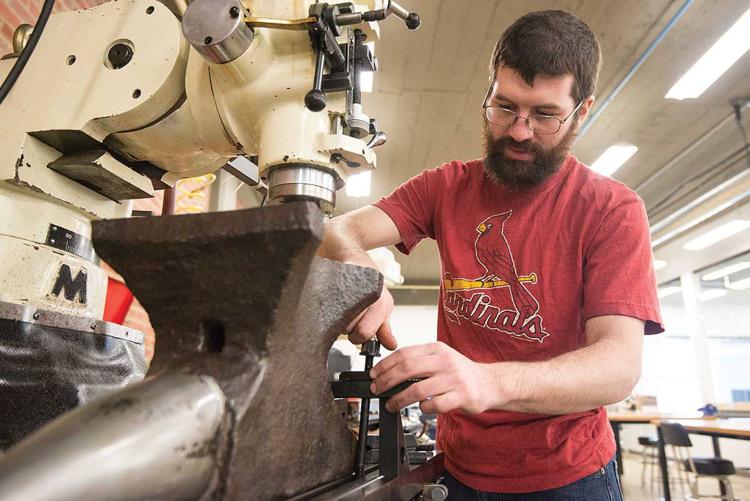 "We cater to anyone and everyone," said Emily Elhoffer, who serves as director of membership at MADE and uses the space as an artist herself. "Whether you're at a novice level or expert level, have used a laser cutter a hundred times before or never, or if you want to learn how to quilt or sew or screenprint — this space is for you."
While the DYI-ers (Do It Yourself) often enjoy working on their own, MADE offers classes, training and private instruction for those who want to learn specific skills or use a particular machine. MADE houses over 40 different machines with a wide range of capabilities including laser cutting, 3D printing, powdercoating, waterjet cutting, embroidery, quilting, welding, woodcutting, metalworking, plastic fabrication and more.
"Some people want to do it all themselves, and some people want to have some handholding through a project," Elhoffer said. "Whether you want help or not, there's a ton of different ways you can use the space."
MADE already has more than 100 members using the machines, plus many others taking classes and receiving instruction. Memberships cost $50 a month, plus a small hourly fee for use of the individual machines, but membership isn't required to take classes or workshops.
Thomas McFarland is a welding instructor at MADE and uses the space to work on his own projects in the evening and on weekends. He said the facility makes it possible for makers to take an idea all the way from the initial stages of development to a final product.
"MADE is great at cross-discipline work," said McFarland, who works as a welder for an iron company. "At MADE, you can come in and cut some metal, weld a table base together, create the wood table in the woodshop and then laser cut a design into it. If you can't do any of that, we have people who can teach you. A collaboration of artists, makers and just curious people can get a lot done."
Not only does MADE provide makers with access to machinery they may not have had otherwise, but also an opportunity for creators to collaborate.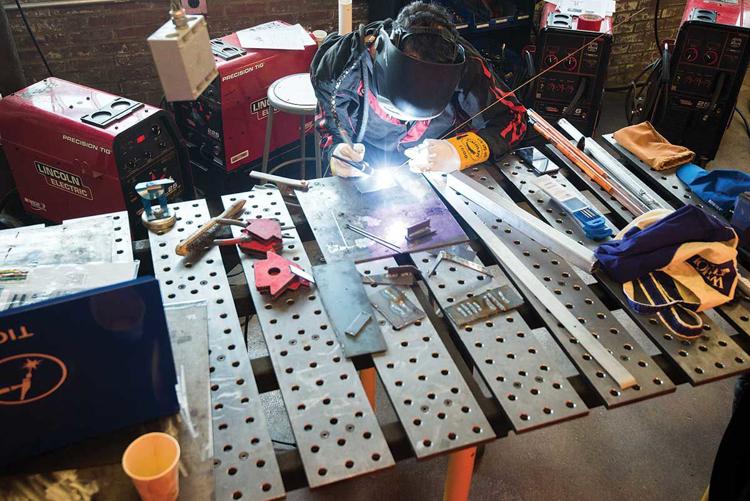 "It's a very exciting place to learn new things from people who have all kinds of backgrounds and skills," said MADE member Joshua Falconer, who is developing prototypes of art easels for his start-up business.
The space itself fosters that camaraderie.
"You could be using a welding bay to finish a sculpture, which is next to another welding bay and next to that someone is working on a fabricator, so you start talking to each other, asking for advice and sharing ideas," Elhoffer said. "It creates a great environment, and you get to collaborate with awesome people."
"A Phoenix-Like Recovery"
The power of that creative, collaborative environment, coupled with access to the machinery, tools and software necessary to create new products, is what St. Louis entrepreneur Jim McKelvey wanted to preserve when the former makerspace in St. Louis known as TechShop closed suddenly in late 2017.
More than 500 local makers were left without a space to create when the national chain, which had 10 locations including one in the Cortex Innovation District in St. Louis, filed for bankruptcy and abruptly closed all of its shops.
McKelvey, who owns Third Degree Glass Factory with Doug Auer, had been part of a makerspace in California when he developed the mobile payment technology and prototype for Square, Inc.
When McKelvey and Auer expressed interest in saving the makerspace in St. Louis after TechShop closed, Cortex literally gave them the tools to do it.
"Cortex was a huge part of this," Elhoffer said.
MADE co-founders McKelvey and Auer took the equipment and machinery from the TechShop, spent a year rehabbing the brick building across from their glass factory and then opened the space for makers and creators a year later in November 2018.
MADE member Falconer, who is a St. Louis transplant from a former TechShop in Virginia, is grateful he has a place where he can continue his work making and testing prototypes of a new portable and adjustable easel he's creating for his start-up business RASA Easels. MADE played a significant role in his move to St. Louis.
"While there are other makerspaces in other cities, few were as well equipped and organized as MADE," he said. "St. Louis is one of a small handful of cities that can boast a phoenix-like recovery with a new makerspace alternative to TechShop. It is a rare and wonderful gift to have access to such a versatile makerspace in a post-TechShop world."
Falconer said since having access to the laser cutter at MADE, his prototyping process has sped up exponentially.
"I've made hundreds of prototype tests and versions on the lasers at MADE," he said, noting his products are currently being sold for a limited time at St. Louis Art Supply in the Central West End. "It is now possible to make a test, isolate a problem, address the problem in a revised design and make another test – all in the same day."
MADE is also inspiring the next generation of makers through a partnership with the Magic House children's museum in Kirkwood, which will open its first satellite location at MADE this summer with camps, classes and programs for children ages 8 to 14.
Experience MADE
The best way to learn more about MADE is to experience it. Tours are available and MADE also hosts a family-friendly open house on the third Friday of every month featuring equipment demonstrations, makers and creators selling their products, tours, music and cocktails.
For more information, to schedule a tour or become a member, call 314-328-5656 or visit madestl.com.