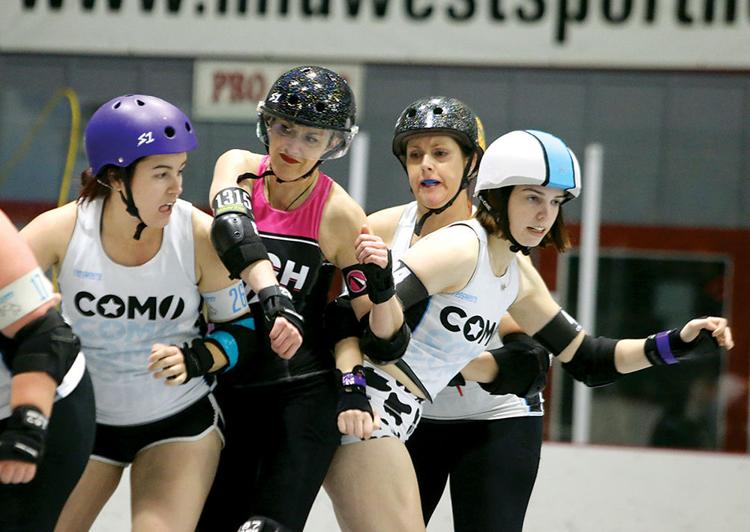 In August 2019, a new minister joined the leadership of First Unitarian Church in the Central West End. But while Kim Mason might be ordained, she's anything but ordinary.
Forty-three-year-old Mason has lived all over the country. She's studied journalism and women's issues. And for the past seven years, she's been circling the roller derby rink as her alter-ego: the Sunday School Slammer.
"They say you have three names in roller derby. You have your legal name, your roller derby name, and what your roller derby name has been abbreviated to," said Mason. "I've been Sunday for a long time. It's a perfect name for a minister."
Mason spent her childhood moving around. Between birth and high school graduation, she lived in Indiana, Pennsylvania, Connecticut and two cities in North Carolina, where she got her bachelor's degree. At the University of Georgia she earned a master's in journalism, but it wasn't her calling, and Mason found herself involved in women's issues and Unitarian universalism, which led to a 10-year stint as a Sunday school director. Mason continued her migrant lifestyle, living for periods in both New Jersey and Tennessee. 
When Mason decided she wanted to take the next step, she studied at a seminary in Chicago, later moving to Denver. Once finished, Mason was offered a position at First Unitarian, and she became a St. Louisan in August. 
"One thing that attracted me here is its location. I think St. Louis as a city is at the heart of several issues facing our country today," she said. "We're having a very public conversation of a national conversation around reproductive rights, the consequences of climate change and racism. I think it's really valuable. Those issues are present and you get to talk about them as they're live in the rest of our country."
The Saga Of Sunday
Mason might be new to Missouri, but when she arrived in St. Louis, she had years of roller derby experience under her wheels. She attended her first game as an audience member just after moving to Knoxville, Tennessee. Mason was immediately enraptured with the thrill of the game and how much fun everyone seemed to be having. And don't forget pun-inspired player names like Cloak and Drag Her or Indiana Bones.
"The things these women did on roller skates were amazing," said Mason. "I posted on Facebook that I was at the game … and a colleague of mine in DC sent me a private message asking if I was thinking about trying roller derby. She said, 'you should totally do it. You'll make the best friends.' And it hadn't even occurred to me. I didn't know how to skate. But she planted this seed and I just kept thinking about it."
So Mason joined the Hard Knox, learned to skate, and fell in love with the sport. 
Roller derby is a game with two teams of five players. One skater on each team —  the jammer — attempts to skate laps around the rink to earn points. The remaining players on each team act as blockers and attempt to slow the path of the other team's jammer while facilitating the movement of their own. One blocker on each team may be designated as a pivot and can swap places with the jammer in strategic situations. 
Mason started as a jammer, playing five years in Knoxville and continuing for two years after moving to Denver. But she's mixing it up in St. Louis, playing on the C-team for Arch Rival Roller Derby league as a blocker. 
"I actually wasn't sure I would even make the league … Arch Rival's A-team is ranked fourth in the world. When I moved here I thought, 'oh my goodness, I don't know if I'm prepared to skate at this level,'" said Mason. "But the league here is really wonderful. They're very welcoming and encouraging. They have a very positive culture that encourages the development of all levels of skaters."
And by "all levels," Mason really means it. Arch Rival offers workshops for beginners and tryouts for those who think they have what it takes to join a team. Mason's teammates span from 18 years old to those in their 50s. She's seen all body types perform well in the sport.
While roller derby was traditionally a woman's game, a resurgence in the early 2000s opened it up to those of all gender expressions. Mason skates with transgender women, nonbinary individuals and everyone in between. There's even a Men's Roller Derby Association, to which belong the St. Louis Gatekeepers.
"A lot of people see it as aggressive and violent and I've pushed back a little on that because that interpretation is based on it being a sport played by female-identifying people. Nobody blinks at football. This city loves its hockey team, and yet people say roller derby is so violent. That really is about gender expectations," said Mason. "I think there's something about roller derby that invites folks. It's very empowering. It invites people to connect with a different side of themselves."
Skating has been good for Mason's mental health as well. It forces her to get out of her office to go practice, and it allows her to learn about and interact with every city she skates for.
Of course, she can't resist bringing a little scripture onto the rink. Mason's jersey number is 1315, as in Deuteronomy 13:15 — "Thou shalt surely smite the inhabitants of that city with the edge of the sword, destroying it utterly..."
Arch Rival offers beginner sessions and interest checks several times a year. To learn more about workshops, look up a game schedule or purchase tickets, visit archrivalrollerderby.com or email recruit@archrivalrollerderby.com.
To see Mason in church, visit First Unitarian at 5007 Waterman Blvd. Sunday service begins at 10 a.m.