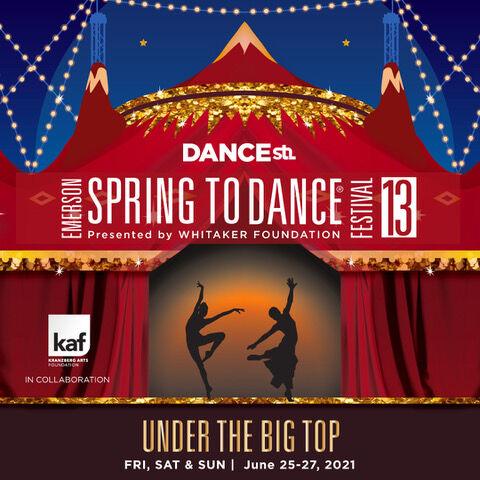 Dance St. Louis announces its presentation of the Emerson SPRING TO DANCE® Festival 2021, June 25-27 under The Big Top in the Grand Center Arts District, 3401 Washington Boulevard.
Now in its 13th year, and noted as one of the region's must-see festivals, the vibrant dance extravaganza, which features a smorgasbord of dance styles and genres from prominent companies from across the country, will look and feel differently than it has for the past 12 years when Dance St. Louis presented the popular festival at the Touhill Performing Arts Center.
This year, in working closely with the Kranzberg Arts Foundation and in consultation with city officials and approval by the City of St. Louis Department of Health, festivalgoers will still enjoy a wide array of professional dance but will also experience five show times (matinee and evening performances), socially distant pod seating and contactless ticketing. Tickets to SPRING TO DANCE Festival 2021 are now on sale through MetroTix.
Tickets are $25, but only available for purchase in socially distant seating pods: $50 for 2-person pods, $75 for 3-person pods, $100 for 4-person pods, and $125 for 5-person pods. Tickets are on sale via MetroTix at 314-534-1111 and https://www.metrotix.com/events/detail/dance-st-louis-emerson-spring-to-dance-festival-2021.
In the same tradition as past years, this year's festival features three days of nonstop dance, ranging in style from contemporary and modern to ballet and hip hop. The festival offers something for everyone with a different program each day, and it remains the best opportunity to see a wide range of nationally touring professional dance companies in one place.
Pod tickets may be purchased up to the date of the festival, but must be done in advance of show time. There will be no will-call or in-person box office with money or ticket exchange. All ticket scanning and seating will be contactless. There will be no day-of tickets sales onsite at The Big Top.
Dance St. Louis has been approved as Missouri ArtSafe Certified. Dance St. Louis' highest priority during the coronavirus pandemic is the health, safety, and peace of mind of its patrons, performers and crew. In conjunction with venue partner Kranzberg Arts Foundation, SPRING TO DANCE will adhere to the health and safety measures outlined in Dance St. Louis' Safety Plan and Kranzberg Art Foundation's Greenlight Manual, which includes guidelines and approval from local public health and city officials.
All festivalgoers will be required to wear a mask upon entering the premises for The Big Top and throughout the duration of the festival. For more information on COVID-19 mitigation policies for all Kranzberg Arts Foundation venues, including The Big Top, visit https://www.kranzbergartsfoundation.org/covid-19. To review the Dance St. Louis Safety Plan, please visit https://www.dancestlouis.org/safetyplan.