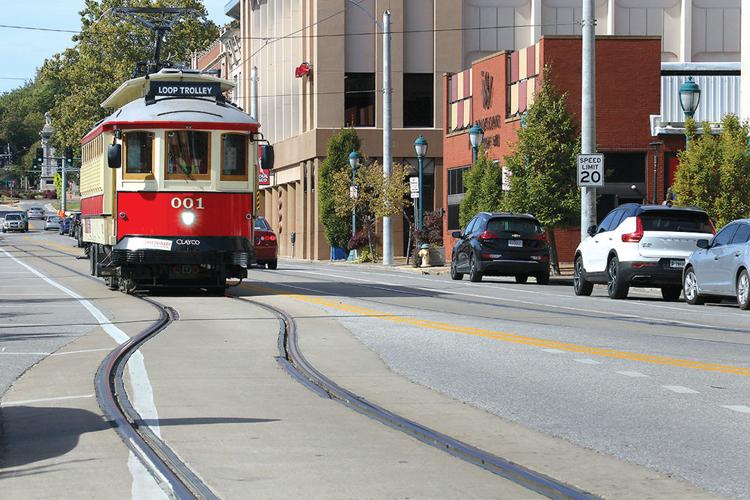 After years of doubt, delays and funding issues, the Loop Trolley — a 2.2 mile, fixed-track system stretching from Forest Park to the Delmar Loop — finally opened Thanksgiving weekend in 2018. But just one year later, the "little trolley that could" may have reached the end of its tracks.
On Oct. 12, 2019, Loop Trolley Company President John Meyer, Jr. requested $700,000 from the St. Louis County Transit Fund to remain afloat. Two-hundred thousand dollars of that would fund the trolley for the remainder of the year; the rest would keep it running into 2020. Without the money, he said, the trolley will cease operations by mid-November of this year.
St. Louis County Executive Sam Page issued a statement asserting that money could be spared from the county's Public Mass Transit Fund, but that he would not commit funding "without similar investments from other stakeholders."
Since the request for funding, the Loop Trolley has reduced its service, operating noon to 6 p.m. Thursday through Sunday, with only one of two cars running on most days.
Joe Edwards, owner of Blueberry Hill and other prominent Loop properties, maintains that the trolley will run seven days a week with full hours after a company in Iowa fixes mechanical issues with a third car. He predicts the process will take five to six months.
"Once it's ready, it'll be a game-changer," said Edwards, who is also president of the taxing district that helps fund the trolley. "The project really needs operating capital until that third car is certified. Once that happens, I think it'll be very helpful and fun and great for St. Louis."
The Beginning
Perhaps the most vocal proponent for the Loop Trolley, Edwards first thought of bringing the old-fashioned streetcar to St. Louis in 1997 at a neighborhood event.
"At the time, the western part of the Loop was coming back but the eastern part was not great," he said. "(Neighbors) said, 'let's put banners on light poles, flower pots on streets.' Those were good ideas, but it wouldn't attract development. About an hour and a half into it, it hit me: My god, this whole neighborhood was built around a streetcar system. We ought to bring back the trolley and connect one of the number one city parks to one of the number one streets in America."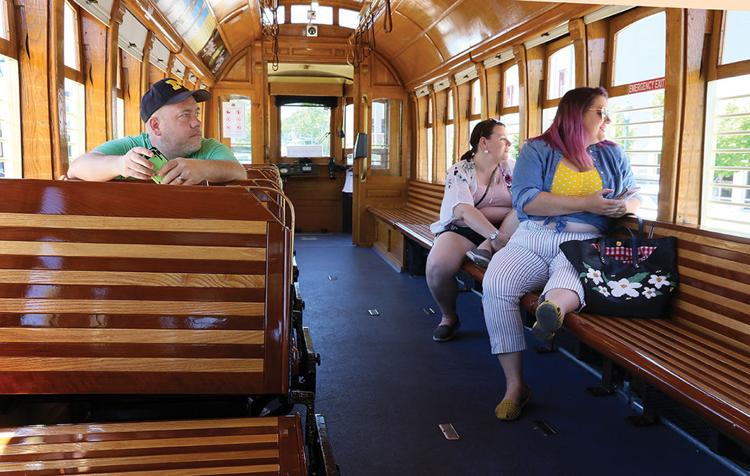 Edwards created the nonprofit Loop Trolley Company in 2001, along with Modern Transit and other proponents. Six years later, voters in University City and St. Louis County approved a special sales tax to fund the Loop Trolley. A $24.9 million dollar grant from the Federal Transit Administration was approved in 2010 and secured in 2012. The cost of constructing the trolley system was then estimated at $43 million.
Despite two 2013 lawsuits claiming project approval was obtained illegally, plans for the trolley chugged along. In 2015, the St. Louis County Council approved a $3 million allocation, allowing for matching federal funds.
In March 2017, several years after the original predicted completion date, main track construction wrapped up. Despite total costs reaching over $51 million — $8 million over budget — Edwards beseeched the county for an additional $500,000 that October to avoid the insolvency of the Loop Trolley Company.
Development company Clayco answered the call, donating the cash that December. Delays for safety testing followed. Finally, the Loop Trolley was up and running in November 2018.
Trolley Trouble
"How is it that a project that cost $51.5 million fails within the first 10 months?" asked University City Councilman Tim Cusick at an Oct. 14, 2019, council meeting.
Cusick said he would introduce legislation proposing the federal government investigate the Loop Trolley. Cusick was not the last to suggest the money may have been mishandled. On Oct. 23, Mark Harder of the St. Louis County Council called on legislators to launch an audit of the project.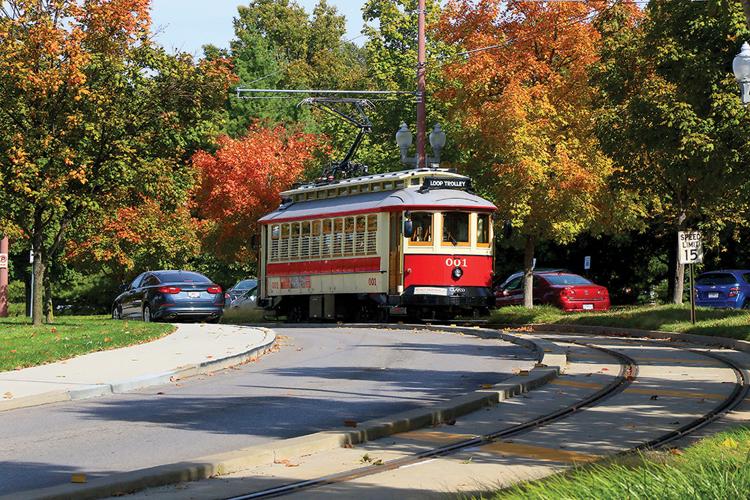 The trolley's predicted $1.3 million annual operating budget was supposed to be supported by $600,000 from fares, $500,000 from taxes and $200,000 from advertising and institution subsidiaries. But according to longtime trolley opposer Tom Sullivan, those figures are far from accurate.
"In the first year of operation they planned on $420,000 in ticket sales and they're not even going to get 10% of that," said Sullivan. "It was a bad idea from the very beginning. Questions were raised before they even built it, traveling a route nobody would use, but they went ahead. I don't think they deserve any more money from taxpayers. It's up to the Loop Trolley to work out their own problems."
Sullivan, who acted as a spokesperson for the 2013 federal lawsuit against the trolley, said the trolley's failure is "nothing new." Longstanding vacancies in the former Cicero's Pizza and Panera locations along the trolley route, he said, prove that the system does nothing for Loop businesses.
"You'd think someone would want to put a restaurant there if they thought the trolley would bring in customers," said Sullivan.
But Edwards has a different take on the matter. He said the promise of future trolley activity has already encouraged large construction projects along its route — worth $200 million so far and growing. Examples include Everly Apartments at 6105 Delmar Boulevard, the revamped Gotham Apartments at 5904 Enright Avenue and a three-story development at Skinker and Delmar boulevards.
"When (the three-story building) opens in spring, it'll be great because it's much safer. No pockets for people to fight. It's also bringing in a CVS Pharmacy and two floors of office space," said Edwards. "One of the reasons they're doing it is because of the trolley and the MetroLink. People don't have to park in the same parking spots. They can park anywhere along the route."
Several Loop businesses previously reported losses from lack of business due to track construction. In January 2017, the University City Council approved the financing of a loan program to compensate several affected businesses. One such establishment was hippie accessory store Sunshine Daydream, which received around $12,000.
Sales associate Sage Hayes said there hasn't been a noticeable change in customers since the trolley opened.
"I don't see many people riding it," said Hayes. "I recently had customers who came in. They said they bought a trolley ticket and it hadn't been there for an hour."
A Final Plea
To save or not to save? That's the question for many St. Louisans in the coming weeks. While some argue that the company should cut its losses and give up, others believe $51 million is too much to let go to waste. Another concern is a looming threat from the federal government for millions to be repaid.
For Edwards, the answer is clear. His dream has come too far along to fail without a fight.
"If anyone wants to help out, now is the time," he said. "What's needed is only about 1.5% of the total project cost. That's a very small percentage.
"The Arch grounds took several years longer and more money than predicted and nobody was concerned," he added. "If St. Louisans are patient, this will be good."