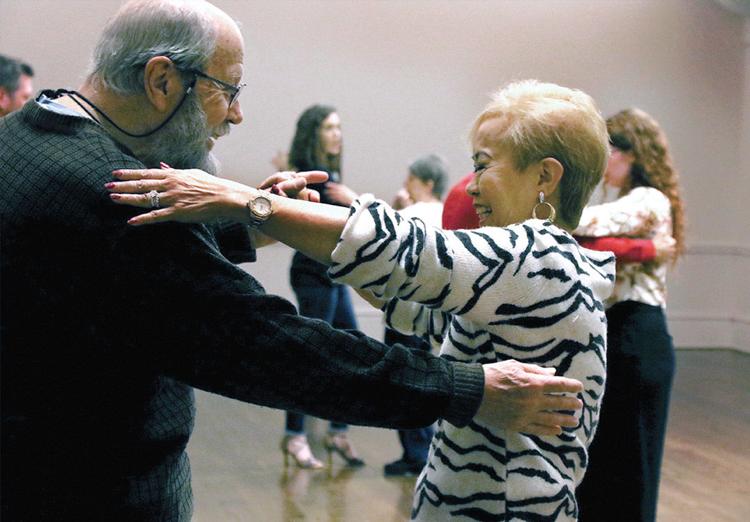 As more local seniors cha-cha into old age, some leverage the perceived benefits of ballroom dancing to help prevent dementia and memory loss.
Research studies show ballroom dancing improves balance, promotes healthy bone joints, provides overall exercise, increases socialization and helps delay or reduce cognitive decline. Neuroscientists believe the supportive, learning environment of ballroom dancing is its key.
"Ballroom dancing keeps you sharp," attests 93-year-old Eugene Fedor, an Edwardsville, Ill., resident who's been enjoying this style of dancing with his 91-year-old wife, Betty, since at least 2010.
"It makes you think, listen to music, work with a partner, use dancing rules and it's a lot more fun than mall walking," he added.
The Fedors used to dance three times a month; they even got their personal physicians joining them. They first took ballroom dance lessons at Southern Illinois University Edwardsville from a woman who danced in England during World War II and then continued her dance education from the famed ballroom entrepreneur Arthur Murray.
For several years, the couple actively participated in the bountiful activities provided by the Ballroom Dance Academy of St. Louis.
Research Backs Ballroom Dancing
In 2003, the New England Journal of Medicine published a study that followed 469 individuals for a 21-year period from 1980 to 2001 to investigate the relationship between dementia development and participation in specific leisure activities. Study partakers were aged 75 to 85 years old and none had dementia when the research started. The study was led by the Albert Einstein College of Medicine in New York City, and was funded by the National Institute on Aging.
Study participants engaged in a variety of cognitive activities, such as reading, crossword puzzles and playing a musical instrument, as well as physical activities, such as tennis, golf, housework and swimming.
Of the nine physical leisurely activities monitored in the study, only one – ballroom dancing – showed an association with lowering risks of dementia. Of the non-ballroom dancing individuals in the study, 30 percent eventually developed dementia, while only 19 percent of the ballroom dancers had it.
Recent estimates suggest that one in eight older Americans eventually will develop Alzheimer's disease. In fact, experts estimate that by 2050, 16 million individuals will be affected by it.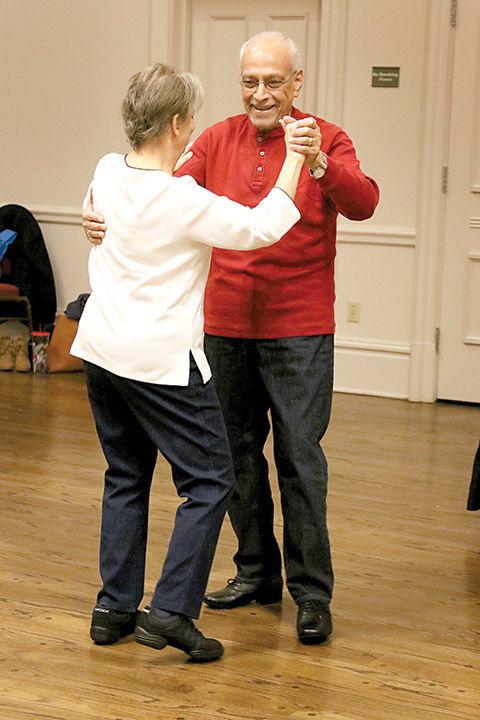 Local ballroom dancer and advocate Fred Hale does not plan to be one of them.
Swinging Into Ballroom
Now 78 years old, Hale cut his original dancing rugs during high school in the 1950s at Teen Town at the Northside YMCA. They danced the Imperial Jitterbug and the North St. Louis Shag, which was a swing dance that evolved from the Lindy Hop, Collegiate Shag and Charleston.
"We often danced to a band whose lead singer was Anna Mae Bullock, and we followed them to different venues as they moved up in popularity, like The Imperial Club. Eventually they changed their names to Ike and Tina Turner," recalled Hale.
Fast-forward to a trade-out agreement Hale made with the owner of Mahler Ballroom in the Central West End. This was during the year his daughter got married and his family wanted to dance elegantly with precision. He taught business classes at Saint Louis University, so he provided marketing consulting to the dance crew in exchange for learning ballroom steps.
A powerful new dancing bug set in and Hale also traded in his swinging shoes for the Quickstep. However, his wife unexpectedly died in 2010, leaving him to believe his partnered-dance days might be over. Enter the Mahler Ballroom again, as he was called in one night to urgently fill in for male dance partners.
"My affection for ballroom just kept growing, and I enjoyed the fellowship and companionship," said Hale, who eventually was asked to join the Ballroom Dance Academy of St. Louis Board of Directors. He now serves as the group's president. The Academy is an official company associated with the Kranzberg Arts Foundation.
How To Leap In
Hale estimates 500 to 600 core ballroom dancers routinely participate in St. Louis regional ballroom-infused activities.
Hale said he does not compete in ballroom dancing because he is unable to maintain "a really rigid frame." He said he gets into mischief during the dances, unable to resist talking to his dance partners.
"I'm a certified social dancer," he quipped.
Ballroom dance lessons can be taken on Tuesday and Thursday evenings at The Grandel Theatre, home of the Ballroom Dance Academy at 3610 Grandel Ave. The group also hosts ballroom dance camps involving travel.
"If you can walk, you can dance, especially for the Waltz or Foxtrot, which is like walking to a different tempo," said Hale. Hale warns that doctors should be consulted before anyone with a major heart condition takes up dancing.
Lessons are conducted in casual attire, but leather-soled shoes, rather than rubber-soled ones, should be worn. Hale also recommends interested dancers attend the Academy's monthly socials or the annual show case.
"It's a great way to get a sense of what it's like," said Hale.
The next Academy ballroom monthly social will be held Jan. 11 at 8 p.m. with the theme of "Dancing In A Winter Wonderland." The cost is $12 each, which includes refreshments. A cash bar is available. A Foxtrot lesson will be conducted for the first 30 minutes, followed by open dance.
Additionally, the St. Louis Ballroom Dancers hold a bi-monthly dance party at the Kirkwood Community Center.
"Seniors can get strength from ballroom dancing — even beginners," said Hale. "It requires split-second decisions that are mentally stimulating and keeps our neural network going. Ballroom dancing pushes off brain fog and those senior moments."
For more information, visit: BallroomDanceSTL.org or email: ballroomdancestl@gmail.com.