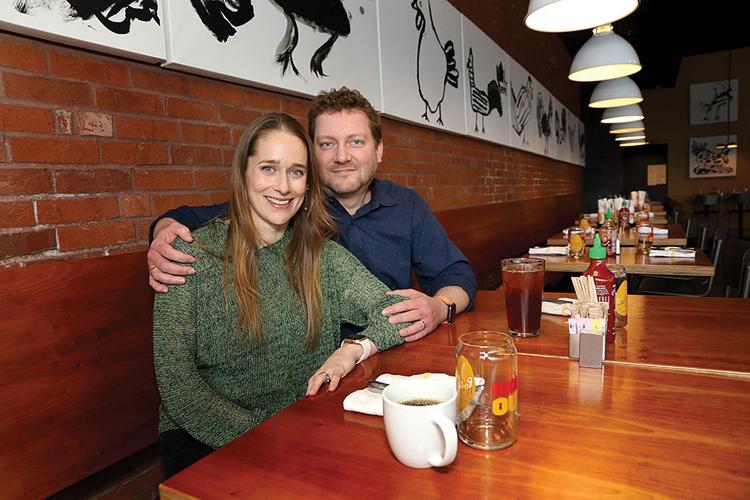 Seventeen years ago, Dave Bailey was managing Sasha's Wine Bar in Clayton when a group of regular customers came in for dinner. Little did he know, the four women had ulterior motives as they made pleasant conversation.
"They asked me if I was single. I said I was and they said, 'Oh, you have to meet our nanny," said Bailey. "Next thing I know, Kara's sitting there. We exchanged numbers and had our first date a few days later."
And what a date it was. They started with margaritas. Then dinner, followed by a bottle of wine. Then a visit to a pub.
Now, three kids and eight eateries later, it's fitting this culinary couple met in a restaurant. Through five years of courting and 12 years of marriage, the two have been inseparable partners — both in business and at home.
Romantic Inspiration
Both native St. Louisans, Dave Bailey's home school education exposed him to plenty of local farmers. After college, he fell back into food work, learning about agriculture and sustainability and sharpening his managerial skills. After meeting his future wife — then an undergraduate student in early childhood education — the two learned about an open space at 1915 Park Avenue. That space became Baileys' Chocolate Bar, which has been serving up sweets alongside a full bar since 2004.
The after-dinner drinks-and-dessert-themed establishment was born of a desire to complement, not conflict, with surrounding restaurants. According to Dave Bailey, it's a concept of romance, harkening back to his first date with his wife.
"The whole idea behind Chocolate Bar is alcohol, caffeine, sugar, chocolate," he said. "All the legal drugs, all the aphrodisiacs you could think of. Super fun."
Since then, the Baileys have opened seven more restaurants with various themes, including barbecue, fine dining and brunch. They also have two event venues. Most recently, they opened POP, a sparkling wine bar located at 1915 Park Avenue, encouraging customers to celebrate the everyday.
The Baileys' other restaurants are: Knockout BBQ, 3150 S. Grand Blvd.; Baileys' Range, 920 Olive Street; Rooster with locations at 3150 S. Grand Blvd. and 1104 Locust Street; Small Batch Wiskey & Fare, 3001 Locust Street; and Bridge Tap House & Wine Bar, 1004 Locust Street.
While her husband handles the day-to-day operations, Kara Bailey's role has evolved over the years, from helping out on the side while working as a full-time teacher to juggling restaurants and raising children. Today she handles a mix of design, social media and marketing.
"Most of my time is spent out of our central office, but our paths will cross throughout the day," said Kara Bailey. "We spend a significant amount of time together because there's a lot to work on."
Spending time with her at work, said Dave Bailey, is his favorite part of running a restaurant empire with his wife. And though it's a far cry from teaching, Kara Bailey doesn't regret making the move.
"When I was teaching, I'd leave in the morning and he'd come home late. We were like ships passing in the night," she said. "But I was always on board with the restaurants, even when I was teaching. I loved teaching, but this industry excites me just as much. And it helps that Dave is easy to get along with."
Got Valentine's Plans?
The eclectic mix of restaurant concepts in the Baileys' portfolio, said Dave Bailey, means there's something for every couple on Valentine's Day. Many of his restaurants are offering food and drink specials on Friday, Feb. 14.
"Between all the different restaurants we have lots of different styles," he said. "If you want prix fixe you can do that. If you want to eat a rack of ribs and get messy you can do that. And with Chocolate Bar, it's always Valentine's Day."
For a complete list of Baileys' restaurants or more information, visit baileysrestaurants.com.