On Saturday, Jan. 25, I spent an afternoon touring historic downtown Maplewood and sampling desserts from local eateries. The Maplewood Sweet Tooth Tour — an annual event sponsored by the Maplewood Special Business District — is a self-guided tour routing ticket-holders through the streets and into numerous restuarants, cafes and shops.
Though this was the seventh annual event, it was my first time attending. I had fun speaking with local business owners and learning about different locations and foods.
Continue on to read about some of my favorite stops along the tour, and consider visiting downtown Maplewood for your Valentine's Day dinner or gift.
For a full list of stops and offerings, visit the Sweet Tooth Tour photo gallery.
Schlafly Bottleworks
7260 Southwest Ave.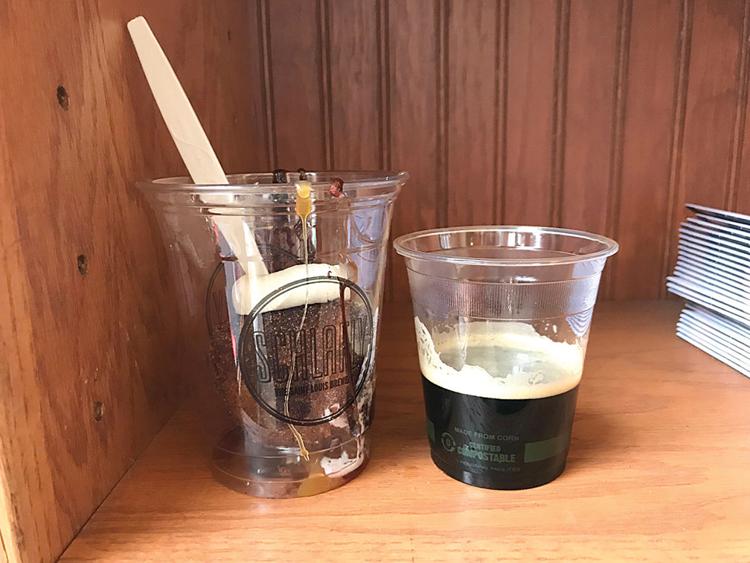 The check-in spot where participants picked up their tickets was also the first stop along the Sweet Tooth Tour. Schlafly offered cinnamon sugar-dusted fried ice cream with chocolate, caramel and berry sauce, but the real star was the beer selected to pair with it. The Session Stout was lighter than Schlafly's traditional stout, with a roasted aroma and hints of chocolate and toffee. Session Stout is currently on tap at Schlafly Bottleworks only.
Kakao Chocolate
7298 Manchester Road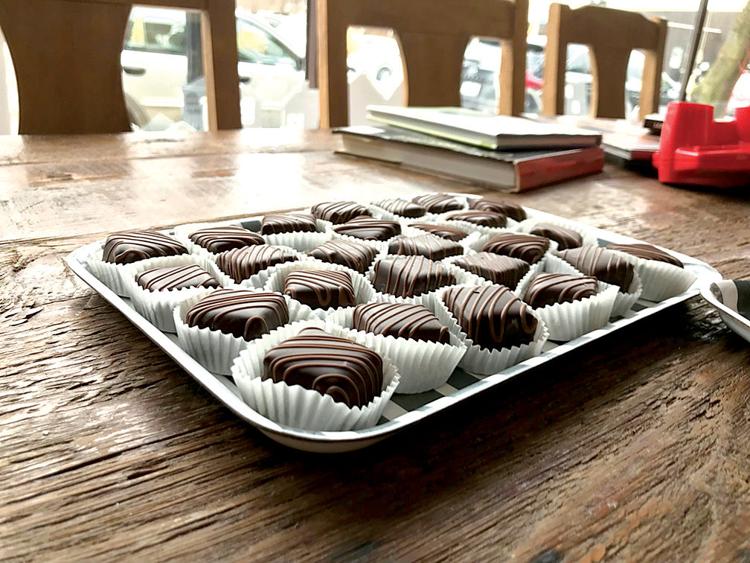 I once had dreams of becoming a chocolatier, so I was excited to see Kakao on the list of participants. From the esteemed craftsmanship of Chef Brian Pelletier came an offering of hazelnut bonbons. These tasty morsels were made with praline ganache and toasted hazelnuts, dipped in semi-sweet chocolate and drizzled with milk chocolate. I also got to sample some delicious bacon brittle that was being passed around by staff.
Foundation Grounds
7298 Manchester Road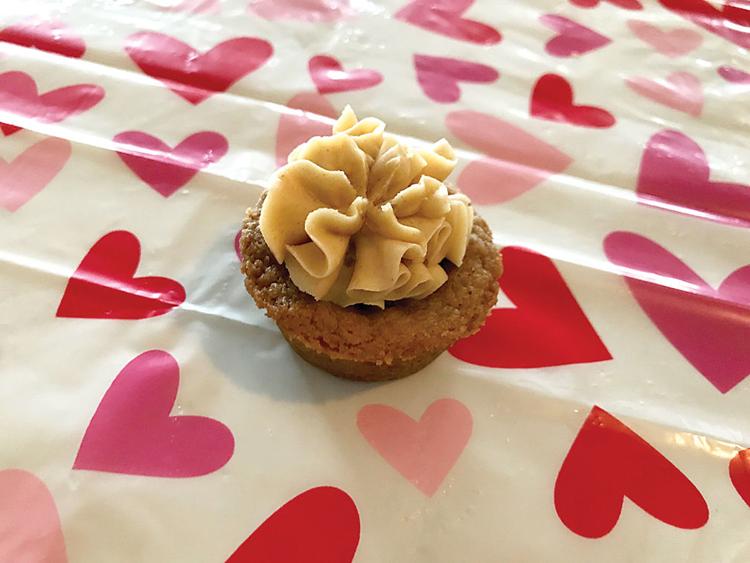 This cozy coffee shop holds a special place in my heart, as I wrote about it in my first article for The Montage, the student newspaper at St. Louis Community College - Meramec where I got my start as a journalist. At a table decked out with Valentine's hearts, I was served a vegan peanut butter blondie, which I was assured is one of the location's most popular desserts. After eating a dorm-mate's black bean brownies in college, I am typically wary of vegan baked goods, but I found this particular offering delightful. It was moist and chewy with a light peanut butter frosting. The small bite was filling for its size.
Boardwalk Waffles & Ice Cream
7326B Manchester Road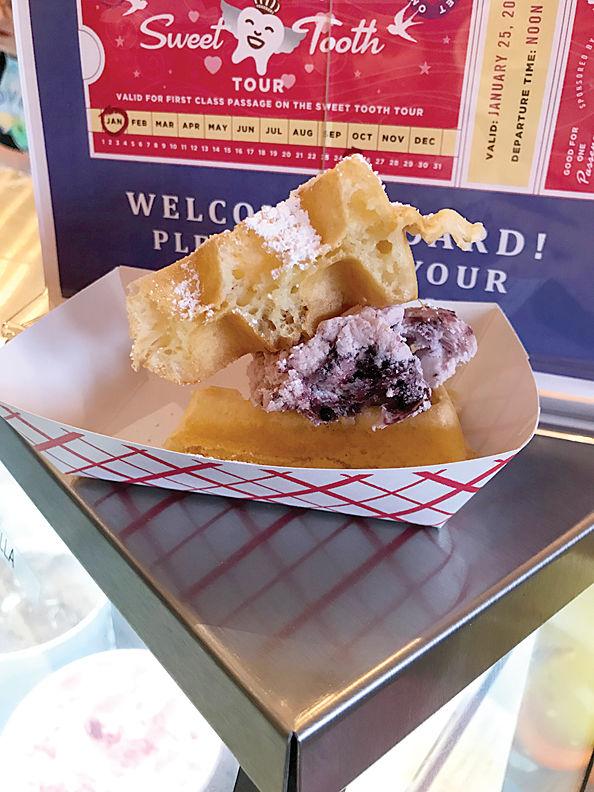 I knew immediately when I saw the long line trailing outside this shop that the waffles were being made fresh. OK, maybe it was also the delicious smell of waffles wafting from the door. On this stop of the tour, patrons received a hot waffle, dusted with powdered sugar and cut in half to surround either side of a scoop of ice cream in a beautiful, — and mercifully handheld — sandwich. Boardwalk Waffles offers many traditional ice cream flavors, as well as three CBD-infused flavors. I opted for the blackberry cobbler. This adorable but cramped concept is moving to a much-deserved larger space at 7376 Manchester Road in the near future, so keep your eyes peeled.
Thai Table
7403 Manchester Road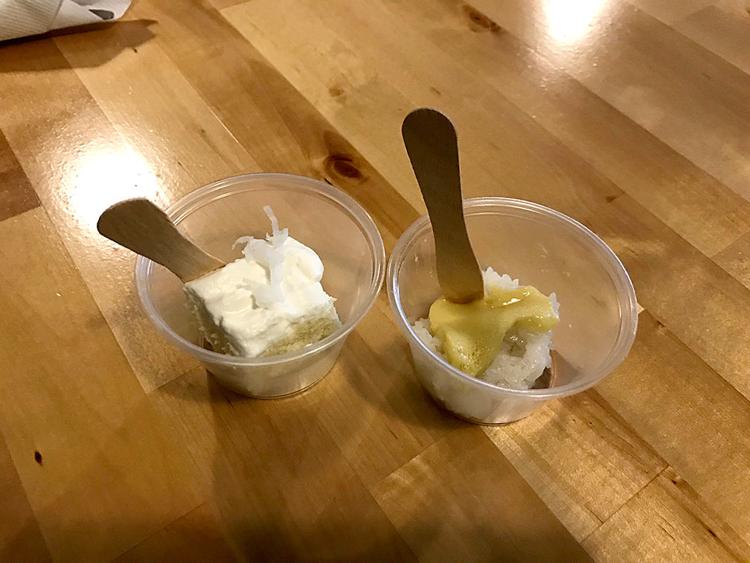 I've actually never visited this establishment before, but I feel I must now that I've tried their desserts. Thai Table offered two treats for the Sweet Tooth Tour; a coconut cake and a sweet rice with Thai custard. While I enjoyed the fluffy coconut cake with light icing, my favorite was the rice and custard. This one was also flavored with coconut and had a chewy, soft texture. My only complaint was that the portion wasn't larger.