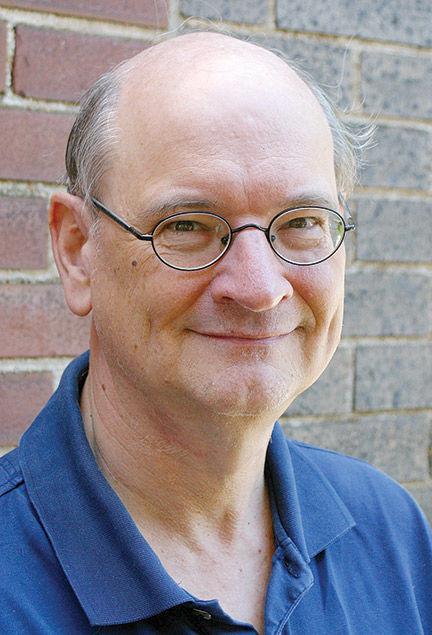 Confession time. Though I was born in St. Louis, have lived most of my life here, and earnestly address local issues in this space, it is not my favorite city.
London is. Of course, many people love London and think it's the greatest city in the world. I go way beyond that. Every day I'm there, the delusion takes firmer hold that London is my home. It's a jolt to return to my real home, as I just did.
So for me it was a welcome event when WOW Air began offering cheap (if short-lived) St. Louis-Reykjavik-London flights. Tickets for my wife and me cost half what they do on a regular airline. Our flights were all on time and nothing scary happened.
It was interesting to descend over the Icelandic landscape, with many piles of boulders but no trees and a strange yellow-brown ground cover nothing like grass. The small, comfortable airport has wood floors, sandstone walls and another singular design feature: frontages of roughly-painted cabins with blank windows. Aboard the purple plane, flight attendants address passengers as "dear guests."
What's the catch? Your fare gets you air transport, period. Amenities are available, but if you add them all on, you'll pay as much as on a standard airline. We only paid extra for one carry-on between us, which meant wearing the same pants for 16 days and washing socks in the sink with shampoo. We brought our own sandwiches. Lacking movies, we tried to sleep at night, read or admire the spectacular views of Greenland by day.
You may be thinking that self-deprivation is not what you look for in a holiday. You'd rather fly first-class to a resort and lie on a beach. Good for you. People should do what they enjoy on vacation.
For me, London has what I'm after. And more of it than anywhere else. The vast, labyrinthine, 2,000-year-old city is inexhaustible. There's always a museum we've never visited, or a new exhibition at a favorite museum. Theatre and music. Churches and castles. Riverboats and canal boats. Once we spent an entire month in London and found something new and different to do every day.
The natural inclination of travelers is to seek out novel destinations, but there's an unexpected benefit in returning to the same city. You steadily increase your store of happy memories. As you get older and have more past than future, revisiting favorite places is a great consolation.
I'm an Anglophile, needless to say, but not a conventional one. I'm not interested in the royal family, and I don't think the English are "more civilized" than we are. In fact, we found that our English friends are as baffled and pessimistic about the state of their nation as we are. Just as we can't believe that our fellow citizens voted for Trump, they can't believe that their countrymen voted for Brexit.
I'm reminded of my deep fondness for the English whenever I go in an Underground station, pick up a copy of Metro, the free commuter newspaper, and turn to my favorite departments, Good Deed Feed and Rush Hour Crush.
In the first, readers write in to thank strangers who've done them a kindness on public transport. Americans may wonder why they make the effort, when they've already thanked their benefactors in person. But the English like to go public with their gratitude, as Americans like to go public with their anger. Good Deed Feed is a warming series of nudges against the impersonality of city life.
Rush Hour Crush is a series of nudges the English make against their own reserved natures. Men and women write in to ask for a date with a winsome stranger to whom they spoke briefly, or only glimpsed from afar. In the era of MeToo, it's nice to read these accounts by people who were too shy to pursue an encounter, expressing a wan hope that it's not too late.
Occasionally, on return flights, I've talked to St. Louisans who felt oppressed by the crowds of London and were eager to return to quiet, spacious St. Louis. I'm unable to agree. A city needs crowds.
On this trip I took a walk in Vauxhall, seemingly a charmless area of wide, busy roads and banal or pretentious skyscrapers. But our guide led us around a corner, into a green and thriving neighborhood. She informed us that years before, the government had condemned blocks of old row houses and cleared acres of ground, only to have their redevelopment plan fall through.
When this happens in St. Louis, we end up with yet another blighted zone. But in London, people moved into the houses and turned the bare ground into gardens. There were too many of them. The government just had to lump it.
This is what saddens me most, returning to St. Louis: the fear that we don't have enough people to keep a city going.