Metro Arts in Transit is responsible for a lot of local art and color. The agency has about 150 temporary and permanent art projects.
This includes colorful buses painted by members of local arts organizations. It includes displays of local art contest winners at a couple of hundred metro bus shelters. Indoor and outdoor sculptures and decorative lighting at MetroLink stations fall under this purview.
The program includes MetroLines, which has also been known as Poetry in Motion.
Fifteen winners were recently announced for the annual Arts in Transit poetry contest. Colorful posters of winning short poems will enliven the interior spaces of Bi-State buses and MetroLink cars beginning in a few weeks. Some posters from previous year winners may also continue to make their daily rides.
David Allen, director of Arts in Transit, said 30 copies of each of the 15 winning posters will ride in Bi-State buses and that 10 posters of each winning poem will take up 150 spaces in MetroLink cars.
Judges for the contest included renowned metro area poet Treasure Shields Redmond and "Dogtown Poet" Matthew Freeman who populates the Loop with his songs and verse.
Artistic designer for the poetry posters was Hannah Schmickley.
In addition to Metro Arts in Transit, support for the poetry and other arts projects are provided by Metro – a Bi-State Development Enterprise, Regional Arts Commission and the Missouri Arts Council.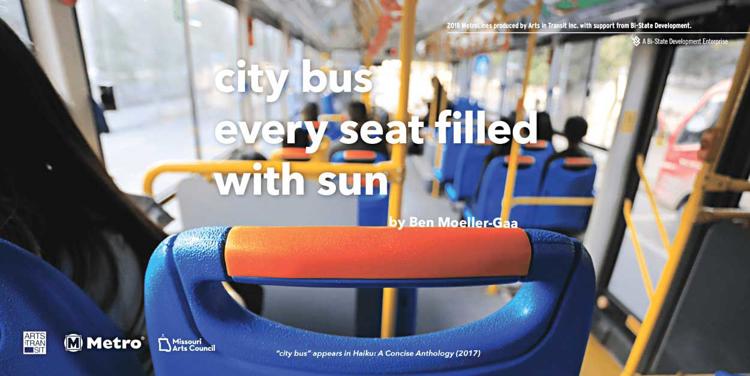 Reproduced on this page is a photo of the poster that will carry the image and words of haiku poet Ben Moeller-Gaa.
At the reading of chosen poetry entries on Oct. 11, Moeller-Gaa, who has published several books of haiku poetry, explained that haiku in English does not have to follow the five-seven-five syllable pattern that many of us learned in high school English classes. It is more about providing a crisp image that simultaneously evokes a feeling:
city bus
every seat filled
with sun
Most of the winning poems are longer than Moeller-Gaa's haiku. But most express an image or a feeling.
Another poem that will be taking public transit is one that I submitted. I called it Candelabra:
Twice today I saw bare-branched
trees
one by a field and one by a park
each like dark candelabras
crowns flaming with flocks
of blackbirds
Enjoy your ride with words.