Dateline: July, St. Louis — time to celebrate with the big Fair St. Louis Parade and the little open air sculpture park known simply as Citygarden. It's just two downtown blocks along Market Street, between 8th and 10th, but it packs a wallop.
Don't take my word for it, just watch children play in one of the three pools, or gaze up at Pinocchio. He knows something about truth and lies — and a great deal about innocence.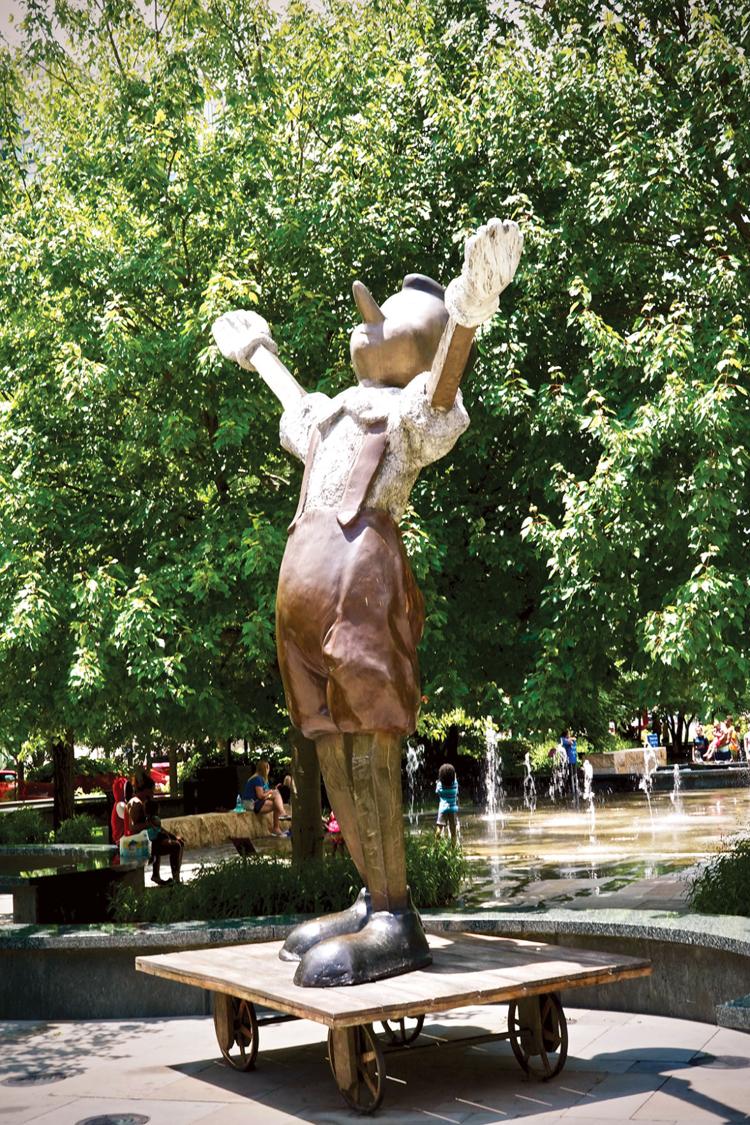 Jim Dine's Pinocchio sculpture, "Big White Gloves, Big Four Wheels," is only one of 24 sculptures by internationally known artists (including Mark di Suvero, Keith Haring, Fernand Leger, Aristide Maillol and Niki de Saint Phale) that are on loan to the city of St. Louis from Gateway Foundation. Opened in 2009, Citygarden proudly added three new sculptures this summer, including "Love vs Money," which is permanently installed atop the garden's indoor/outdoor café.
Mark di Suvero's monumental sculpture, "Aesop's Fables," echoes the process of engineering, planning and constructing of downtown skyscrapers.
Keith Haring, working here with simple shapes that seem like giant mechanical washers, creates a bright red abstracted figure with an attitude. One can almost hear toe tapping and imagine the figure springing into action.
And there's plenty of action in this park, which is a mecca for children running, laughing, splashing each other, jumping across rocks and dodging the fountains in front of a 6-foot waterfall.
But, for quieter moments, sit on a polished granite bench near Tom Claassen's "Two Rabbits." My thoughts ran to wondering what these two were doing. For me, the one is resting and simply experiencing the surrounding green lawn and the flow of traffic, both human and animal. The other rabbit seems to be on guard duty, checking for danger, for what might be safe or unsafe.
One of the two temporary sculptures installed this summer, "Unzip the Earth" by Floyd Elzinga, is a fun piece, unzipping the grass to reveal, yes, dirt. It seems to reflect a buttoned up, compartmentalized world with a common experience of loneliness, as we tap omnipresent screens to create the illusion of a connected community.
Yet, this is a place for making beautiful new memories. We can also remember playful childhood experiences or move to fantasy, re-writing fresh new stories where our inner child can romp today. This is a place for reconnecting with the sense of joy and the claim to innocence and wholeness, free from the disruptive noise and anxiety of our daily wade through chaos — that is, if we put the internet in our pockets.
Citygarden offers a variety of programs. The park's 10th Birthday Party is July 1 from 11 a.m. to 1 p.m. There's free yoga on Saturday mornings through August, and the park's Video Wall offers a 14-foot-wide screen of nighttime photography, occasional movies and Cardinals games.
When art becomes a destination — a place to experience nature alongside great artists — well, that's a big day. Add a smiling family member, a friend, or bring a happy dog into this well-designed urban landscape — and that's an especially big day.
Thank you and Happy 10th Birthday, Citygarden, and kudos to your collaborative partner in durable art and urban design, Gateway Foundation. Splash, splash, whoopee!
For more information, visit www.CityGardenSTL.org.