For the chance to witness hula-hooping jellyfish, unicycle-riding sharks, flowing, aerial merpeople and twiddly, contorting octopi, head to the annual Circus Harmony show, "Fluente: An Underseas Circus Adventure."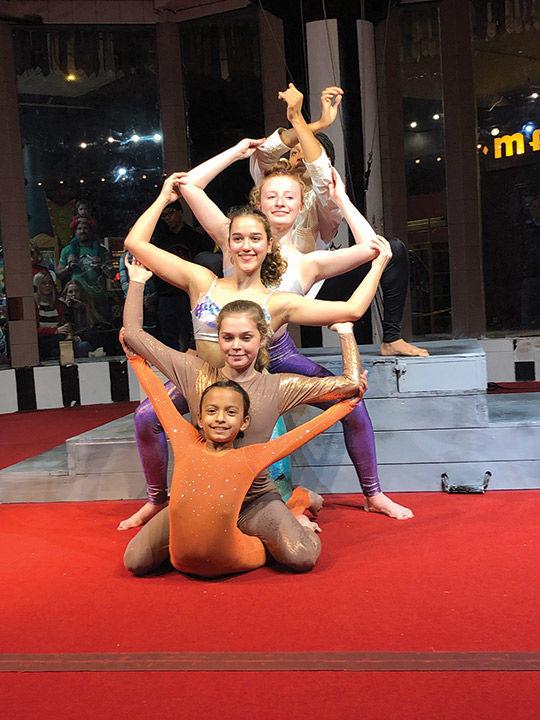 Six shows will be performed Jan. 18, 19, 25 and 26 – all at City Museum, 701 N. 15th St. Saturday performance times are 2 p.m. and 7 p.m. Sunday performances are at 2 p.m.
"Like all our annual show titles, "Fluente" is a musical term, which means to play fluidly. This name seemed appropriate for the underwater theme," said Jessica Hentoff, Circus Harmony artistic and executive director. "This show will have the circus performers in the weightless world of underwater."
Hentoff boasts quite a few "firsts" for Circus Harmony within these performances. It will be the first underwater-themed show, and will have an aerial net act and shadow puppet elements sprinkled in.
It's also the first Circus Harmony show written and directed by someone other than her. In this case, it was champion acrobatic juggler alumnus Kellin Quinn, who also choreographed the juggling and unicycling acts. Quinn's talent combines object manipulation, acrobatic dance and quirky comedy. At just 17 years old, he was a local, national and international award-winning juggler. 
Fluente also includes a new wire-walking act featuring 12 people.
"Like our home, City Museum, Circus Harmony is very much not just for kids. Our shows are for all ages to experience and enjoy," said Hentoff.
She said acts are co-created with the group's advanced students, who range in age from 8 to 20 years old. This year's Circus Harmony additional alumni who are involved include Chauncey Kroner and Sidney 'Iking' Bateman from Cirque du Soleil. Kroner helped with the acrobatic hoop diving act before joining Cirque du Soleil.
After graduating from Beaumont High School, Bateman was accepted into the extremely competitive professional circus college National Circus School in Montreal, Canada. Soon after graduation from the National Circus School, he joined the French-Canadian circus Seven Fingers (known in French as Les Sept Doigts). He then got a contract with Cirque du Soleil.
Keaton Hentoff-Killian, who is part of Australia's Circa Contemporary Circus, also assisted with Fluente. Former human cannonball and alumni Elliana Grace worked on the aerial acts that includes aerial net and lyrasphere, too.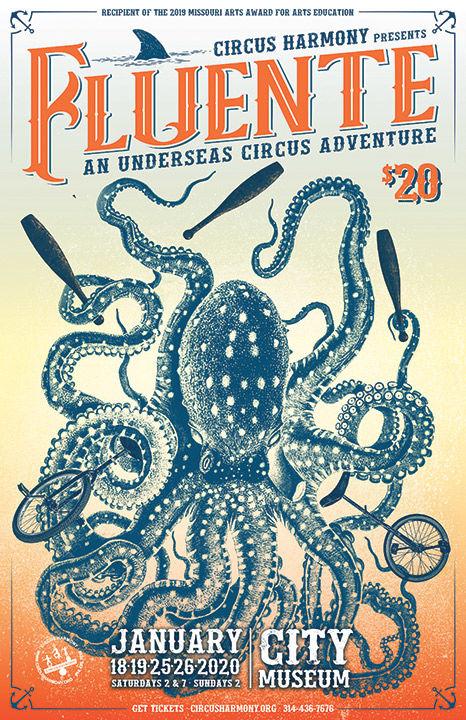 "With four of our alumni touring with Cirque du Soleil, I've been telling people they should come see these young people now while the tickets are so affordable," exclaimed Hentoff.
Other act co-creators include Alex Wallenda of the world-famous Flying Wallendas, and Circus Harmony's master teacher, Dashdendev 'Rosa' Yagaantsetseg. Yagaantsetseg is an internationally renowned, award-winning performer and choreographer. Her accomplishments have earned her the title of Honored Artist of Mongolia.
For the partner acrobatic act, Sariya Saabye returns to Circus Harmony. Saabye is a four-time, national power tumbling champion and former world team member who also was a nationally competitive acrobatic gymnast. She is the Circus Harmony teaching artist responsible for some of the iconic moves of the St. Louis Arches including Carousel, Helicopter and the Highland Fling.
Live band members for this year's Fluente are: Jeffrey Richard Carter, music director and keyboards; Noah Lovins, keyboards; Joe Winters, drums; Ellen Neimeier, violin; Jake Stergos, bass; Kasimu Taylor, trumpet; and J. Michael, guitar.
Carter is in his twelfth year as chair of the Webster University Department of Music. He also is conductor of the Variety Children's Charity choruses.
Circus Harmony presents more than 700 mini-shows a year in their home ring at City Museum. The group is internationally recognized as one of the foremost social circus schools in the world.
"Social circus means we use the teaching and performing of circus arts to motivate social change. Our Peace Through Pyramids partnerships build bridges between communities in St. Louis and around the world," said Hentoff.
Fluente tickets are $20 each. On the day of shows, attendees can stay and play at City Museum for a special price of $7 additional. Show proceeds provide financial assistance to Circus Harmony students.
Show tickets can be purchased online at www.CircusHarmony.org/fluente.