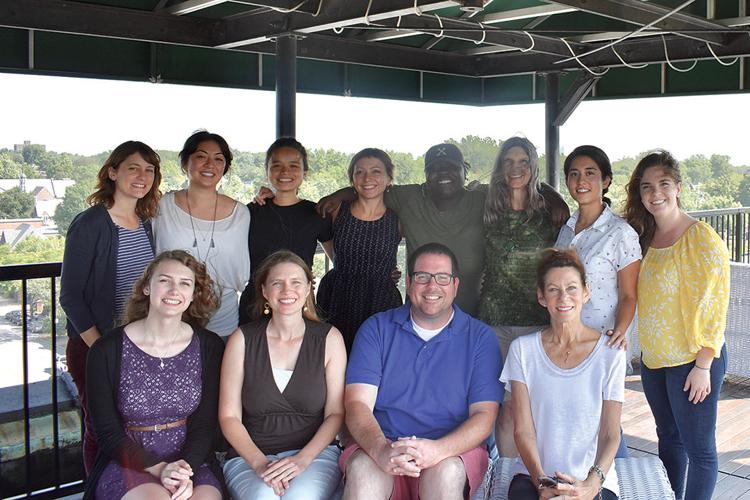 The Missouri Coalition for the Environment (MCE) was founded in 1969 as the St. Louis region's first independent grassroots organization created to address ecological policy issues. Now in 2019, the group is celebrating 50 years of pro-environment activism.
"I think it's a really healthy sign that Missourians are engaged in environmental and health policies," said Heather Navarro, MCE's director for going on seven years. "This organization has developed a legacy for being a credible source and effective advocate. People really believe in what we do. They trust us."
While part of MCE's agenda involves education and public outreach, most of what the coalition does revolves around public policy. From public awareness campaigns and petitions to lobbying and bill writing, MCE attempts to influence lawmaking in favor of conservation and public health.
"When we got started, there weren't a lot of environmental advocacy organizations," said Navarro. "Over the years we've really covered the gamut: endangered species, pesticides, air quality. You name it and somebody in our organization has worked on it."
As part of festivities, MCE's webpage, moenvironment.org, now has available an interactive timeline of the past 50 years. Viewers can visit significant moments, events and policy victories in the lifetime of the coalition.
In 1972, for example, MCE helped draft legislation leading to the Missouri Clean Water Act. In 1984, the coalition helped draft and pass the Missouri State Superfund Law, providing funding for cleanups at hazardous substance disposal sites. And in 1987, the coalition's federal lawsuit blocked a 70,000-seat stadium from being built on floodplains in Maryland Heights.
Preventing construction on floodplains was an important cause in the organization's early years, recalled Ben Senturia, once director of MCE.
"We also were deeply involved in air pollution issues," he said. "The lead company in Missouri would produce lead for lead based paint and they used sulphuric acid in their process. It would come out of their smokestacks and it was reportedly so intense that the secretaries in the building across the road said their nylons would melt off their legs."
Senturia attended the 1969 meeting at the Missouri Botanical Garden during which the formation of MCE was announced. He also served as its director from 1972-1976. During his decades-long career as an activist, Senturia watched the organization adapt and change over time, from volunteer-based to a more staff-centric approach. The ability to adjust to organizational change, he said, is what keeps MCE thriving.
But the coalition isn't the only thing changing. Environmental issues evolve as well, and the MCE must respond to those changes to remain an effective agent for change. According to Navarro, one of today's pressing issues is food distribution. MCE seeks to eliminate food deserts — areas where consumers cannot purchase fresh produce locally — and to hold farmers accountable for their farming practices.
Part of the initiative includes a new brand launched this year called "Known and Grown STL," which signifies products produced within a 150-mile radius of St. Louis and farmed with eco-friendly practices. Consumers can find a list of approved farms and products at knownandgrownstl.org.
According to Arlene Sandler, who has been on MCE's board of directors since the 1970s, the problem of food deserts and pollution disproportionately affects those in poverty, particularly people of color. Educational outreach is one way to spread awareness. Awareness, she said, will help people recognize problems and fix them.
"When I'm tabling at events, people will come up and be horrified of our dire predictions about water pollution. They'll just feel defeated and say 'what can I do?' And I just tell them to join an environmental organization. It doesn't have to be ours," she said. "People are just too busy in their lives and these organizations act as watchdogs. They can turn around and make policies. Even if you can only afford $5 a year, what's important is to have your name on an organization's membership list. It means more to corporations to have a large organization. We need a big crowd of people behind us."
And after 50 years, the crowd has grown. With the environment under more scrutiny than ever, MCE now has nearly 800 members. While the success of her organization is a testament to the environmental activism of Missouri, Navarro said, as always, there's more work to be done.
"We need to be thinking about how we protect our natural resources in a time of climate change," she said. "We need to be thinking about how to protect our forests, prairies, grasslands, wetlands parks, green spaces. We need to make sure of it, no matter where you live or the color of your skin."
To celebrate its five decades of accomplishments, MCE will host a 50th Anniversary UpRising Gala on Nov. 2 at the Missouri Botanical Garden's Ridgway Center. The event takes place from 6:30 to 10:30 p.m. and will honor founders and activists Leo and Kay Drey and Stephen Mahfood. For more information, or to purchase tickets, visit moenvironment.org.
A holiday open house will be held Friday, Dec. 6 at the MCE office at 3115 S. Grand Blvd. #650. This event is free and open to the public.