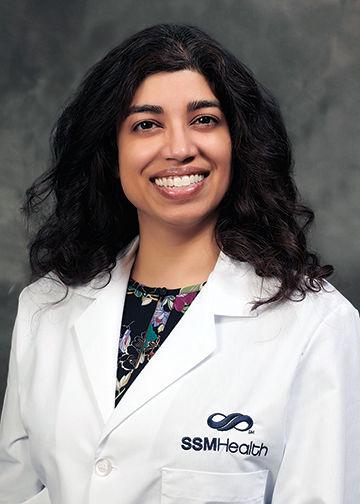 SSM Health Medical Group, 1027 Bellevue Ave., Suite 200 in St. Louis, has expanded its patient services with the recent addition of cardiologist Rita Mukerji, M.D.
Dr. Mukerji takes a compassionate approach to cardiology care for patients 18 years of age and older. She is a fellowship trained and board certified cardiologist with medical interests in coronary artery disease, interventional cardiology, intracoronary imaging and physiology.
Dr. Mukerji is a fellow of the American College of Cardiology and a fellow of the Society of Cardiovascular Angiography and Interventions.
"My goal is to provide evidence-based care with compassion for each individual patient," said Dr.Mukerji.
Dr. Mukerji said she developed her practice to expand SSM Health Medical Group's exceptional health care services to those who live and work in Richmond Heights, Clayton, Ladue and surrounding areas. She said the practice is well supported by a strong network of additional medical specialists for patients who need referrals for other health care conditions.
The practice is fully electronic with electronic records and MyChart. Patients can ask questions, see test results and request appointments. The physicians use this technology to better connect with specialists, patients and to better manage patients' needs.
SSM Health
1027 Bellevue Ave., Suite 200, St. Louis
314-645-6450