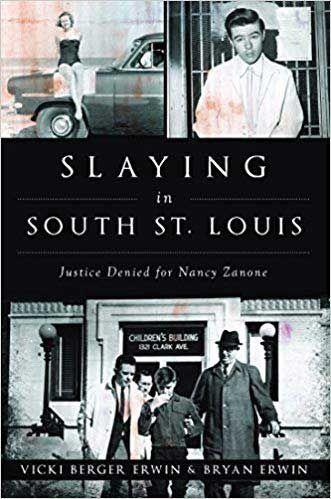 While some readers favor fictional murder mysteries set in quaint villages, others prefer gritty true crime stories from their own hometowns. Vicki Berger Erwin and Bryan Erwin's new book, "Slaying in South St. Louis: Justice denied for Nancy Zanone," is definitely for the latter group.
The crime at the center of the book is the 1963 murder of Nancy Zanone by 15-year-old Joseph Arbeiter. Zanone was a young mother of two when she was stabbed in her home on Chippewa. The authors present background biographical information about both victim and assailant using family photos, interviews and documents from the time.
But the actual crime is not the focus of the book. Rather, it is the convoluted story of the multiple trials and acquittals of Joseph Arbeiter. After Arbeiter confessed to the crime, it was determined that he should be tried as an adult.
His first trial ended in a mistrial because of a prohibition on mentioning the victim's children to the jury. Arbeiter was later acquitted because the evidence gathered in the course of a juvenile investigation could not be used in an adult prosecution.
The difficulties of this case highlight some of the challenges of the time. Arbeiter's case eventually inspired changes to the way juvenile cases are handled. The juvenile justice system was overloaded at the time and not growing to meet the increased need for officers. After the Arbeiter case, activists lobbied to make the rules of investigating juvenile defendants more clear.
Another important change that occurred between Nancy Zanone's murder and Arbeiter's third trial was the 1966 Miranda decision, which held that statements would be admissible at trial only if the defendant had been informed of the right to remain silent and the right to consult an attorney. Although Miranda rights did not apply to Arbeiter when he was questioned in 1963, the decision was part of the culture by the time he was retried in January 1967.
This true crime story has plenty of lurid details and twists and turns. But it is ultimately a story about the consequences of an overwhelmed justice system during a time of transition and how frustration with the results led to change.