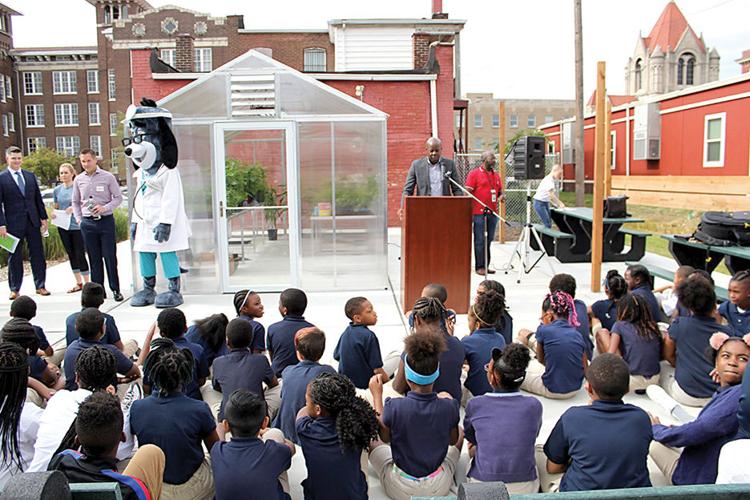 A new greenhouse donated to the Biome Charter School in the Central West End serves as a natural beacon to teach students about sustainable plant growth and healthy eating practices.
Because Biome is an innovative type of K-5 school at 4471 Olive St., organized for STEAM (Science, Technology, Engineering, Art and Mathematics) education, this visible and engaging community project fits right into the school's approach to teaching.
Bill Kent, Biome School chief executive officer and founding president, said the greenhouse was made possible through a $10,000 grant from UnitedHealthcare and Dream Builders Foundation, as well as matching support from St. Louis's Donald Danforth Plant Science Center and Arcadia GlassHouse of Ohio.
A ribbon cutting and dedication ceremony for the 200-square-foot greenhouse was held Sept. 13.
"Our teachers and learners are excited that the study of plant sciences and healthy food choices will always be a hands-on experience at The Biome," said Kent.
He said the greenhouse will be used in the school's curriculum to enhance teachers' efforts year-round.
"We already had fifth graders who were studying plant cells with fantastic microscopes donated by Washington University. Now the greenhouse will allow students to dig deeper and explore more," said Kent.
Greenhouses are helpful to education-enriched horticultural programs because the structures bring to life a multitude of lessons covered in the classroom, which can have lasting influences on students. Educational experts indicate it's beneficial for elementary students to see firsthand how weather affects growing conditions of plants. Additionally, students become more informed adults who better understand food supply chains.
The Biome greenhouse was designed by Arcadia GlassHouse of Ohio, which also donated several upgrades, transportation and professional construction of the structure.
Kent said another valuable aspect that the greenhouse embodies is the ongoing relationship that Biome teachers have with the Danforth Center education team — a relationship he confirmed routinely benefits the school's students.
"We couldn't do any better than working with the Danforth team," he added.
Kristine Callis-Deuhl, Danforth Center director of education and outreach, said the center's team members were interested in this project because it supports the organization's mission of experiential learning while getting more students enthused about science.
"This project has been underway since January, and we were happy to facilitate the connections that led to this kind of student engagement," said Callis-Deuhl.
She said the center's plant science team members outfitted the greenhouse with plants, gardening supplies and ongoing educational support materials.
"One of the best parts about the greenhouse is that students aren't restricted by seasonality when it comes to plant science experiments and experiences," she said.
Callis-Deuhl said the Danforth education team shared curricula with the school's teachers so students could have authentic research experiences by collecting millet plant genome data that will be used by Danforth experts. She said the students will be cataloging plant characteristics, or phenotypes, to search for incidences of plant albinism and dwarfism.
She added that this is the first time Danforth teams are engaging to this level of research with elementary students.
"It's important for everyone to have direct connections to our food supply. These types of projects give young students a chance to witness where food comes from, and to see themselves as an agent within that," she said.
Referencing St. Louis food deserts — which Callis-Deuhl defines as any
20-mile area in which residents cannot buy fresh fruits and vegetables — Danforth professionals believe greenhouse-type projects clearly demonstrate visible versus consumable plant parts. She specifically emphasized corn, tomatoes, peppers and herbs as good examples of learning the difference between how plants look compared to the edible parts they produce.
"Those who don't have the opportunity to be around fresh foods can have what's called 'plant blindness,' meaning it's challenging for them to understand the rules of plants and the role they play in ecosystems," Callis-Deuhl said.
Potential plans related to the Biome greenhouse include growing lettuce and vegetables for the school's special meal events, such as Salad Day, as well as growing flowers for occasions like Mother's Day.