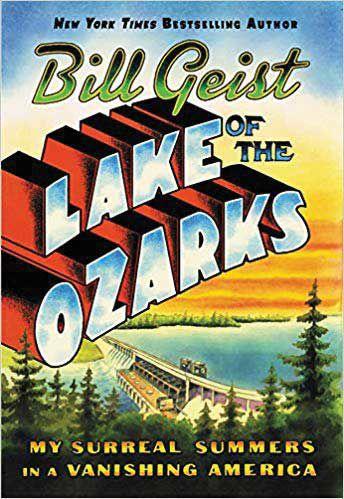 The vintage-postcard-inspired cover of Bill Geist's new book, "Lake of the Ozarks: My Surreal Summers in a Vanishing America," calls out to readers "Greetings from Yesteryear." Geist writes a nostalgic love letter recalling his teenage summers working at Arrowhead Lodge, a Lake of the Ozarks resort hotel owned by his aunt and uncle.
Bill Geist is a retired journalist who wrote mostly about the quirkier side of popular culture. For over 30 years Geist appeared on the CBS program "Sunday Morning," offering stories on plastic pink flamingos, Twinkies and WrestleMania. Geist traces the roots of his career to his appreciation of some of the souvenirs he saw at the Lake of the Ozarks in the 1960s. He became "an aficionado of the tacky and outrageous, i.e., my America."
Geist describes Lake of the Ozarks-themed black velvet pillowcases, salt and pepper shakers, ashtrays and toothpick holders. He began collecting such items, thinking they would become scarce and valuable once Americans became too sophisticated for these mementos. He thought that we would all evolve to be more intelligent, better educated and cultured, and that television would play a key role in this process.
Geist's memories include chasing girls, working hard, having fun, and generally being a teenager. He does not fall into the "wasn't everything better back then?" trap.
Geist writes with humor about how some things have surely changed for the better. When he and a friend became covered with gelatinous creosote while submerging 55-gallon drums under the dock and broke out all over with purple and red patches, the solution was to wash their skin thoroughly with gasoline.
Living away from home taught young Bill Geist about taking responsibility for his laundry and work schedule. But more importantly his summers working in the lively atmosphere of Arrowhead Lodge allowed him to develop his sense of humor, which became the foundation of a long and successful career.
Geist's gratitude for the experiences that helped shape his life is evident on every page. Readers will enjoy tagging along on this sentimental journey.