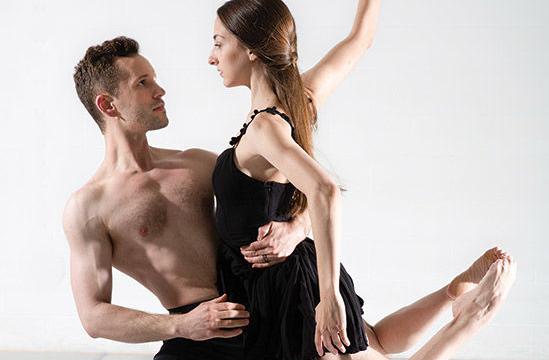 One local dance company won't let the month of January escape without some action. Big Muddy Dance Company continues its Fortissimo Season: Celebrating Musical Minds through Movement. The theme of bold musical exploration resumes with Beat Ballads at the Grandel Theater in the Grand Center area, Friday and Saturday, Jan. 24-25 at 8 p.m.
The evening will offer a variety of works from multiple local and nationally-renowned choreographers creating within a variety of themes and soundtracks.
Nationally recognized choreographer Marc Macaranas, California-born and now based in Chicago, has multiple choreographic and performance credits to his name. He will present a world premiere titled "The Slip" for a small ensemble of the Big Muddy dancers. The piece is set to the music of Joby Talbot, renowned British composer whose narrative ballet scores for "Alice's Adventures in Wonderland" (The Royal Ballet) and "The Winter's Tale" (The National Ballet of Canada) were collaborations with Christopher Wheeldon, choreo-grapher-in-residence of The New York City Ballet.
Big Muddy's Artistic Director Brian Enos presents a company premiere of his work "Hadal Zone," also set to music by Jody Talbot, this time with orchestral sounds. The intense, dramatic movement is set on a large group ensemble interwoven with solos and duets. The term "hadal zone," used metaphorically, refers to the deepest regions of the ocean, beyond 20,000 feet within ocean trenches.
The program features an encore of the company's "With You Always," choreographed by Shannon Alvis to music by local musician Steph Plant of the Leonas. The work includes three richly emotional duets depicting the struggles and triumphs within relationships. Plant's music is for solo voice with guitar and violin accompaniment.
Before turning to choreography, Alvis performed with Hubbard Street Dance Chicago and then went on to Europe with Nederlands Dans Theater. With the latter company, she performed in its renowned repertoire choreographed by greats such as Jiri Kylian, Nacho Duato, William Forsythe, and Ohad Naharin. Her work is inspired by the best in contemporary international dance.
Opening the program will be "Voila," choreographed by St. Louis-based choreographer and dance educator Jenny Battenberg for the Convergence Trainee Program's dancers. Humor and quirky contemporary moves are featured in this premiere work. The nostalgic French ballad style of music is by Francoise Hardy.
The eleven dancers in this program receive dance training and an introduction to the world of professional dance. Performance preparation and on-stage experience is crucial to their growth as aspiring dancers.
The evening is sponsored by Kathleen and Kent Turner along with the valued support of our local and regional arts organizations: The Regional Arts Commission, The Missouri Arts Council, and The Kranzberg Arts Foundation.
Tickets are $35 adults, $25 for students and seniors. For tickets go to Metrotix.com.