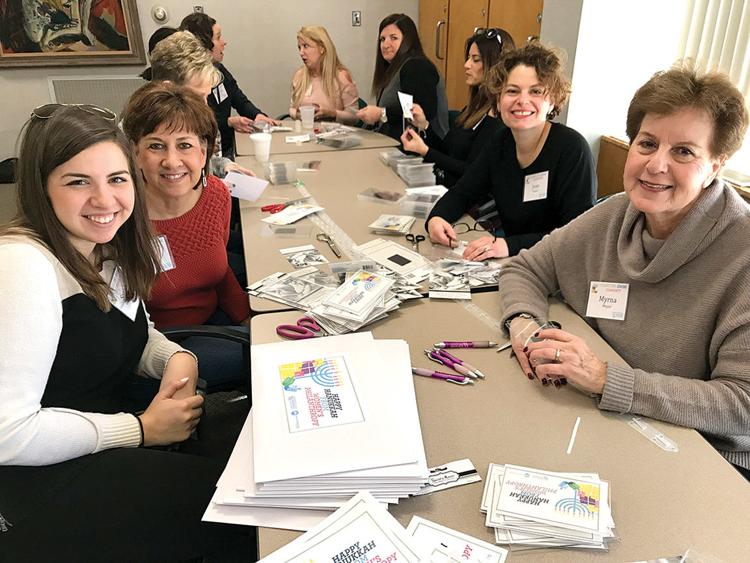 Hands-on Hanukkah spirit is abundant locally through a coordinated, regional initiative that focuses on inclusion.
Neighborhood children and area residents living in care facilities are getting uplifting boosts through gifts of good will during this Hanukkah season, thanks to Women's Philanthropy members of the Jewish Federation of St. Louis. Their motto is: "Something they want, Something they need, Something to wear, Something to read!"
Hanukkah, also spelled Chanukah, is the Jewish Festival of Lights celebrated for eight days. The word Hanukkah means rededication, and its observance often includes elements of community charitable causes.
This year, the Jewish Federation group is covering needs of both the elderly and young by hosting a personal care package project – especially for those who are homebound – as well as a Hanukkah Hugs gift drive for youths. For infants to 18 years old, requested items for donations are new, unwrapped gifts, toys, books or gift cards.
Bonnie Solomon, chair of the federation's Women's Philanthropy, said this marks the fifth year of the group's volunteers providing 300 Hanukkah packages for Jewish elderly living in care communities throughout Metro St. Louis.
After collecting donated items for the Bags of Love care packages and Hanukkah Hugs drive this month, two assembly events at the Kaplan Feldman Complex Boardroom at 12 Millstone Campus Drive enable the group to sort and prepare the items. At press time, one packing event already had occurred during the evening of Nov. 28.
However, if volunteers hurry, there's still a quick chance to join the packing event Nov. 29 at 10:30 a.m. Those interested can take donations to the Nov. 29 packing, or call 314-442-3751 to register to help with the packing – or both.
Reaching Out to the Vulnerable
Solomon said the community service project for elderly is an outgrowth of their successful springtime Shower the Community with Love project during which they collect, package and deliver essential items to needy families.
"Women volunteers expressed a desire to expand hands-on community service several times each year. As a result, we attracted more than 300 women and families over the past five years who have lent their hearts and hands to benefit the homebound and needy in our community," said Solomon, who was the group's community service vice president when this expansion occurred.
"This program is highly meaningful and personal to me. It's very gratifying that we've touched the lives of so many seniors by bringing them a taste of the holiday. In addition, we've engaged multi-generation volunteers in the effort, many of whom come away from the packaging events feeling connected to an isolated and vulnerable senior," she added.
Linda Kusmer, a co-chair for this year's Hanukkah packaging, said it's a joy because the program not only benefits Jewish homebound elderly who receive the gifts, but allows volunteers of all ages to work together to fulfill the Biblical mitzvah of "paying it forward."
Jennifer Busch, co-chair of this year's Hanukkah Hugs, said her desire to give back to the community stems from last summer when she went to Israel on a federation-hosted Jewish Women's Renaissance Project trip.
"It was truly a life-changing experience," she said. "I loved the mix of wonderful touring, motivational speakers and female bonding. Upon returning, I wanted to give back, as well as get more involved in the St. Louis Jewish community."
Every year, Busch, a Rockwood School District kindergarten teacher, participates in her school's outreach program for students.
"When I heard about Hanukkah Hugs, I thought co-chairing the event would be perfect way to get involved with both my passions: kids and the Jewish community. It's incredible to see how generous our community really is. My hope is we're able to provide eight special nights of Hanukkah for many needy kids," she said.
Carolyn Morris, who also co-chairs Hanukkah Hugs, said she increasingly appreciates the sense of community the Jewish Federation fosters.
"I was lucky enough to help with this project last year, and though in a limited role, it was such an eye-opening experience," she said.
Morris said it's easy to forget, or to minimize, that some parents within local communities struggle to supply basics and cannot provide "extras" to their kids.
"Not only can our generous community efforts provide gifts for the kids, but we also help alleviate some worry, and maybe minimize stress, for the parents," she said. "Witnessing the joy on the parents' faces as they select gifts for their kids and realize they could give new, wrapped, Hanukkah presents to all of their kids is so great to see. I think that in itself was also a gift to the parents, and it certainly was a gift to me, as well."
Solomon said the group's members also are proud of the collaboration they've sustained among several social agencies over the years.
The care packages will be delivered throughout St. Louis to clients of the Jewish Family and Children's Service Chaplaincy Program, and Meals on Wheels associated with the Jewish Community Center and Crown Center for Seniors.
Area temples and facilities that participated in this endeavor by being drop-off spots for donated items included:
The J's Early Childhood Center and KidZone locations, Congregation Temple Israel, United Hebrew Congregation, Kol Rinah, Central Reform Congregation, Temple Emanuel, Traditional Congregation, Saul Mirowitz Jewish Community School, Epstein Hebrew Academy and Congregation Shaare Emeth.