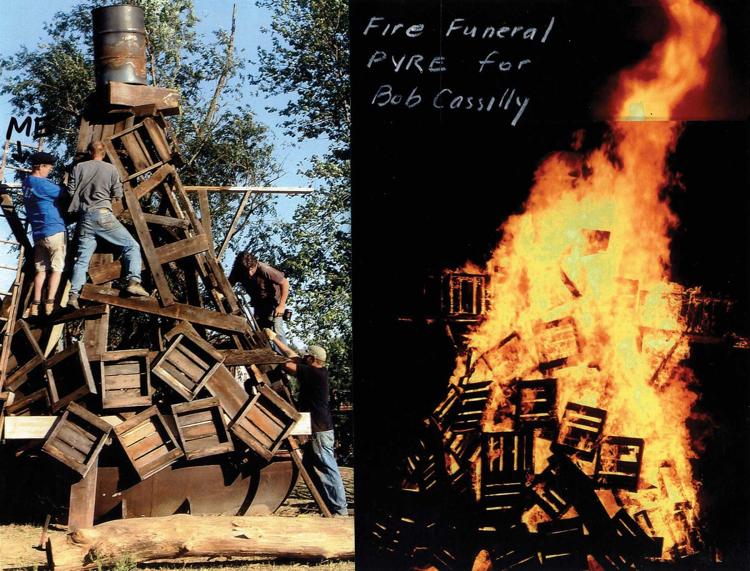 Artist Bill Christman, owner of Joe's Café & Art Gallery in Skinker DeBaliviere and creator of Beatnik Bob's Museum of Mayhem, Mystery and Mirth at the City Museum, has a vision. On a vacant lot at the corner of Cabanne and Union he hopes to build a sculpture garden. But not just any sculpture garden.
The project, which has a working title of "Land of Giants," will include large installations of 20 to 30 feet in height. The sculptures will be modeled on small maquettes created by residents of the neighborhood and realized on a gigantic scale.
To help kick off his project, Christman has planned a bonfire ceremony on Saturday, April 27, from 7 to 10 p.m., at Cabanne and Union. The event is free, and will feature live music featuring gospel singer Erica Reed in addition to one of Christman's enormous bonfires (see photos at right). The event will also celebrate the recent election of Shameem Clark Hubbard as 26th Ward alderman.
Another vision for his garden: Christman would like to plant trees and bushes on the two-acre plot so that neighbors can harvest nuts, berries, apples and other fruits. To that end he is partnering with Tim Kiefer, owner of the Food Pedaler bicycle delivery service. Kiefer is also in business with his wife at Perennial City Composting.
Christman grew up in this 26th Ward neighborhood. He's hoping to one day create a 65-foot-tall "World's Largest Robot" for his "Land of Giants."