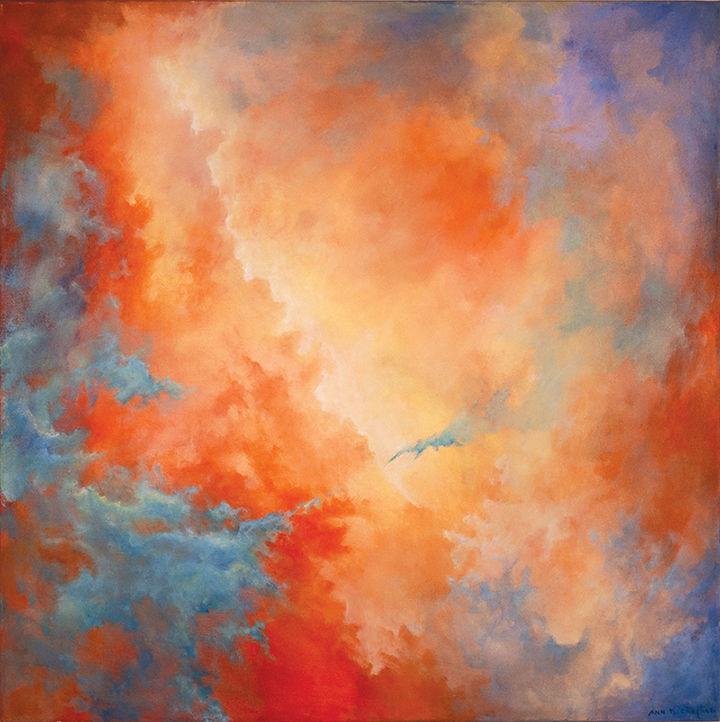 After months of preparation, the Union Avenue Christian Church (UACC) is exhibiting work from Missouri and Kansas artists who answered the millenia old question, "Who is God?"
On Tuesday, Oct. 1, UACC hosted its inaugural opening day of the "Who is God?" art show. This year's exhibit, titled "Light of the World," will run until Dec. 1 at UACC's Gretchen Brigham Gallery, located at the back entrance of the church at 733 N. Union Blvd.
"Who is God?" comes to St. Louis after nine years and six shows by Andrea Mastrangelo of Museum Contempo in Shelton, Washington. According to Carla Duncan, Gretchen Brigham Gallery coordinator, the Washington exhibits quickly attracted international artists. While the first installation of "Who is God?" in St. Louis features mostly Missouri artists, Duncan said she intends to expand the pool of artists to feature more works from a variety of religious backgrounds. This year, most artists come from a Christian background, although "Who is God?" exhibits one Jewish painter and one artist who delved into Buddhist themes.
The Rev. Terrence E. Dempsey, Society of Jesuits, juried the selection of art in "Who is God?" The show features 36 works of art available for purchase from 18 artists; 15 women and three men. Dempsey said only one artist chose to depict a physical representation of God, while the rest exhibited unique perspectives on God.
"St. Ignatius of Loyola, the founder of the Jesuits, spoke about finding God in all things, and indeed, the artists in this exhibition have found God in a variety of ways," Dempsey said in his juror's statement.
Dempsey said many of the artists chose to depict God as a scene of nature. Ann Croghan, who has three paintings featured in the exhibit, said God is the light in her work.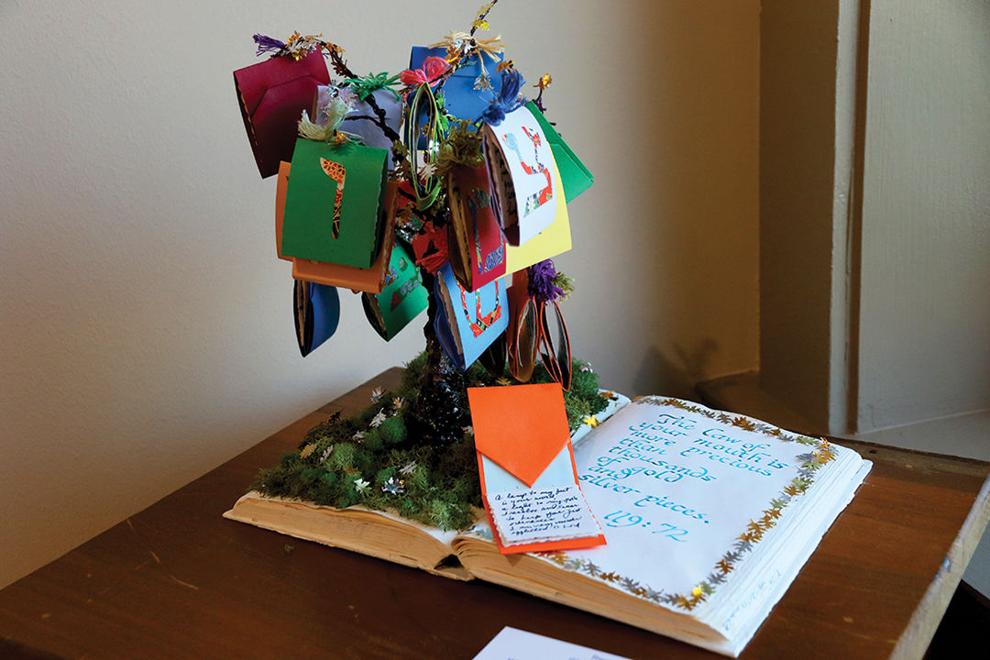 "I frequently use the sky as my vehicle to express my relationship with God," Croghan said.
Croghan's paintings, "A Moment of Light," "Genesis" and "The Journey's End," showcase her style, which she describes as "lyrical abstraction." Croghan blends her background in realism, her devotion to God and a love of color to paint three pieces that answer the show's titular question.
It should come as no surprise that Croghan said she was influenced by the old masters of classical painting like Rembrant and Da Vinci. In her work, "A Moment of Light," Croghan's brushstrokes manifest as two clouds that appear as outstretched limbs, reminiscent of Michelangelo's "The Creation of Adam" on the ceiling of the Sistine Chapel. Croghan painted what she calls a "moment of light" running between the two wisps of clouds.
Croghan said viewers can see moments of light in every corner of her work. Even in the darkest, richest patches, light can be seen.
"Jesus is that moment of light," Croghan said.
Dempsey, who is the director emeritus of the Museum of Contemporary Religious Art at Saint Louis University, said Croghan's art inspires awe.
"I think they're great," Dempsey said. "They're spectacular. It's awe-inspiring. It takes you out of the ordinary world and transports you into this world of almost ecstasy."
Dempsey said Croghan's work, and the works of many of the other artists, paint the idea of the sublime.
"It's this feeling of grandeur - that there's this thing of grandeur above us that makes us feel quite small if we pay attention to it, but also fill us with awe," Dempsey said. "I think that sense of awe is something all humans seek."
The Gretchen Brigham Gallery is open daily during various hours and Saturdays from noon - 3 p.m. Call 314-361-8844 to verify daily times. On Nov. 16, UACC will host an Artists' Talk from 6 to 8 p.m. to give the public a chance to hear from the artist about their work and process.