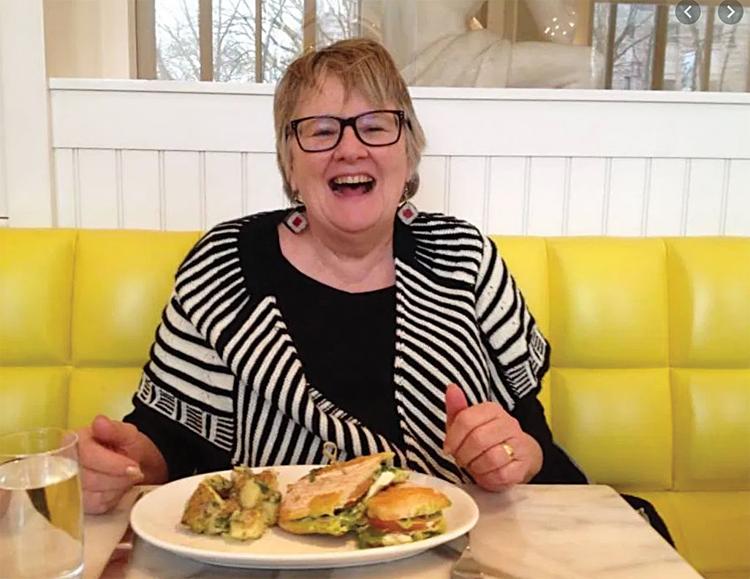 St. Louis food writer and restaurant reviewer Ann Lemons Pollack isn't letting the current pandemic halt her work.
Formerly one half of a famous food critic duo with late husband and St. Louis Post-Dispatch columnist Joe Pollack, she's currently finishing up her newest book, "Iconic Restaurants of St. Louis." Unlike her first solo book, "Lost Restaurants of St. Louis," her current compendium includes restaurants that are alive and well — or at least they were before COVID-19.
"Iconic Restaurants," said Pollack, is in many ways a continuation of "Lost Restaurants," featuring restaurants she considers to be part of the essence of St. Louis. Eateries like Annie Gunn's, Blueberry Hill and Cunetto House of Pasta will not surprise anyone, but Pollack promises a diverse lineup of options, plus a surprise: the return of Beffa's Restaurant — the only name to appear in both books — which closed in 2011 after more than a century of service and recently began serving again at its original location, 2700 Olive Street.
"We're going all over the place in terms of cuisine and price," said Pollack. "We've tried to make it geographically spread out."
From this new book, readers can expect a similar feel to "Lost Restaurants" packed with Pollack's usual wit, interviews and tantalizing historical tidbits. The "terminally anecdotal" Pollack will share insight into St. Louis' most cherished restaurants, from humble beginnings to long-lasting legacies.
The book also visits the rebirth of Union Station, where President Harry S Truman took his famous newspaper photo, and even includes a recipe for Truman's favorite Wisconsin Cheese Soup.
Pollack's 2018 book chronicles the legacies of St. Louis' lost food gems. Featuring in-depth anecdotes about favorites like Busch's Grove and Fedora's Cafe & Bar, "Lost Restaurants of St. Louis" also contains a fascinating look into cuisine of the 1904 St. Louis World's Fair.
"That's been the greatest fun in terms of researching," she said. "There were at least four restaurants that could seat 2,000 at a time. They had a potato peeling machine. They had underground fridges for beer and wine and soda."
About Ann Lemons Pollack
Born just days after the first atomic bomb was dropped, Pollack grew up post-wartime in Desloge, Missouri in St. Francois County. She was educated as a nurse, a career she practiced until she was 50 years old, and raised two children as a single mother while earning her degree.
When her children spent time with their father, Pollack would travel to New Orleans, where she became a fan of a food publication called New Orleans MENU, for which she continued a subscription in St. Louis. After reaching out to food critic Tom Fitzmorris, he and Pollack became pen pals.
With her then-boyfriend, Pollack went to California, writing to Fitzmorris about the places she saw, the food she ate and her boyfriend's picky eating habits. To Pollack's surprise, Fitzmorris published part of one of her letters, crediting her with a byline.
"When I discovered he had published one of my letters making a comment about my poor (boyfriend), I said, 'I'm not writing this for you to publish,'" said Pollack. "And he said, 'well then, send me something I can use.' So I did."
And so, Pollack began to write for New Orleans MENU. Little did she know, another St. Louisan was paying attention. Pollack's writing caught the eye of Greg Holzhauer, publisher of St. Louis DINING Magazine, who also subscribed to New Orleans Menu. By the time she called St. Louis DINING to ask for work, she was already known to him.
"They couldn't pay very much but they were really eager and had space to fill," said Pollack. "And there you go. I became a food writer while I was running a chemotherapy service."
While writing for St. Louis DINING, she met Joe Pollack, who pulled her into the world of restaurant critique. Together they wrote three review books.
A cook herself after years of raising a family, Pollack brought to the table an explanation of food reactions that her husband wasn't privy to.
"I could say, 'this is tough because … This coffee tastes bad because nobody scoured the coffee maker. The oil has gone rancid.' I knew more about the science of it," she said.
In addition to writing books today, Pollack continues to write reviews and commentaries for St. Louis Magazine.
Once picky, Pollack is now an adventurous eater, save for the McDonald's Filet-o-Fish, which she refers to as "a wart on the nose of society." She also abhors crinkle-cut fries and the St. Louis trend of sugary salad dressings.
Her doubly-edible surname isn't lost on her, either.
"I thought it was a very appropriate name for a food writer. And I collect food jewelry," she said, brandishing take-out box-shaped earrings.
"Iconic Restaurants of St. Louis" is set for release later this year.