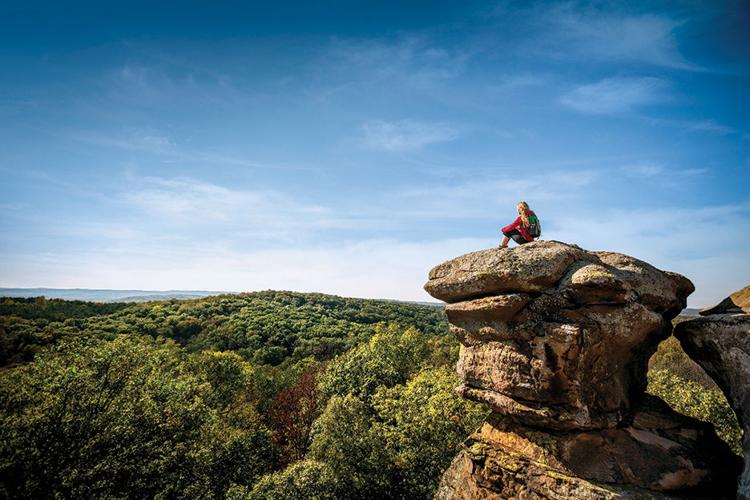 Take a road trip less than three hours from St. Louis to Southernmost Illinois and find a bounty of adventure just waiting to be experienced.
Ten counites make up the Southernmost Illinois' three regions: The Western region with Alexander, Jackson, and Union; The Central region with Johnson, Massac and Pulaski; and the Eastern region with Gallatin, Hardin, Pope and Saline.
Looking for an outdoor adventure? The Shawnee Forest Country has something to cover every outdoor interest with a quarter million acres of Shawnee National Forest, five state parks, 750,000 acres of fishing lakes, two state and two national wildlife refuges, two national scenic byways allowing visitors to enjoy camping, hiking, biking, horseback riding, hunting and more.
Garden of the Gods is a well-known site and with good reason. The "Observation Trail," one of two trails to journey, offers a quarter mile stone path featuring interesting rock formations and beautiful views of the 3,300 acres of old-growth forests that boasts spectacular sunsets.
Experience nationally and internationally award-winning wines on the Shawnee Hills Wine Trail surrounded by the rolling hills of the Shawnee National Forest. Illinois' first formed wine trail offers 11 distinct wineries to explore along a well-marked 40-mile stretch.
Tour Southernmost Illinois small towns and discover areas rich in historic culture, sites, landmarks and museums, unique shopping and antiques, eclectic culinary options, pottery and original artwork, golf courses, orchards and so much more.
And don't forget the home of Superman in Metropolis, Illinois! See a 15-foot bronze statue of the "Man of Steel" in Superman Square and, of course, the Super Museum. Or visit the Bald Knob Cross of Peace, a 200 feet tall white gleaming white cross located in Alto Pass, Illinois.
There are also a variety of upcoming events and fall festivals to provide numerous fun and festive day trips and overnight excursions. For more information, visit www.southernmostillinois.com