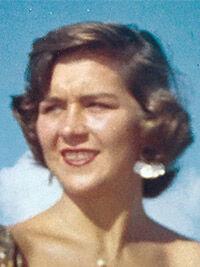 Moore, Yvonne Linsin, 83, of Kirkwood, Missouri, died Saturday, Nov. 7, 2020, in Topeka, Kansas. 
Yvonne was born April 30, 1937, in St. Louis, Missouri, as the daughter of E.O. and Dorothy Linsin. Yvonne was a graduate of Normandy High School, attended Lindenwood College and earned a bachelor's degree in English from Central College. She was married March 3, 1962, in Fort Lauderdale, Florida, to Ted J. Moore. He preceded her in death in April, 2018. 
She was also preceded in death by her parents and brother Orvie. Surviving family members include her brother Chris, daughters Susan (James) and Nancy (George) and her son Roger (Scott). She was known lovingly as "Yvonne" by her four grandchildren: Ana, Olivia, Lilly and George Thomas. Cremation has taken place and no memorial services are planned. Private interment of both Yvonne's and Ted's remains will take place at a later date. 
Yvonne's two shih tzus, Pooshki and Pepper, gave her love, comfort and joy. In lieu of flowers, memorial contributions may be given to Helping Hands Humane Society of Topeka — hhhstopeka.org.