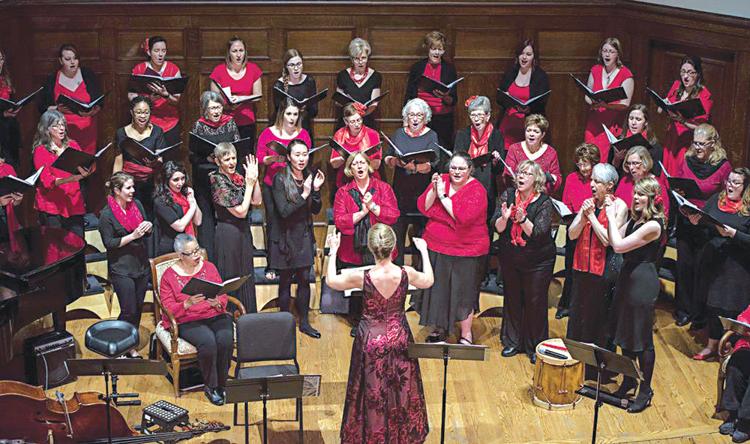 The Women's Hope Chorale opens its 25th season on Sunday, Nov. 10, with a 3 p.m. concert entitled "Illumination," performed at First Presbyterian Church of Kirkwood, 100 E. Adams Ave.
The chorale will sing two works, composed 300 years apart — a choice that makes a point about women, music and progress.
The first is Antonio Vivaldi's "Gloria" in D Major, illuminating the important but little known role that women played in the development of this musical masterpiece.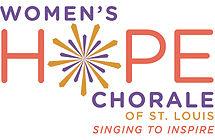 The other work at the Nov. 10 concert is, "I Rise: Women in Song." Composed in 2017 by Reena Esmail, it consists of settings of poems, including one by Emily Dickinson.
"The composer's a woman and so are all the poets," said Leanne Magnuson Latuda, Hope Chorale director. "The concert is a way of saying, Look how far we've come, baby!"
The Women's Hope Chorale has come a long way since it was founded in 1994. Its first director was Susan McMane. She was studying choral music at Saint Louis University. She had a sister who was a storyteller, and they put on a show that combined song and story. It was a hit. She decided she wanted to do more shows.
She joined forces with the Shaws, who live in University City. Dick Shaw, husband of founding member Mary Ann and longtime board member of the Hope Chorale, said that the couple found a lot of good music that wasn't being performed simply because of a lack of all-women chorales. Brahms and Beethoven had written pieces for female groups that had fallen into obscurity despite the fame of the composers.
"A woman's chorus has a unique sound that lends itself to amazing music," Mary Ann Shaw said. "Women can sing very low and it sounds lovely."
Over 25 years the Hope Chorale has grown and changed. Professional singers, who are paid, have joined the volunteers that make up most of the group.
"They're strong guides in leading a section," said Latuda.
The membership has grown more diverse, in ethnicity and age, and they come from all over the St. Louis area. The choice of music has become more eclectic as the Hope Chorale partners in performance with other groups, such as the 442s, a jazz ensemble.
The Hope Chorale has found a home at Maryville University, which provides rehearsal studios and space for the sizeable music library the Chorale has built up. Maryville students join the chorale, adding a youthful flavor to the sound.
Latuda had been a member of the chorale in its early years. The birth of a son caused a hiatus. She returned as director in 2012.
Recalling high spots in Hope Chorale history, Mary Ann Shaw named two occasions when the group traveled far from St. Louis. In 2003, they went to Venice.
"I got to walk through an ospedale, and we sang in churches where Vivaldi's chorus sang. I had such emotion." she said.
In 1999, the Hope Chorale competed in the Llangollen Eisteddfod in Wales, finishing third in their category. The group enjoyed hearing women's choruses from around the world and getting to know their members.
The Hope Chorale has also gone on the road in America, and performed at Carnegie Hall. But "we're not that well-known in our own city," said Dick Shaw.
Appearing at local venues from Kirkwood to Grand Center and performing free at events supporting feminist causes, the women of Hope Chorale have built a loyal core audience. Now the group's leadership is trying to raise its profile and set it on a firm basis for the future.
"You just have to get people to a concert and it sells itself," Dick Shaw said.
The Hope Chorale aims to make its members better singers through online resources and guidance from professionals, Latuda said. But the biggest benefit is spiritual.
"Music touches every part of the brain," she said. "It's a safe means to get to what's inside you — both the positive and negative emotions. And it crosses barriers between people. Breathing together, standing shoulder to shoulder, as you create something musical is a natural way to create kindness and friendship."
She added that members say they always feel better after a rehearsal.
25th Anniversary Show
Gloria in D Major was written by Antonio Vivaldi in 1715, when he was concertmaster at the Pio Ospedale della Pieta in Venice. An ospedale was an orphanage.
"Many of the children were the illegitimate daughters of wealthy men," explained Mary Ann Shaw, one of the founding members of the Hope Chorale.
Some fathers felt guilty about abandoning their offspring, so they made generous donations to the orphanage. As a result, many orphans received good educations, especially in music. Such singers formed the all-female chorus that first performed the Gloria.
"Some ospedale choruses got to be very good, and people came from all over to hear them," said Latuda.
It was a fairly recent development that women were allowed to sing in church at all. The ospedale chorus had to sing from behind a black screen.
"It created a mystique. People wondered, 'who are they?'" Latuda said.
2020 Concerts
In the second concert of the season, "Reflection," the Hope Chorale will present the "greatest hits" of its first quarter century. For listeners, it will be a chance to catch up with this group before it moves onward with "Celebration," the last concert of the season, which will feature the premier of a specially commissioned work.
"Reflection" will be performed at 3 p.m. Feb. 16 at First Presbyterian Church of Kirkwood.
Celebration will be performed at 3 p.m. April 24 at 7:30 p.m. at Schlafly Taproom, 2100 Locust Street. A repeat performance will be held April 26 at 3 p.m. at First Presbyterian Church of Kirkwood.
Tickets are available at: www.womenshopechoralestl.org