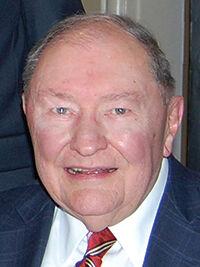 Stewart, William Layton, passed away at home in Kirkwood on June 19, 2022, at age 90. 
Born Oct. 10, 1931, Layton was the only child born of the late St. Louis County Councilman Maurice L. and Verna Stewart. He was the dearest husband for 63 years of Marilyn (nee McGinty); dearest father of Stephen L., Andrew M. (Lynn), and Stacey A. Stewart and Debbi Brake; dearest grandfather of John, Jane, Charles, and Margaret Stewart; dearest brother-in-law of Marjorie Kilpatrick, Maureen McGinty, Sally (the late John) McGinty, Melanie (Gary) Tate, and Melinda (Dick Moore) McGrath; dearest uncle of David (Anna) Nunn, Jeff Nunn, John McGinty, Sarah (Terry) London, Bill (Feryal) McGinty, Ryan (Justina) Tate, and Amanda (Ross) Braun; and dear friend to many. 
A life-long St. Louisan, Layton graduated from Cleveland High School and became a proud TKE brother at Washington University ('53 business and '57 law). In between programs, he served as an officer in the Finance Corps of the U.S. Army. Layton practiced law downtown from 1957-2020 and practiced law from home until last week. He was a long-time member and former Chairman of the Board of Webster Groves Christian Church. He was a 57-year member at Algonquin Golf Club, a 30-plus year member at Missouri Athletic Club, and a former member of the Noonday Club. 
Layton especially enjoyed serving as counsel to countless friends and clients for decades and was always on call as a trusted advisor. He loved his lunches, tennis, fishing, traveling, and reading. He was a devoted husband, father, and grandfather and loved the large McGinty family he acquired through marriage on Dec. 20, 1958. 
Special thanks to "Queen" Victoria (aka "Moe") and her Royalty Healthcare staff of Kanitra, Rachel, and Shirley for their loving care over the past 14 months.
Visitation at 3 p.m. followed by a Memorial Service at 3:30 p.m. Thursday, June 30, at Webster Groves Christian Church on Lockwood. Reception to follow at Algonquin Golf Club. In lieu of flowers, contributions encouraged to The AGC Employees Educational Foundation, 1398 Beverly Ave., Glendale, Missouri 63122 — agcedfound@gmail.com — or to St. Louis Children's Hospital.