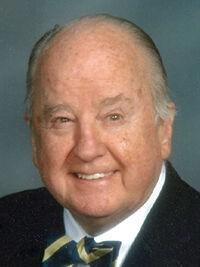 Wilson, William "Bill" Breckinridge, passed away peacefully on April 29, 2022. He is survived by daughters Cheryl (Rob) Pepple and Anne (Bryan) Cook; and grandchildren Max, Breck, Morgan and Catherine. Bill had a positive, magnetic personality and was loved by all who knew him. 
Bill attended the University of Arkansas where he studied economics, was a member of Sigma Chi fraternity, ran hurdles for the track team and danced and performed in musicals. 
He was a Captain and flight instructor in the U.S. Air Force and flew Lockheed's F80, America's first jet fighter. He married his beloved, wife Grace. Their two daughters, Cheryl and Anne, were the light of his life. Bill was a vice president for A. G. Edwards and was an expert in the bond department. 
He was on the board of the Daniel Webster Society of Webster University, president of the Artist's Guild, and a member of the Society of the Cincinnati and the National Cartoonist Society. Bill was a talented cartoonist with a major cartoon collection. 
We would like to give special thanks to Bill's doctor, to the staff at Aberdeen Heights and to Accent Hospice for the excellent care he received.
A memorial service will be held on Wednesday, June 1, at 3:30 p.m. at Emmanuel Episcopal Church, 9 S. Bompart, Webster Groves, Missouri, 63119. Celebration of life to follow. 
In lieu of flowers, donations can be made to the Saint Louis Artist's Guild, 12 N. Jackson Ave, Clayton, MO, 63105.  Arrangements by Bopp Chapel.