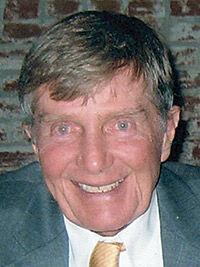 Bina, William "Bill"  was fortified with the Sacraments of the Holy Church on Dec. 17, 2020. He was the beloved husband of Nancy for 58 years; devoted father of five daughters: Maribeth (David) Amos, Kathleen (Michael) Dehner, Vicki (Robert) Yokley, Megan (David) Kramer, and Ellen (David) Kendall; Papa of 14 grandchildren: Molly, Maggie (Gray) Secrest, Bridget, Jack, William, Alice, Madison, Sarah, Charlie, Ryan, Nicholas, Patrick, Colin, and Maria; and dear brother, brother-in-law, uncle and friend.
Bill Bina, age 82, passed away peacefully on Thursday evening Dec. 17, 2020.  He was at home, surrounded by the love of his life and his five daughters. 
Bill was a graduate of Chaminade High School and St Louis University. He loved living in Kirkwood and being a member of St. Peter Catholic Church for over 50 years. We will all remember Bill for his love of the beach, reading books and walking the streets of Kirkwood. At Bill's request, his body was donated to St. Louis University School Of Medicine.
Memorial Mass was held on Tuesday, Dec. 22, 10 a.m. at St. Peter Catholic Church, 243 W. Argonne Dr., Kirkwood.