Kirkwood voters will soon decide the fate of the widely debated Prop S — a multi-million expansion plan for the Kirkwood School District that would include building a new elementary school on property the district owns at Lindemann and Dougherty Ferry roads.
Kirkwood School District officials say the no-tax-increase bond issue is necessary to address the district's growing enrollment and alleviate overcrowding in its schools, while critics say the plan would likely still lead to a tax increase in the future.
In addition to building a new elementary school, the $70 million proposal would add classrooms to both of the district's middle schools and the high school. It would also fund several other construction projects, as well as safety, security and accessibility improvements throughout the district.
Prop S funding would provide for the following:
—Construction of a new K-5 elementary school on the Lindemann site
—Construction of a gym and library at Tillman Elementary School
—Construction of secure entrances at Kirkwood Early Childhood Center, North Glendale Elementary School and Kirkwood High School
—Additions/renovations to seven classrooms at Kirkwood High School
—Construction of four classrooms at Nipher Middle School
—Conversion of the Administrative Center to classrooms for North Kirkwood Middle School
—Renovation of the Hough Learning Center, "the warehouse" and rebuild "the barn," adding offices for administrative services
Building the elementary school would cost $40 million, and the projects at the other schools would cost $30 million, according to the district.
Prop S would be funded by a no-tax-rate-increase bond issue. The bonds would be structured to allow the debt service tax levy to decrease by seven cents, which would be a decrease of $43 a year for a house appraised at $325,000, according to Mike Romay, the district's chief financial officer.
Romay also noted that bond rates are at a low right now.
"Now is the time to capitalize on historically low-interest rates for bonds and accomplish more for our schools without raising taxes for homeowners," he said.
District officials say Prop S is needed to address the continued growing enrollment in its schools. The student population has been steadily increasing over the past 10 years, and enrollment is projected to continue increasing for at least the next five years.
The district is expecting a population growth in its schools over the next five years, which amounts to an increase in school population by roughly 419 students over the next five years. The district's average size for elementary schools is 540, but the growth is district wide.
If Prop S passes, the additions and renovations are scheduled to be complete by the 2021-22 school year, and construction of the new elementary school would be complete for the 2022-23 school year. Regardless of whether the bond issue passes, redistricting will be required to adjust the elementary school attendance boundaries to address the overcrowding.
Support
Those who support Prop S cite growing enrollment numbers and say  that adding onto the district's already overcrowded and landlocked buildings is not a viable solution. Board Member Jean Marie Andrews noted that Kirkwood's average elementary school enrollment of 540 students is higher than several other neighboring districts.
At elementary schools throughout the Kirkwood School District, many students have been receiving instruction in spaces that are less than ideal for learning. At some, students have been trying to learn in the cafeteria during lunch meal prep. At others, overcrowding has led to a shared gym and cafeteria space, which means widely varied lunch hours for students.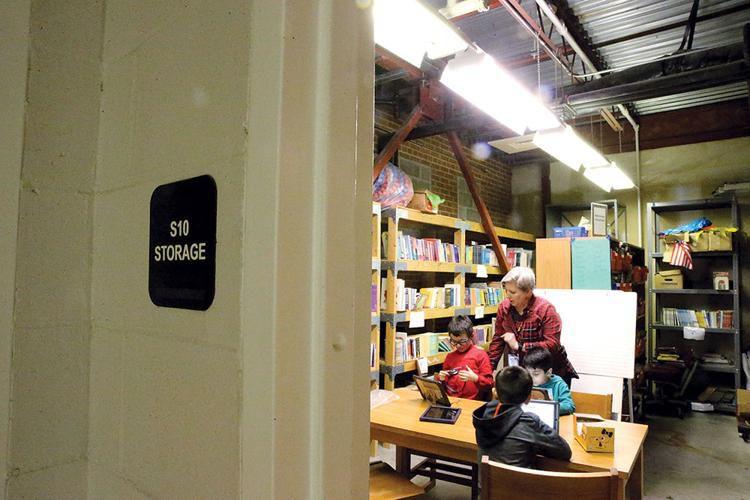 "We have students meeting in unfinished storage closets and students getting Tier II interventions in the hallways," Andrews said. "Adding onto our buildings will not solve our problems. These problems are based on our current enrollment and will only get worse if we add onto these buildings."
Longtime Keysor Elementary School teacher Robin Wellman can attest to that."I see first-hand the challenges we face each day in our crowded schools," Wellman said during a school board meeting earlier this year.
"We are out of teaching spaces. Students receive less art, music and P.E., morning arrival and afternoon dismissal are congested and unsafe, there is a waiting list for Adventure Club, and we have lunch hours that go from 10:50 a.m. to 1:30 p.m. Adding more students will add even more strain."
Wellman said Prop S would allow all six elementary schools to have an optimum number of students and "allow us to best serve students in the Kirkwood School District."
Board Member Andrews agreed.
"A vote for Prop S is not just for a new elementary school — it's for a cafeteria at Tillman, additional spaces at the high school, additional spaces at both middle schools and improvements at North Glendale Elementary, just to name a few," she said. "All elementary schools will benefit from more space due to enrollment balancing."
Kirkwood School Board Member Chad Kavanaugh echoed that sentiment.
"The new building is not the focus (of Prop S) — the focus is load balancing our five elementary schools into six schools so that we can effectively teach students at various levels," he said. "When you have an elementary school with over 600 kids, it's not manageable from an administrative perspective, a staff perspective, education or wellness perspective. I think Prop S is what's best for kids in the longterm, and it makes sense to take advantage of the record-low bond rates."
Prop S chairperson and parent, Danielle Hurtt points out many families choose the area and invest in a family due to the quality of the Kirkwood School District. She has young children in the district who have already been impacted by the overcrowding. She also added that many parents who have children with special needs are concerned with how the impact of overcrowding has created less flexible space to handle interventions when children need specialized one-on-one support.
District officials say if Prop S fails, redistricting will still be necessary to address overcrowding, and schools will continue using hallways and closets for small group instruction. Rooms currently being used for music and art will likely need to be used for grade-level classrooms, which means art and music would be transferred onto carts that would move from room to room. 
The district would also have to consider adding trailers to elementary schools for instructional space, as well as the possibility of moving library books to a storage trailer and using the library as a classroom. 
As a last resort, class sizes would be increased. Although many community members have expressed a desire to keep class sizes the same, that may not be possible if Prop S fails.
Kirkwood School Board President Darnel Frost said passage of Prop S will help provided much-needed updates and help maintain the district's history of excellence.
"Prop S provides our schools, some which were built close to a century ago, needed space for our students to learn and grow," he said. "It is important that we stand up for our students and continue the quality of education we value as residents of the Kirkwood School District."
Opposition
For all the points supporters make, opponents have reasons why they say  Prop S isn't necessary or in the best interest of taxpayers. Critics say although the district has labeled Prop S as a no-tax-rate increase bond issue, passage of the multi-million dollar plan would likely mean a tax increase for voters in the future. Even some school board members have said as much.
Board Member Julie Backer, who voted against putting the measure on the April (now June) ballot along with Board Member Angie Bernardi earlier this year, said Prop S guarantees a tax increase, which could come in the not-so-distant future. 
A citizen group called Tax Fairly agrees, noting: "The reality is that Prop S will extend the bond payments for 17 years, which will cost taxpayers thousands of dollars in tax payments and trigger a new operational tax hike sooner rather than later."
Opponents of Prop S say without it, Kirkwood residents would pay less taxes because the portion of the tax bill that goes to debt service will continue to go down as existing bonds are paid off.
"As current bond repayments are completed, the tax rates will drop," Kirkwood resident Dennis Redington said. "Instead, with Prop S, taxes will be bumped back up again. Even school authorities will have to admit that future tax increases will be required for operating, staff and maintaining a major new campus."
District officials say if Prop S passes, the new school and additions to the middle schools and high school will add operating expenses of roughly $2.5 million (2.7%) to the district's $77 million operating budget, and that districts with growing enrollment typically need an increase in the operating fund every five years.
Voters last approved an increase in the district's operating fund in 2017 through Prop K. The district has kept annual operating expenses below three percent, which it says will extend the Prop K funds to at least eight or nine years, even with potentially building a new elementary school.
Still, opponents of Prop S say it's too big of a financial risk, adding it would also put unnecessary strain on the district's reserves. Many have said they would have preferred to see the "Blue Option" on the ballot instead of the "Green Option" (now known as Prop S) back when the district was still deciding what to put before voters. At a cost of roughly $45 million, the "Blue Option" called for additions and renovations to several of the district's schools. 
Birth Rates & Enrollment
While the district and supporters of Prop S cite growing enrollment numbers, opponents point out low birth rate data.
Board Member Bernardi, who voted against putting the measure on the ballot, worries that building a new school might mean the district ends up with an excess of space given the current low birth trends. She said the new school's capacity would be for 550 students, but the district is only projecting an increase of 157 elementary students over the next five years. 
Bernardi also spoke to the changing state of education given the impact of COVID-19.
"With the current pandemic, a lot has changed over the past three months. School has moved online, unemployment is more than 14% and the birth rate has continued to decline," she said. "This might be a good time to reflect on our immediate needs since many in our community are struggling. In the future we know that education will look very different whether classes meet in person or online, and we must make sure that we provide equitably for all students in elementary, middle and high school. I look forward to working with our new superintendent joining us in June to determine our path forward and what will be in the best interest of all our students."
District officials say despite birth rate data, enrollment has continued to increase because Kirkwood is considered a destination district and many families move into the district when their children reach school age. That growing enrollment has to be redistributed among all of the district's schools.
Board Member Julie Backer, who voted against putting the measure on the April (now June) ballot along with Board Member Angie Bernardi earlier this year, said Prop S guarantees a tax increase, which could come in the not-so-distant future.
Backer said although there is overcrowding in some areas of the district, she believes there are options available to solve those issues that do not involve building a new elementary school.
Other Concerns
People have also expressed concerns about what a new school at Lindemann and Dougherty Ferry would mean for those living in the area. Those concerns include traffic congestion on already busy streets, water runoff and flooding worries for Sugar Creek Valley residents, and the negative impact building a school on the 13-acre property would have on the environment and wildlife in the area.
"The unneeded proposed $40 million K-5 elementary school on the Lindemann property would be a pedestrian safety and traffic congestion disaster," Kirkwood resident Bill Dosenbach said.
Sugar Creek Valley residents worry that if homes south of West Adams become part of the new school boundaries, it would force wider sidewalks, bike lanes and cross walks to be added on the narrow, winding corridor. 
"Overbuilt street infrastructure would not only destroy the scenic natural ambiance of Sugar Creek Valley, but additional impervious surfacing would raise Sugar Creek flood levels, threatening homes along the creek," Kirkwood resident Gwyn Wahlmann said.
The district refutes that and notes that the property was purchased in 1963 with the intent of building a school if one was ever needed. The district also says if Prop S passes and a new school is constructed, it will work closely with its civil engineers and the Metropolitan Sewer District to ensure that it doesn't contribute to any flooding levels within the community.
Romay, the district's chief financial officer, also noted MSD's strict requirements the district must adhere to in regards to water run off.
"If a new school is constructed, MSD has to approve the design of the water retention basins, inspect the construction of the basins and annually inspect the basins to make sure they are functioning as designed," Romay said.
Even so opponents believe passage of the measure would do more harm than good.
"We are encouraging voters to reject Prop S and allow our new superintendent, David Ulrich, to come up with a better plan," Tax Fairly Treasurer Marty Bennet said. "There is a better solution that does not cost so much taxpayer money, does not damage the environment, and does not put the property and safety of residents at risk."
It's Up To The Voters
Voters will decide the fate of Prop S on Tuesday, June 2. The election was originally set for April 7, but postponed due to the coronavirus pandemic. For more information about voting options in this election, including absentee voting, read our story by Editor-in-Chief Don Corrigan here.