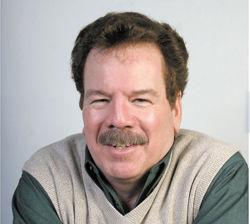 The word "global" used to have a certain cachet. There was prestige in visiting or studying in world capitals: London, Vienna, Singapore or Beijing.
Webster University in Webster Groves and other schools have enjoyed the prestige of study programs abroad.
In the new Age of Pandemic, that word "global" has lost its charm for some people. Global means dangerous things coming out of strange places. A deadly disease has come from nowhere. No one knew COVID-19 could happen to us. Some U.S. leaders contend that no one could have predicted this.
Except, this pandemic was predicted. Here in St. Louis, the World Affairs Council (WAC) has invited the public to its foreign affairs programs for years. A session on pandemics in 2018 noted that a serious epidemic was inevitable and we had better be prepared for it. A few notable U.S. leaders echoed that warning.
A booklet for a 2018 WAC session included these words: "A pandemic could kill as many people as a devastating war ... There are very few risks that have greater potential for catastrophic economic impact ... This is the neglected dimension of our global security."
I use the 2018 World Affairs Council video and its pandemic pamphlet on epidemics in a Global Journalism course that I teach at Webster University. In February, I invited Bob Foster, who was with WAC, to come speak to my class. Ironically he had just returned from China, where the COVID-19 pandemic is said to have originated.
Foster was my final guest speaker before American universities closed up because of COVID-19. He got out of China as the pandemic was spreading. Foster told the class that rumors in China were spreading that the U.S. was behind the pandemic. Chinese media praised the bravery of health care workers dealing with the disease. Chinese families were self-isolating at home. Sound familiar?
Foster also said he feared the U.S. would not do so well with a pandemic. He told me our state could be at the tail end of the disease "curve." The Show-Me State's residents aren't easily convinced to surrender their liberty or abide by being told what to do. They "won't be intimidated" by a virus. He said he hoped the price for this rugged individualism would not be too high.
So much has happened since Foster's visit, and some of his predictions have come true. The rugged individualists have shown up at the state capital with their guns demanding that the state open up. On a local note, our Missouri Attorney General from Glendale, who represented this area in the Missouri Senate from 2009 to 2017, now has a state lawsuit against China over the pandemic.
Eric Schmitt earned a place on FOX News with the lawsuit. FOX has been a source of rumors, such as that the virus was hatched by a secret Chinese Communist bio-terror weapons lab for use against the U.S. That story has been knocked down by such reliable sources as the U.S. Pentagon.
I got back in touch with Foster to ask what he thought of Schmitt's lawsuit. He said the Chinese have handled the pandemic very poorly, but rumors and lawsuits help nobody. He said the U.S. was the origin point for an H1N1 virus pandemic that killed over 17 million people worldwide in 1918. Could the U.S. be liable for reparations?
"The Chinese are not blameless, whether this originated from wildlife in a market or deficiencies in a virology lab," said Foster. "But what does a lawsuit from Missouri accomplish? How would the U.S. react to a lawsuit from Wuhan?
"This is the kind of issue that should be handled by presidents, embassies, secretaries of state," said Foster. "It's not really something to be done by a secondary official in a middle-of-the-pack state. But our attorney general made it onto FOX's Tucker Carlson Show with his lawsuit. So, mission accomplished. It's just political grandstanding."
Foster said he worries about attacks on Chinese exchange students who have nothing to do with the virus. He is disappointed by politicians' calls for shutting down Chinese Confucius Institutes, including one at Webster University. He said cultural connections and lines of communication need to remain open – especially now.