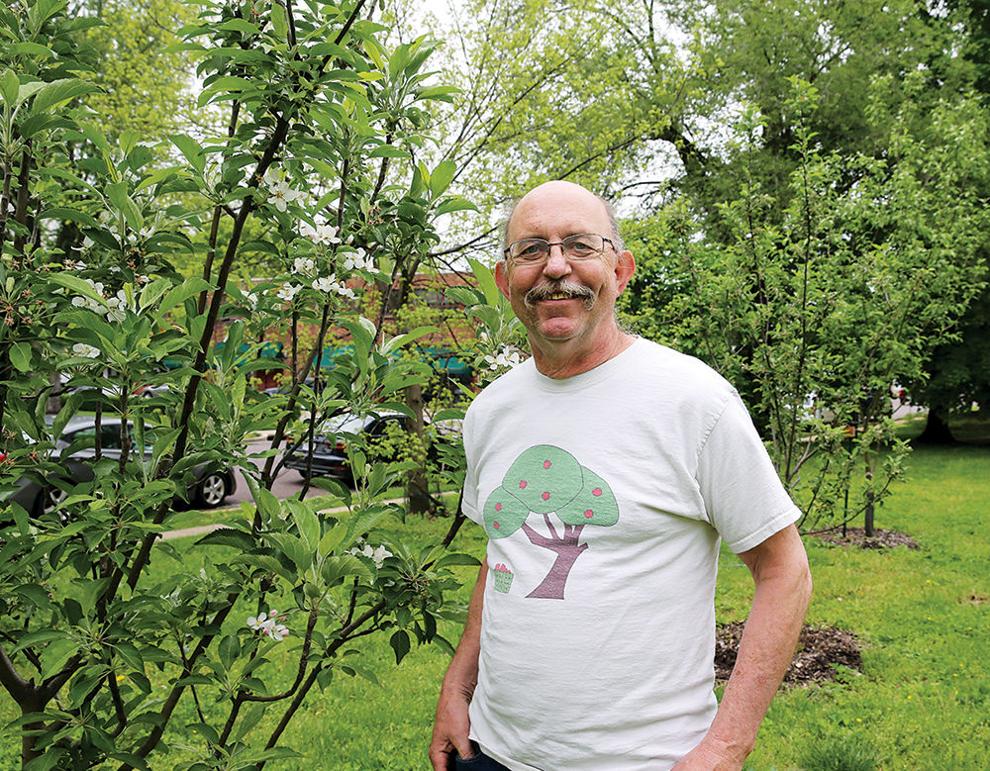 The idea came to Dale Penrose in 2015. Penrose, a member of Emmanuel Episcopal Church since moving to Webster Groves in 2001, had heard of other Episcopal churches growing gardens and sending the food to local homeless shelters.
He decided to jump on the trend, but with his own homegrown twist.
Penrose grew up on the western border of Iowa, in what he calls "Orchard Country." Both his sister and grandparents had orchards, and every fall his mother would go out and pick from the orchards, often with her young son Dale by her side.
In 2016, Emmanuel Episcopal Church gave Penrose the green light to bring a taste of his upbringing to Webster Groves. And so, on a "trial basis" from the church, Penrose planted 15 apple trees at the corner of Lockwood and Big Bend, on a triangle-shaped plot of land just east of the preschool.
"He knew that it would work and he had the plan," said Mary Jane Kuhn, chair of the church's Mission committee. "A lot of us got right behind him."
"It meant a lot because I consider the church my family, and to have family support is always good," said Penrose.
The preschool kids have taken notice of the trees. The first fall after the trees were planted, they came down to the orchard and were given apples by Penrose, dressed up as Johnny Appleseed. He said they loved it.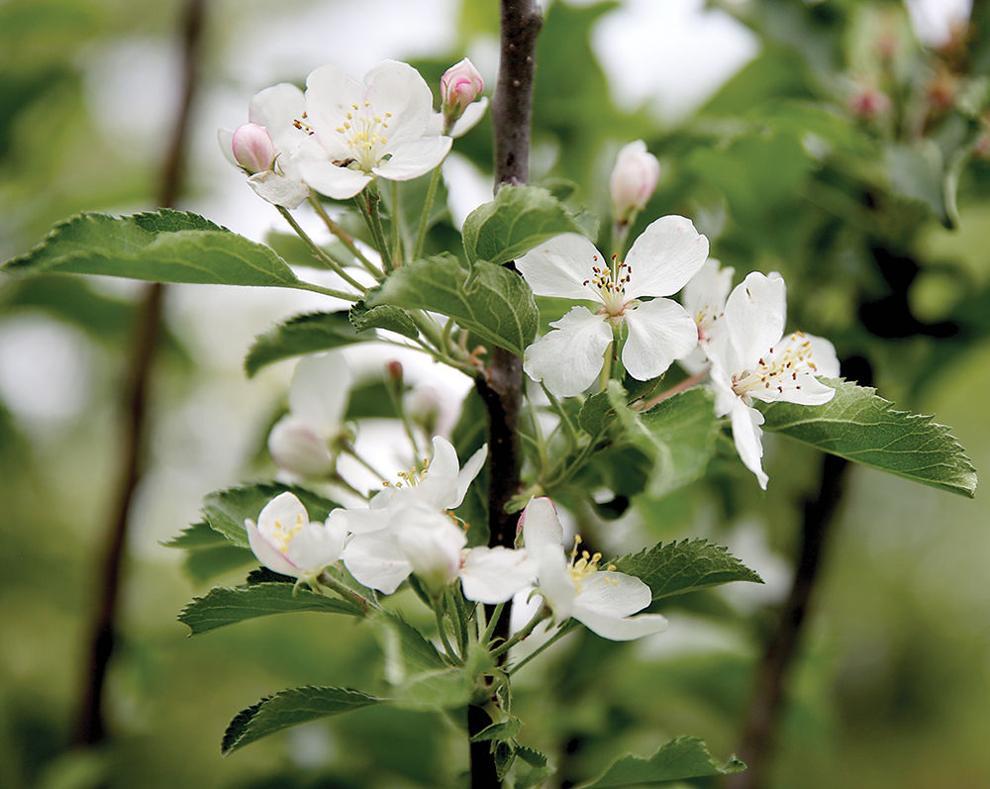 Each summer, the church's vacation Bible school does a service project where the children help mulch the trees.
"It's connecting children to the land and to their food, which will be an awesome thing to see come full circle," said Kuhn. "As the trees grow and start bearing apples, the kids are going to see that happen and remember when the trees were little like them."
Penrose said the ultimate goal is a continuous harvest from early July to early November. Once all 15 trees reach maturity, Penrose said to expect 10 bushels per tree, or a total of 150 bushels each harvest. A bushel typically consists of approximately 125 medium-sized apples.
Multiply 150 by 125, and divide by six apples per pie, and that is over 3,100 apple pies.
According to Penrose, the harvested apples would not only go to the church's preschoolers, but to their food pantry, their Saturday dinner for the homeless and Gateway 180 Homeless Services.
"The goal is to feed as many people as we can," said Penrose. "The apples belong to the church, but the church is growing them to feed the community."
That community, Old Orchard in Webster Groves, used to be the home of orchards back before it became developed. Penrose likes to call his project the "New Orchard in Old Orchard."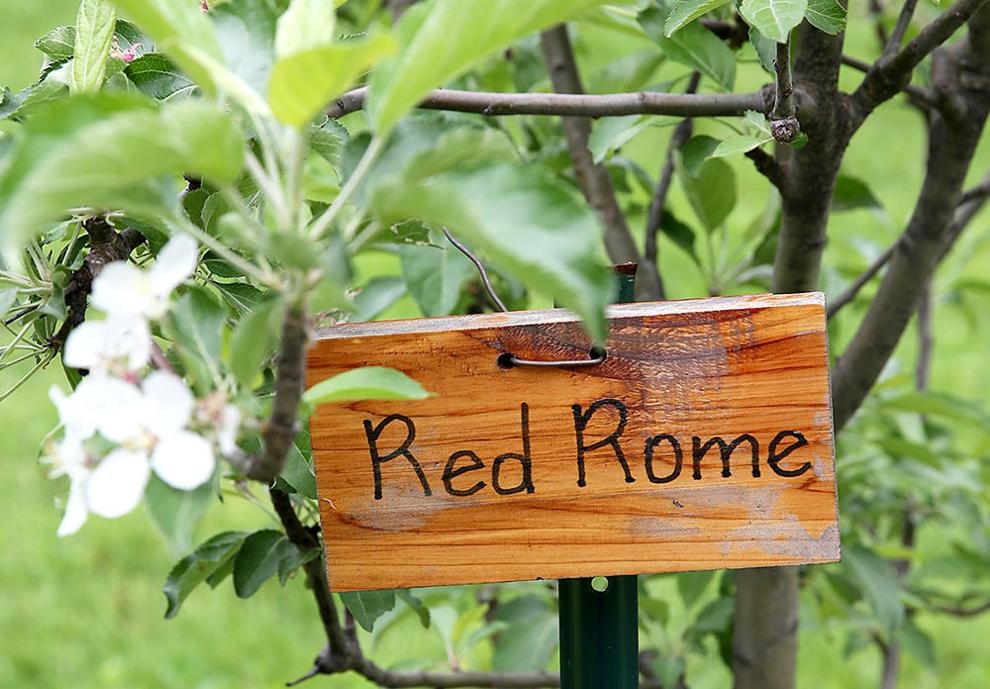 There are 14 varieties of apple trees growing: Wolf River, Sun Crisp, Franklin Cider, Winesap, Braestar, Red Rome, Orleans, Baldwin, Cox's Orange Pippin, Wagener, Wealthy, Yellow Transparent, Arkansas Black and two Golden Delicious.
Since planting the original 15 in 2016, Penrose has had to replant a few due to lawnmower accidents. The first year, two deer snacked on some of the trees. Each tree now has bar soap, a known deer repellent, hanging from a branch.
Amidst the difficulties, Penrose is thankful for the location. He said the combination of Missouri's climate, well-drained land and quality soil has made it an ideal location for the trees to grow.
"You can grow food in the city," said Penrose. "You don't have to be in the middle of nowhere to grow quantities of food."
Penrose said there is room for nine more trees on the plot of land. In a year or two, he would like to plant at least three peach trees, along with pear trees and more apple trees. When asked if the church will allow for the expansion of the orchard, Penrose could not help but smile.
"Everybody in the church loves the orchard so I don't think it's going to be an issue," he said, chuckling.
Penrose also has aspirations to build a cider press, in hopes that during homecoming the children can taste fresh and earthy juice from the trees. But according to Penrose, that is a couple years down to road. He expects the first full harvest to be in 2021, once the trees have reached maturity.
Until then, one might find Penrose walking through the orchard about three times a week, tending to the trees and watching them grow.
"I feel at peace and happy," said Penrose, walking among along the trees. "It reminds me of growing up, country life, and simpler times."