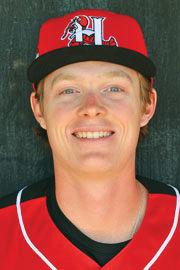 As he jogged to the pitching mound from the Texas Rangers dugout at the top of the fifth inning, hard-throwing right-handed relief pitcher Peter Fairbanks looked as though he was ready for his major-league debut.
The 2012 Webster Groves High School graduate was focused, calm and collected on the biggest stage of his baseball career.
Fairbanks pitched two scoreless innings during Texas' 9-8 loss to Oakland on June 9. In his first inning in the fifth, Fairbanks struck out the side. He used his fastball, generally clocked at 97 or 98 mph and occasionally triple digits, to set up his nasty slider, which he averages 87 to 90 mph.
"He pitched with a lot of confidence," said Shane Fairbanks, Peter's father. "He played it cool."
Fairbanks, 25, told the press afterward that he talked to himself on the mound to keep himself focused and positive.
"I told myself on the mound, 'you have a chance to do it, so you might as well,'" Fairbanks said. "We had a good game plan going in. I had to have my fastball and throw my slider for strikes. I don't know how to describe it. It was a cool feeling, a cool experience to be able to have, a cool memory."
An usher asked for the Fairbanks family just prior to Peter Fairbanks entering the game. The usher offered them three seats at field level to watch their son pitch up close. Fairbanks' mother, Jane, moved from the players' family and friends section down to box seats near Texas' dugout to see her son's debut. Peter's wife, Lydia, and his agent, Aaron Elking, also moved down.
Fairbanks didn't allow a hit or a walk and had three strikeouts in those two innings. He fired 17 of 21 pitches for strikes.
"I have told people the same thing," Jane said. "It was surreal. It was a dream-like experience. Is this really happening? He was completely dialed in. He did what he was supposed to do."
Fairbanks also starred in basketball at Webster Groves High School. He holds the school's single-season record for three-pointers with 84. Fairbanks applies what he learned from basketball coach Jay Blossom's "toughest team wins" (TTW) philosophy on the baseball field.
"They're a lot alike," said Shane Fairbanks, who was an outfielder at Mizzou and played one season of professional baseball. "They are both intense competitors. That's why they get along so well. Playing basketball for Jay helped prepare Peter for this moment. His mantra is practice, practice. I always told him to take control of your own sphere. He never liked hearing that."
The slender 6-foot-7, 219-pound Fairbanks didn't appear as if he was going to advance to the major leagues so quickly this season. He overcame his second Tommy John elbow ligament replacement surgery on Aug. 17, 2017. He missed the rest of the 2017 season and the entire 2018 campaign because of his injury. Before this season, Fairbanks pitched no higher than Class A baseball.
As a junior at Webster Groves, Fairbanks suffered his first Tommy John injury, missing the last half of his junior season and his entire senior campaign as a pitcher. Fairbanks gave credit to the Rangers' rehabilitation team in Arizona for his latest comeback.
"He never complained," Jane Fairbanks said of her son's recovery. "He never thought about retiring. He never thought he didn't have the energy to rehabilitate again. He wanted to work hard to get back there."
When Fairbanks returned to spring training in Surprise, Arizona, in February, he shifted from a starter to a reliever, throwing harder than he ever had in his career. A change in his pitching motion has helped him increase his velocity. Pitching from the stretch, he has a more compact throwing motion that makes it difficult for opposing hitters to pick up his pitches, whether he is throwing his fastball or slider.
A former Mizzou standout, Fairbanks was a ninth-round selection by the Rangers in 2015. He has enjoyed a meteoric rise this season. He started the 2019 campaign for Down East of the Class A Advanced Carolina League, then was promoted to Frisco of the Double-A Texas League on May 8. He went to Nashville of the Triple-A Pacific Coast League on May 29.
Fairbanks, who studied aerospace engineering at Mizzou, was called up to the Texas Rangers on June 5.
Fairbanks called his parents at 1:30 a.m. on June 6 to tell them the news. He reported to Arlington on June 6, but he had to stay away from the stadium until June 8 when Rangers' officials finalized their moves. He received the official news late that afternoon.
Even if his stay in the big leagues is temporary, Fairbanks certainly has made his mark this season.
"This truly has been a whirlwind situation," Jane Fairbanks said of her son. "He really moved up quickly."