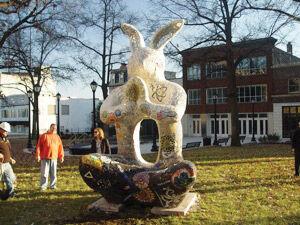 Two new sculptures soon will be coming to Webster Groves.
The Webster Groves City Council on Oct. 6 authorized Interim City Manager Joan Jadali to execute a loan agreement with Great Streets Natural Bridge Community Development Corporation for artwork entitled "Earth Rabbit" and "After Hours."
That corporation has agreed to loan the sculptures to Webster Groves for three years, with the city agreeing to pay all costs of handling, shipping, delivery and set up of the artwork in the city.
"Working with our Arts Commission, we have determined that the best place for 'Earth Rabbit' will be at our recreation complex, on a median in front of the aquatic center. It's a big piece and needs a big concrete pad," Welch said. 
"Earth Rabbit," a 12-foot sculpture created from ceramic, glass, mirror and tile, was completed in 2008 for First Night in St. Louis and was designed by Webster Groves resident and nationally-recognized artist Catharine Magel. For years, the large sculpture resided on the corner of Grand and Washington avenues in St. Louis, in the city's Arts and Entertainment District. It was later gifted to the University of Missouri-St. Louis and has been in storage for the past five years.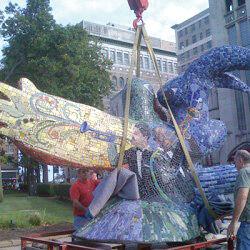 "After Hours" is also a Magel piece and like "Earth Rabbit," was once located in Grand Center.
"For 'After Hours,' we are working with Webster University for placement of the sculpture on university property on Lockwood Avenue," Welch said. "It focuses on the role of jazz in the civil rights movement."
Welch estimated the cost of having Normandy's Department of Public Works moving and placing the sculptures at about $500.
"We can do a lot of the work with our own staff," she said. "For instance, we can pour our own concrete pad for 'Earth Rabbit' at the recreation center."