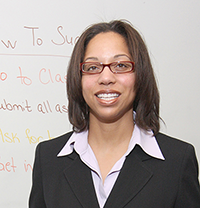 The Webster Groves School District has hired Dr. Shane Williamson as its first director of diversity, equity and inclusion, effective Oct. 5.
Williamson is currently associate vice president of student life and diversity, dean of students and chief diversity officer at Lindenwood University, where she has worked since 2007. She holds a doctoral degree in social and philosophical foundations in education from Rutgers University, a master's in business administration from Lindenwood, a master's in counseling from Shippensburg University and a bachelor's degree in marketing, also from Shippensburg. 
Williamson is the first person to hold her current position at Lindenwood and she designed its responsibilities, policies, strategies and budget. At the university, she created a Center for Diversity and Inclusion, developed and conducted implicit bias training and served as co-chair for the Diversity, Equity and Inclusion Task Force.
In recommending that the Board of Education hire Williamson, Superintendent John Simpson said that she holds the skills and strengths that will benefit the school district.
"She will be successful in the varied roles and responsibilities she'll have here," he said, "including supporting district stakeholders in creating more equitable structures and systems." Dr. Williamson "is passionate about diversity, equity and inclusion work and excited about a position designed just around that work."