The Webster Groves School District has announced its reopening plans — learning will be all virtual for all students from the start of school on Aug. 24 through at least Oct. 23.
The Webster Groves School District Board of Education approved Superintendent John Simpson's recommendation for that model for grades K-12 during a special board meeting on Wednesday afternoon, July 29. The school board meeting can be viewed here.
The district has not yet decided whether teachers will remain at home or return to their buildings and classrooms to provide the virtual instruction.  More than 600 people "attended" the virtual meeting, which lasted nearly three hours.
At a special meeting on Friday, July 31, the board voted to delay the opening of the Walter Ambrose Family Center for preschoolers until conditions are safer. Read the Times' coverage of that story here.
The recent surge in coronavirus cases and the daily infection rates in St. Louis County are the driving force behind the district's decision to go virtual for at least the first nine weeks of school.
St. Louis County Executive Sam Page on Thursday, July 30, announced the formal recommendation of the St. Louis County Health Department that all schools start the semester in as virtual of an environment as possible to protect students, staff and families.
"While this is a recommendation and not a mandate, the (St. Louis County) Department of Public Health may take further action to close schools or buildings that have outbreaks that further risk the health of residents," according to a letter the St. Louis County Health Department sent to school leaders on Thursday afternoon. "The department will continue to partner with all school leaders to monitor the changes in data and in community adherence to social distancing. We will remain focused on our desire to see students in schools receiving education, and we will share all available data to help make those decisions together in the future."
The Webster Groves School District plans to reevaluate and make a recommendation at its Oct. 9 school board meeting about what model will be used after Oct. 23 — whether full-time virtual learning will continue or if it will be possible to move to a hybrid model of both virtual and in-person learning or a complete return to in-person instruction in school buildings.
"We know that we learn and teach best face-to-face," Simpson said. "We really do want to be back in our schools, and as soon as we're in a spot that we can do that then we will."
When that does happen, masks will be mandatory for all students, teachers and staff. For now, the focus is on how best to prepare teachers, students and parents for full-time virtual learning when school starts on Monday, Aug. 24.
First up is an enrollment form that is being sent to families today (July 29) that must be returned to the district by Sunday, Aug. 2. On the form, families must choose between the "WGSD Virtual Program," which they must commit to for the entire semester regardless of what model the district may choose after Oct. 23, or the "District Responsive Learning Plan," which is very similar, but means that students will be enrolled in whatever model the district currently offers.
"We have families who know they want to have virtual learning the whole time (semester), and that's what the virtual program offers,"  Simpson said. "For parents who choose the WGSD virtual program, that means they're saying, 'I'm all in for the virtual for the whole semester, no matter what the district decides.'
"Everyone else then falls into the district's 'Responsive Learning Plan,' which is currently the virtual only format, but that could change after the first nine weeks," he explained.
Simpson said students and their families must commit to the virtual program for the entire semester so the district can plan and appropriately allocate Webster Groves teachers and staff for the program. The district's goal is to have as many Webster Groves teachers as possible leading those classes, though that may not be possible for some courses.
In the most recent survey the district conducted, roughly 37% of families indicated an interest in the virtual learning program for the entire semester, and 62% said they were planning to enroll in the district's responsive learning plan (currently virtual learning through Oct. 23). There were also some that said they would prefer a full return to classrooms.
Families also voiced concern about childcare.
"A quarter of our families said they would need to find childcare in the virtual or blended model, and we have staff in that situation, too," Simpson said. "That's a whole lot of people and we're exploring how might we, as a community, address the needs for families who need childcare."
Administrators are also aware that because Webster Groves is not a "one-to-one" district — meaning there is one electronic device for every student — that some families will need to be provided with a laptop computer or iPad so their children can participate in virtual learning.
"We are not a 1:1 district at this point, so families who have a device that their children can use, we ask that you let them use that," Simpson said. "For families that need a computer, we will get them to you."
An Improved Virtual Approach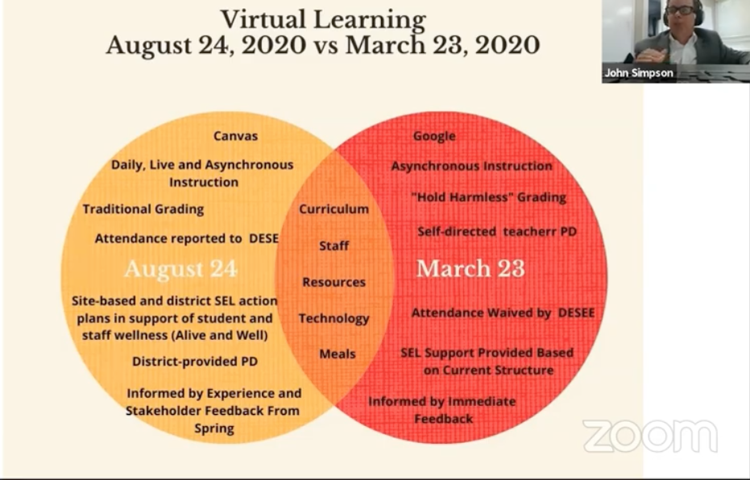 Administrators made it clear that virtual learning this fall will look different than it did in the spring.
"School as we knew it in March 2020 is not going to look like school in August 2020," said Sandy Wiley Skinner, the district's superintendent of human resources.
When virtual classes begin in August, the schedule will be similar to that as if students were in the buildings. Attendance will be taken and traditional grading will be implemented.
There will be more live instruction and synchronous learning — the kind of learning that happens in real time, meaning the teacher and students are interacting in a learning experience together at the same time. Those lessons will be recorded in the event that students cannot participate in real time, but will still need to access them.
Asynchronous learning — the kind of learning that can occur at any time —will still be used, but not nearly as much.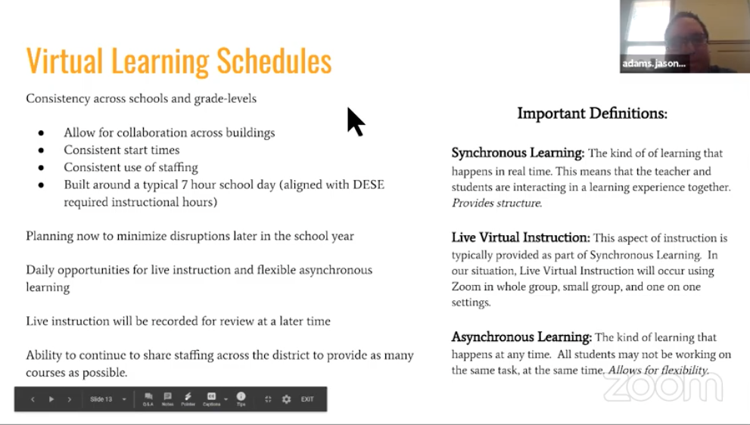 "Everybody was learning and doing everything on the fly last spring, but now we'll be providing much improved virtual learning," Simpson said.
In the virtual learning model, some course offerings may be limited for grades 6-12 due to staffing. Courses at the high school will be changed to four learning periods (courses) per semester to provide the district with flexibility in terms of staffing.
Although nearly everything will be virtual for the first nine weeks of school, Simpson said there is a possibility of some in-person instruction for students who need it — if the district can safely provide it. That option is still being explored.
Zoom Meetings
The district will host three Zoom sessions next week for elementary, middle and high school families so parents can ask questions and engage with administrators about the reopening plan. The schedule is as follows:
The district plans to record these sessions so that those who cannot attend will have the opportunity to listen to the questions and answers. Parents can also submit questions any time through the district's website here. 
The Webster Groves School District announced its decision the day after the Kirkwood School District announced Tuesday its plans for virtual learning for all students for at least the first nine weeks of school. Read our coverage of that story here.