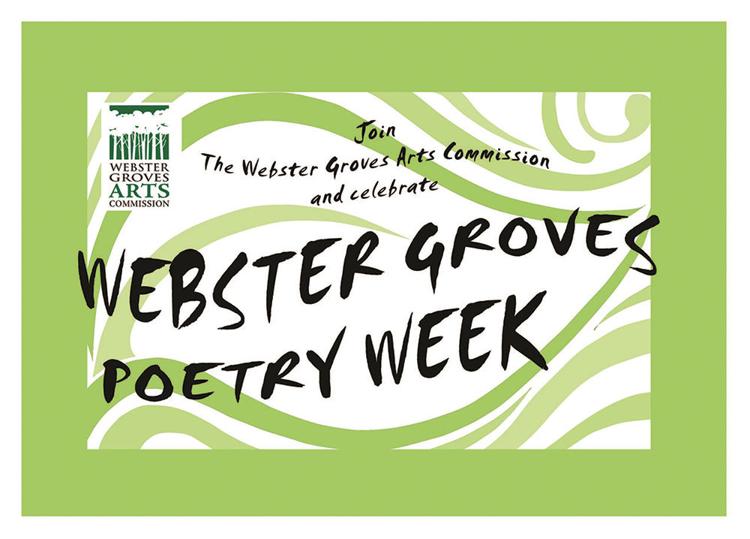 The Webster Groves Arts Commission is kicking off its third annual Poetry Week celebration, taking place April 14-20 as part of National Poetry Month.
The week of free events will include activities for all ages across Webster: a PoJazz event at the Garden Café, a children's poetry workshop, "paint a poem" at the Green Door Gallery, and a haiku contest and seminar at the Webster Groves Library.
The hope is that Webster residents and other locals — both adults and children — will engage in this art form in new and engaging ways.
Full Schedule of Events
• Haiku Contest – all week long! Compose your best 17 syllables (5-7-5) about the community of Webster Groves and submit it to the Webster Groves Library by Saturday, April 20. Prizes for the best haiku will be awarded in both adult and child categories. Entry forms are available at www.webstergroves.org/poetryweek
• Sunday, April 14, 2 p.m. –Children's Poetry Workshop with nationally published poet and author Susan Grigsby. Recommended for early readers and up. Grigsby is a contributing author to "Open the Door: How to Excite Young People About Poetry." The event will be held at the Webster Groves Recreation Center, Scout Room. 33 E. Glendale Road.
• Monday, April 15, 7 p.m. – PoJazz & Poetry Readings at the Garden Café, 117 E. Lockwood Ave., will feature spiritual jazz artist Raven Wolf and poets Dwight Bitikofer, Rita Chapman, Sarah Gray and Paul Stroble. Student poets from Webster Groves High School may also read. Free.
• Tuesday, April 16, 7 p.m. – Haiku workshop with poet Ben Moeller-Gaa at The Novel Neighbor, 7905 Big Bend Boulevard. Moeller-Gaa is a haiku poet and playwright whose poems, reviews and essays have appeared in over 30 journals worldwide.
• Wednesday, April 17, 7 p.m. – Paint a Poem Workshop with local artist Marilynne Bradley. Illustrate a favorite poem and make it come alive with color. All materials and references provided. Green Door Gallery, 21 N. Gore Ave.
• Thursday, April 18, – "Chalk a Poem on the Sidewalk Day." Select a poem, find buckets of chalk around the city and chalk your poem to share it with others. Share it on social media: #wgchalkapoemonthesidewalkday
• Saturday, April 20, 2 p.m. - Readings with local poets at the Webster Groves Public Library. 301 E. Lockwood Ave.