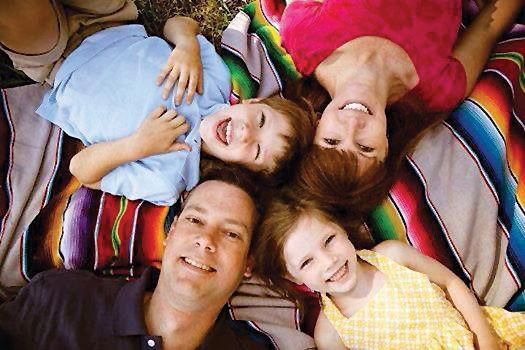 "Talk saves lives."
Talking about mental health problems – and getting treatment – is what Glendale resident Mitch Murch hopes others take away from his family's heartbreak.
It's been seven years since his wife, Cathy Murch, shot and killed their children, 8-year-old Mary Claire and 10-year-old Mitchell, before killing herself in the couple's Glendale home on July 30, 2012. Mitch Murch was at home when the horror unfolded that morning.
He'll never know why Cathy, 42, who was suffering from depression and likely bipolar disorder that had gone undiagnosed, spared his life that day. On top of indescribable grief, he's struggled with survivor's guilt – and he'll always carry both.
"I worried about Cathy every day, but I never thought she'd do anything to the kids," Murch said.
But talking about it – and encouraging others to talk about it – is his way of trying to use his pain to help others.
"Talk saves lives," said Murch, 50, who has become a mental health advocate and raised thousands of dollars for the American Foundation for Suicide Prevention since losing his wife and children to murder-suicide seven years ago.
"We need to get people talking," he continued. "The more we talk about it, the more it helps lessen the stigma surrounding mental health and mental illness."
Murch said the suicide deaths of celebrities including Robin Williams, Anthony Bourdain and Kate Spade have created awareness and cast a more public light on mental illness. Celebrities like Lady Gaga, who have spoken openly about their personal mental health struggles, have also helped lessen the stigma. But not enough.
"It always helps when celebrities and athletes talk about it, but that has to trickle down – the talks have to happen at home and people need to get the treatment they need," he said.
Murch was doing everything in his power to have those talks in his own home. His wife, who had suffered from depression since her teenage years, had attempted suicide more than once and struggled to comply with her treatment.
"Beyond talking about it, we have to make the people in our lives who are struggling feel loved and supported," he said. "If someone has a broken leg, we take them to the doctor. It should be the same way for mental health."
Murch said one in five people are struggling with mental health problems, which means everyone is affected. Mental health experts and advocacy organizations such as the one Murch helps raise money for can help.
Murch and his sister-in-law Kristen (Sigmund) Mater, together with their families and friends, have raised more than $12,000 for the American Foundation for Suicide Prevention over the past several years through their participation in the foundation's annual "Out of the Darkness Walk."
Murch has struggled to find his own way out of the darkness in the wake of the horror that left him widowed and without his two children on that summer day seven years ago. He said time never heals all wounds as the overused platitude would suggest, but that grief does change over time.
"The crippling bouts of tears, the can't-get-enough-air-in-my-lungs, the gasping-for-air bouts of grief — they are less frequent, but no less painful," Murch said.
In addition to sharing his story with others and raising funds for suicide prevention and awareness, Murch said his Mary Queen of Peace family and the Glendale community have helped him get through the pain.
"There's been a lot of love and lifting from Mary Queen of Peace and the community itself, and it's something that has sustained me – and still sustains me," said Murch, who is now remarried, owned an insurance company and now works in the facilities services industry.
Giving talks on forgiveness during church retreats is also powerful for Murch, who has worked to forgive Cathy.
"I've talked about how I've been able to forgive her and not have to live under the crushing weight of anger that was potentially very harmful to me," he said.
Murch said at a Mass held at Mary Queen of Peace the day Murch lost his wife and children, Father Craig Holway told those gathered to pray for the family that "somehow, some way, there will be fruit that comes from this tragedy."
"At the time, you think that's absolutely impossible," Murch said. "But over time, you start to see small glimpses of that. Other people, other families have told me that they have started to have some of those tough conversations at home because of my story and what happened ... and that means a lot."
Field Dedication
Murch hopes his children will be remembered for who they were, not the tragic circumstance of their deaths.
Mary Claire would have been entering her sophomore year of high school this fall.
"She was a charming, energetic, smart and funny little sprite who was always endeavoring to engage with others and make them smile and laugh," Murch said, adding she loved dogs, dancing, and making up funny songs and setting them to music on the piano or ukulele.
Mitchell, who would have been a senior in high school this fall, loved football, the outdoors and his friends.
"He was a thoughtful, smart, gentle, dedicated and courageous young man who always wanted to please his parents, coaches and friends," Murch said. "He always tried to do the right thing."
The community is honoring him through a field dedication. The Kirkwood Webster Junior Football League field in Greentree Park will now be known as Memorial Field in memory of Mitchell M. Murch III. It will have a plaque bearing Mitchell Murch's photo with a tribute to the 10-year-old who loved to play football there with his friends.
"We are happy that Memorial Field will now be associated with a beautiful, smiling boy who loved playing football with his teammates on that very field," said Chris Wright, who was Mitchell Murch's coach. Wright and his wife, Shannon, were instrumental in making the renaming of the field a reality.
"Although we are sad because Mitchell cannot be here with us, we are comforted knowing that Mitchell is the reason that this field now has a name," he added.
The community is invited to attend the field dedication on Sunday, Aug. 25, 10 to 11 a.m., at Greentree Park, 2305 Marshall Road.
"Out of the Darkness Walk"
The Murch and Sigmund families invite the community to join them at the American Foundation for Suicide Prevention's annual "Out of the Darkness Walk," on Sunday, Sept. 29, 11 a.m. to 1 p.m., at Creve Coeur Park. Donations can be made at www.afsp.donordrive.com/participant/Murch-Sigmund-2019.