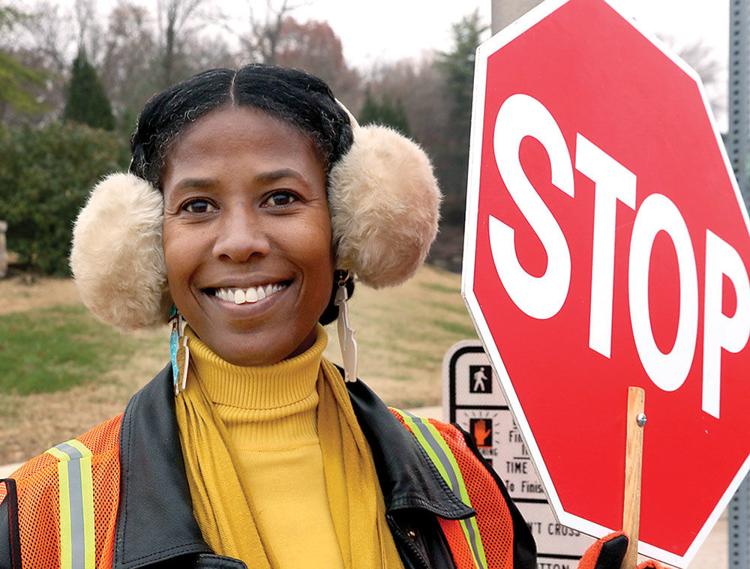 Rain, shine, sleet, hail or snow, LaTonya Robinson has been at the corner of Marshall Avenue and South Brentwood Boulevard for more than 20 years, giving out smiles and hugs, popsicles and birthday treats, a little help and lots of happiness as she helps children cross the street on their way to school every morning.
She has been at the crosswalk every morning and afternoon without fail for 21 years – missing only a few days in more than two decades of her crossing guard duties for the Webster Groves School District. Even as she sat in the emergency room last month after being hit by a car while on duty, all she cared about was being able to be at the crosswalk for the kids the next morning.
The kids are what keeps her coming back day after day, year after year.
"I love the kids," Robinson said, a huge grin breaking across her face. "I love to see their bubbly faces every day. The most important thing to me is their safety. This is my way of showing the kids that I appreciate them. I love my corner and I love these kids."
And they love her. Just ask any of the Avery Elementary School kids or parents who frequent Robinson's crosswalk and they'll tell you she's the "best crossing guard ever."
It's easy to see why as kids arrive at the crosswalk, situated at the busy intersection between the BP gas station and the Brentwood Metro Garage for buses. She treats every one of them just as she would her own children and grandchildren.
She prides herself on keeping them safe. She knows their names, knows who their parents are, when their birthday is, what they like and what they might need a little help with. When a familiar set of siblings walked up to her crosswalk on a cold morning last week, one of them with an unzipped jacket, she immediately gave a warm smile and bent down to help zip it.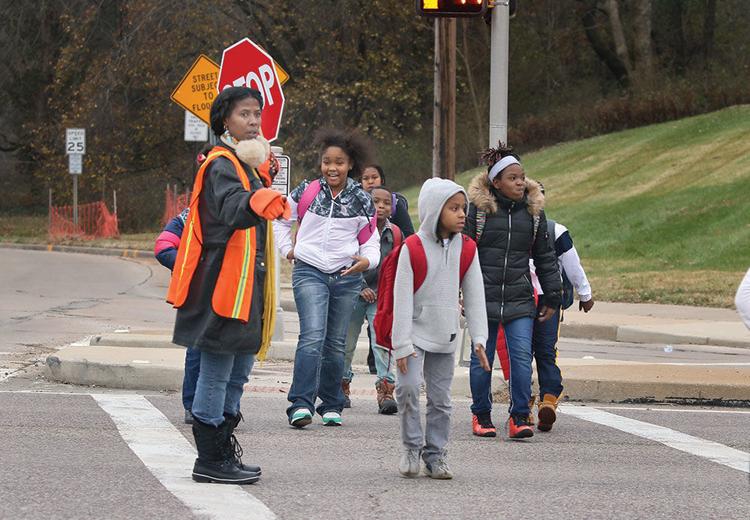 "He always waits for me to help him," she said, beaming with a smile. "Whatever I can do to help anybody, that's what I do."
Robinson, 54, has her own special ways of spreading cheer at her crosswalk. She dresses up for each holiday, hands out candy on Halloween and popsicles on hot days, gives birthday gifts, and even bought a big stash of hats and gloves for kids who show up on cold mornings without any – all of this out of her own pocket.
"We love Miss LaTonya – she is the best crossing guard ever," said Webster Groves parent Marla Arince, whose triplets and foster care children have all crossed the intersection with Robinson over the years. "She's so good to these kids. She keeps them safe, and she always has a smile. She looks out for them, she gives them birthday presents, hats and gloves – whatever they need – and she's so humble. She also lets us know if something's going on or if they're acting up."
Josh Lozano, who sees Robinson every day when he walks his first-grader to Avery Elementary in the morning, couldn't say enough about how much he and his daughter adore the crossing guard.
"She's always happy to see us, always gives us a smile and always keeps us safe," he said. "She dresses up for the holidays, gives out treats, has goodie bags for the kids at Christmas, zips up their coats, brings extra hats and gloves – she's just wonderful. She's a treasure for Webster Groves."
Avery Elementary School Principal Tony Arnold said parents and students know how much Robinson cares about their safety, and that she goes above and beyond to look out for them.
"Ms. Robinson comes early and stays late each day to ensure that every student safely crosses Brentwood Boulevard," he said. "We all appreciate everything she does for our school community."
"I Love the Kids"
Robinson's cheer spills out into the streets. Many who drive along South Brentwood Boulevard past Robinson's crosswalk, including bus drivers from Brentwood Metro Garage, know her friendly face and give her a wave when they pass by.
"All the bus drivers know her and she waves to anybody and everybody," Robinson's daughter, LaQonna Anderson, said. "That's just who she is, and she does so much for the kids."
Anderson loves all the joy her mom spreads to others.
"You can be having a bad day, but when somebody is smiling and waving at you, it just makes the day better," Anderson said. "It makes a difference, and that's what she does for all of us."
Robinson appreciates every smile, every wave and every hug she gets from the kids.
"It can be raining, sleeting, hailing – anything – and I still want to be here for the kids," she said. "The kids smile, people wave when they pass by and it just makes my day. That's why I love my corner."
When she's not at "her corner," Robinson can be found spending time with her four children and grandchildren. She especially enjoyed watching her grandson, Webster Groves High School football standout JerQon Conners, play in the annual Turkey Day game.
"I love my family, I love my job, I love the kids, and I love the school district," Robinson said. "I love all of it!"