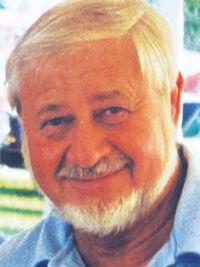 Enderling, Wayne Wilbur, died Aug. 26, 2022. Wayne was born June 6, 1934, to William and Ida Enderling (nee Haupt), and lived his active life in the St. Louis area.  
He was preceded in death by his mom, Ida; father, William; brother, Harold; and sisters, Arlene and Esther. He is survived by his wife, Rosalie Enderling (nee Ferris); son, Erik; daughter, Erika; son-in-law, Bryan Cernicek; and granddaughter, Sophia Cernicek. 
Wayne graduated from Roosevelt High School and received a bachelor's degree at Washington University School of Architecture in 1959.   In the 1950s, he played rugby for seven years with a team that eventually became known as the St. Louis Bombers Rugby Football Club.  
Wayne served in the U.S. Army and Reserve 1959 through 1965.  He worked at many architectural firms which included partnerships as well as his own, Enderling & Associates.  In 1964, he won the Steadman Fellowship for a year of study and travel to Europe with his wife. He served the City of Crestwood in the 1970s on the planning and zoning board and the board of adjustment.  He also taught in the day and evening architectural programs for Washington University School of Architecture for 28 years. He was also director of the Washington University evening technology program from 1976 to 2001.  
He was a 30-year member of the Downtown St. Louis Kiwanis. He was also a 30-year board member of the Greater St. Louis Quarterback Club, where he served as president from 1983 to 1984, when the Cardinals football team was in St. Louis. In addition, he served as president of the Rams Quarterback Club during the winning Rams super bowl year of 1999.  
Wayne was very fond of sports, both participating or watching. He enjoyed softball, football, basketball, jogging, swimming, bike riding, golf and a lot of tennis. 
Not only did he have great achievements in architecture, he also had an artist's flair for sketches of which many were inspired by his European travel in 1964.  
Wayne was a very kind man who endured the struggles of losing his immediate family at an early age to become a husband, father, a well-accomplished architect, mentor and teacher.  He was always willing to help anyone and gave much of his time to serving his community. He always greeted with a smile and was ready to laugh as he would always bring humor to a conversation. He is loved and cherished, and he will be immensely missed by his family and friends. Services will be private.