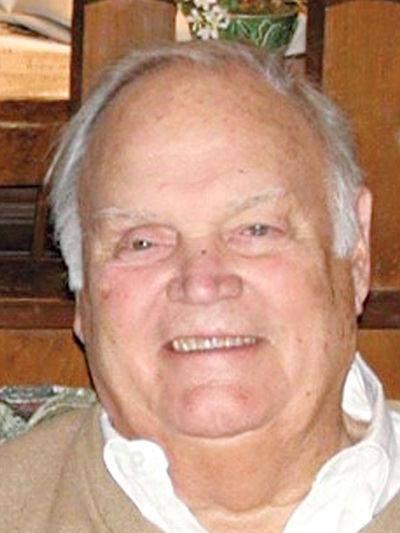 Leonard, Walter T. "Bud," passed away peacefully in his sleep on Friday, Jan. 3, 2020 at the age of 96. He is survived by his beloved wife, Ginna Smith Leonard for 10 years. He was the dear husband of the late Peggy (Reichardt) Leonard for 62 years and the dearest Father of Kathie (Mike) Phillips, Carolyn Kupper, Tom (Mary Lou) Leonard, Barb (Tom) Horton, Cindy (Tony) Bruning, and Jeff (Robin) Leonard. He was the stepfather of Jennifer (John) Best, Walter Hayes, Chris Hayes, Jackie, Leigh, and Randy Smith, and the loving grandfather of 26 grandchildren and 17 great-grandchildren.
Born May 2, 1923, "Ol One Eye" was a World War II veteran whose B-17 was shot down over the English Channel and was awarded the Purple Heart. He founded W T Leonard & Associates, a manufacturer's rep agency, in 1951, and was instrumental in the creation of the Friendship Dance and Little Brown Jug Thanksgiving traditions at Kirkwood and Webster Groves High Schools.
He will be fondly remembered as a devout Catholic, a generous philanthropist, friend and benefactor to legions, raconteur, and most of all, as a tremendous father.
Visitation will be Wednesday, Jan. 8, from 5 -8 p.m. at Bopp Chapel, 10610 Manchester Rd., in Kirkwood. Funeral Mass: 11 a.m., Thursday, Jan. 9, at St. Clement of Rome Catholic Church, 1510 Bopp Rd., in Des Peres. Burial will be private. 
Donations to: Catholic Charities, PO Box 952393, St. Louis, MO 63195, St. Vincent de Paul Society, PO Box 956596, St. Louis, MO 63195 or American Parkinson Disease Association Greater St. Louis Chapter, 1415 Elbridge Payne Rd., Suite 150, Chesterfield, MO 63017.