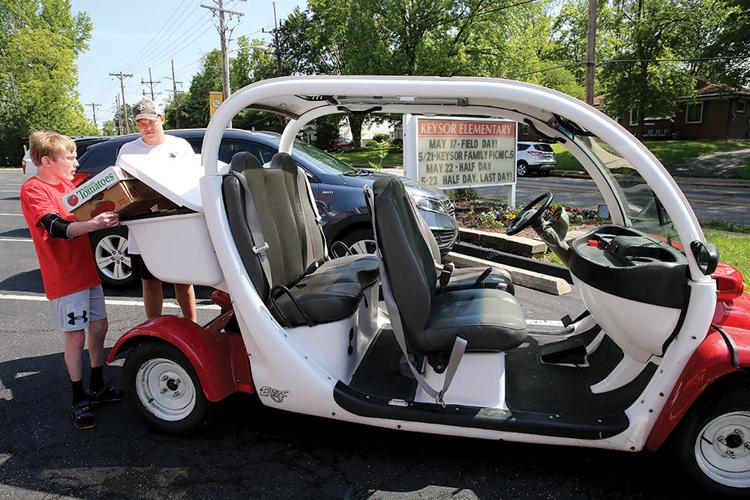 Lance Waigand, 20, made a homecoming of sorts last week at Keysor Elementary School on Kirkwood's west end.
On a sunny morning in late May, and with his father Rich Waigand behind the wheel, Lance climbed into the family's Gem electric car for the nearly mile-long drive from the Kirkwood Farmers' Market to Keysor, his old grade school.
Cruising at around 20 mph, the elder Waigand guided the gently thrumming Gem in a northwesterly direction, through quiet, tree-lined streets,
Once he reached Keysor's parking lot, Rich Waigand braked to a stop, then got out. Reaching into the Gem's cargo hold, Rich Waigand handed his son a box of bright red tomatoes, along with other food items from their supplier, Summit Produce, a Kirkwood Farmers' Market mainstay.
Next, Nathan Waigand helped his older brother Lance hustle the edibles up the school steps, through the door, then up another set of steps.
At the stairway landing, just outside the school office, Lance's first customers of the day waited. They welcomed him like an old friend as he set his cargo down.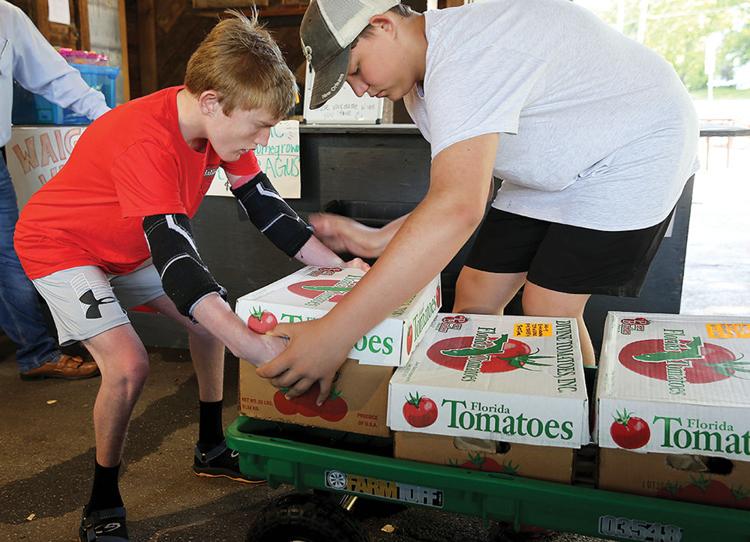 "Sheep's milk yogurt," school secretary Kelly Eschenroeder said excitedly. "I'll take it."
"Thanks for doing my shopping for me," said Jean Marie Peterson, also a secretary.
"You'll be back, Lance," said Alyssa Taylor, the school principal. "We'll order from you again."
Lance, who is non-verbal, waved his left hand excitedly. Obviously chuffed with pride, he pivoted toward the steps, eager to knock out another delivery.
His body language said it all: It's great seeing you guys again, but I have places to go, a job to do.
Serving Those With Disabilities
Waigand Wheels Delivery is the latest chapter for a family whose members have seen more than their share of highs and lows since Lance´s birth two decades ago.
Lance was born with a genetic anomaly called trisomy 4q, in which part of the fourth chromosome appears three times instead of twice in the body's cells. This rare condition has led to a myriad of cognitive and physical challenges for Lance.
Lance's surgeries and hospitalizations since his earliest days could fill a medical textbook. He has endured operations for holes in his heart, a cleft in his trachea, a tendon transfer in his right hand, and the reconstruction of both feet.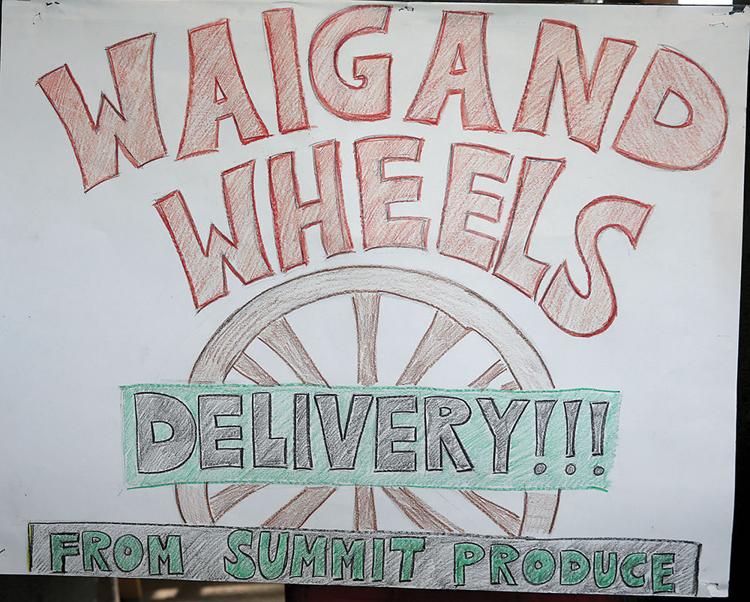 Other surgeries corrected vision problems, hernias, bowel obstructions and back problems because of scoliosis.
Last summer, the Waigands decided to launch their delivery service as a way to give Lance confidence and feel productive.
"This is really good therapy," Theresa Waigand said. "We thought of it as a little business for Lance."
Like most families raising a child with disabilities, the Waigands had no idea how they would keep Lance busy once he graduated from Kirkwood High School.
"That was a huge worry," Rich Waigand said.
Nationwide, only about 35 percent of Americans with disabilities between the ages of 18 and 64 hold jobs, compared to 76 percent of adults without disabilities, according to a 2015 report by the advocacy group RespectAbility.
Waigand Wheels combines two things Lance loves most: volunteering and car rides, said Rich Waigand, who came up with the idea for the enterprise last year.
"Why don't we make some deliveries for you to make the car rides meaningful?" he recalled saying.
For Nathan Waigand, 15, the chance to spend extra time with his big brother is a bonus in helping out with Waigand Wheels.
"When it's just me and him hanging out, it doesn't look like he's having a great time, even if we're doing therapy," Nathan said. "But this makes him have a big smile on his face. You can tell it's something special to him."
Waigand Wheels launched in July 2018. By the end of that summer, Lance and his family had made 119 deliveries to 52 different families, Theresa Waigand said.
Since then, Waigand Wheels Delivery has grown into a 501(c)3 charitable group that can now take donations from members of the public. What's more, the Waigands plan to make deliveries with the help of as many as 30 volunteers, or "Wagoneers," later in the summer thanks to its newly formed collaboration with St. Louis Arc and Sunnyhills, Inc., two of the largest St. Louis area groups serving people with disabilities.
Waigand Wheels plans to buy another Gem electric car, which is a good idea, since it has also expanded its delivery area. The company now serves the 63122 and 63119 ZIP code areas.
Sean Clark, Summit Produce's on-site manager, said Waigand Wheels' collaboration with his company has so far been a big win for everyone.
"It's great for the business," said Clark, the son of Summit's owner. "It's great for the kids. That's the number one priority."
The delivery operation also provides an important service for elderly customers who often can't get out and about to buy fresh produce.
Ordering deliveries through Waigand Wheels is simple. Customers can visit the organization's website, www.waigandwheels.com, or go to its Facebook page. People can also send a friend request to Lance's Facebook page and wait for an acceptance.
From there, customers can click on the link to Summit Produce to order a wide variety of fresh fruits, vegetables, breads, cheeses, noodles, pies, plus a myriad of other goodies, and then set up a delivery day and time.
Customers must order at least $20 worth of goods. The delivery fee is $4, which is paid back to Waigand Wheels to defray overhead costs. Any tips that customers provide go back to Waigand Wheels to pay for social gatherings and events, providing more opportunities for the "Wagoneers" to socialize within the community.
The Waigands are on the lookout for other local businesses to make deliveries for and they hope to keep their delivery service going all the way through the Christmas season.