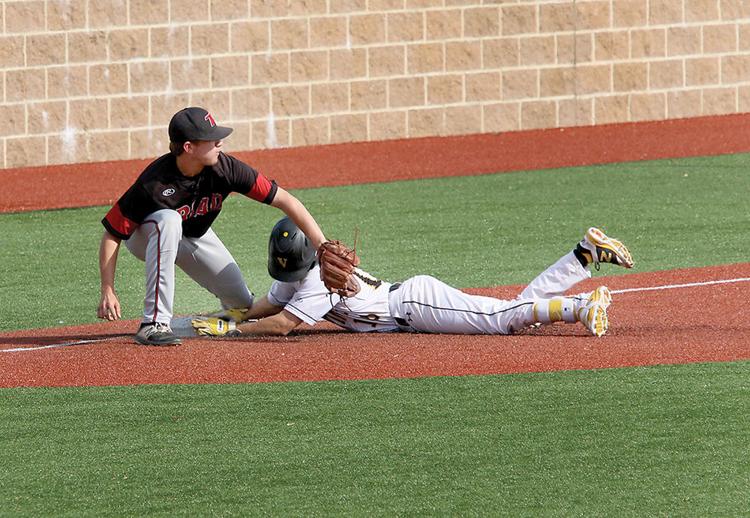 What was a strength in 2018 was supposed to be a weakness in 2019 for St. John Vianney High School's baseball squad.
After losing its entire pitching staff responsible for Vianney's 2018 Class 5 Missouri State Championship and a 37-2 record, the Golden Griffins' biggest question mark going into 2019 was pitching.
But there's no more question mark – the team's potential weakness has remained its strength. The only change is in the names. The starting pitching staff boasts senior Ryan Weis, (5-0), junior Joe Dasho (5-1), junior Nathan Beaton (5-2), and senior closer Ryan Insco (seven saves).
No wonder senior-dominated Vianney is 23-9 through May 7. After edging Triad 2-1 on Senior Day, the team won its sixth straight Metro Catholic Conference title with a 7-1 record, including a 10-5 clincher over host CBC on May 6.
"So far it's been our pitching (that's helped us win)," said Sam Stockmann, a seldom-used senior pitcher who threw four strong innings against Triad in his first start of the season.
Vianney Coach Scott Brown had reservations about his pitching staff going into the season, but his players quickly alleviated those concerns.
"Basically, we had a whole new staff, but they have really stepped up and have done a great job," he said.
The chances of making a third straight Final Four hinge on Vianney's pitching, as well as hitting and defense.
Short stop Nico Hagen said Vianney has a complete team.
"Pitching, hitting, defense – we have it all," he said. "We're a very strong team. If we play as we are capable of playing, we can definitely advance to Final Four."
The Golden Griffins returned four starters from last season in Hagen, third baseman Brock Daniels, centerfielder CJ Cepicky and leftfielder Devin Ward. Infielder Sam Altobella also saw varsity action last season.
Cepicky, Vianney's lead-off hitter, has a team-leading .388 batting average, 103 at-bats, 40 hits, 32 singles and four triples and has 16 runs batted in.
Daniels, who bats third, has a team-high 22 RBI and three home runs and has a .320 average, 100 at-bats and 32 hits. Cepicky and Daniels have scored a team-high 21 runs apiece.
Other key contributors are outfielder Max Luna (.371 average, 26 hits, 18 runs scored, 11 RBI), Ward (.344, 32 hits, 15 runs scored), infielder Andrew Buescher (.326, 28 hits, seven doubles, 16 RBI), Altobella (.325, team-high nine doubles, 16 RBI), Hagen (.289, 16 runs scored, 12 RBI), outfielder Jacob McCauley (.281, 19 runs scored) and catcher Hamilton Anderson (.265, 22 hits, two home runs, 15 RBI).
"I think we have a very strong lineup," Hagen said. "Up and down, everybody can hit. We're still a very strong defense.We're still looking very good."
The Golden Griffins are now seeded first in the six-team Class 5 District 2 Tournament, which runs from May 11-14 at Vianney. The other five schools are second-seeded Rockwood Summit, followed by Lindbergh, Oakville, Fox and Mehlville.
Vianney and Summit earned first-round byes. The Golden Griffins will play the first-round winner of the Oakville-Fox game at 2 p.m. on Monday, May 13. (The Oakville-Fox game is at 11 a.m. on Saturday, May 11.)
Summit will play the first-round winner of the Lindbergh-Mehlville game at 4:30 p.m. on Monday, May 13. (The Lindbergh-Mehlville game will be at 1:30 p.m. on Saturday, May 11.)
As far as the post-season, Brown said he only looks to keep improving.
"It's about always working to get better," the coach said. "That's what we preached to them last year. That's what we preach to them this year. You have to challenge yourself to get better because that's what everybody else is doing. We go out there and play as well as we're capable of doing. There are a lot of teams looking to knock us off, but we're just taking care of business."