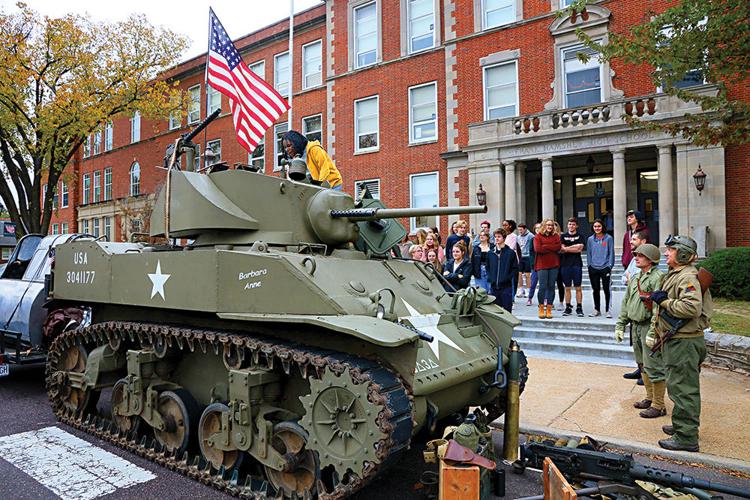 Sixteen years ago, social studies teacher Terry Verstraete invited St. Louis-area military veterans to speak to students at Webster Groves High School. Since then, the school has welcomed veterans each year around Veterans Day to share their stories and answer questions.
This year, over 50 veterans spoke in high school social studies students, addressing classes in groups of two. One volunteer was Anthony Bergheger, an alum of Webster Groves High School. Bergheger enlisted in the U.S. Army following the events of 9/11 and served 3 combat deployments in Iraq over his 15-year term. He separated from the military three years ago at the level of staff sergeant.
"This is my second year doing it," said Bergheger. "I was in the Army for 15 years, so it's hard for me to cover an entire career in maybe 10 minutes. So I based everything off the questions the class asked me. I let them direct the way they wanted the discussion to go."
Bergheger said that speaking to high schoolers is important because it gives the military a human interface. Many citizens, he said, have only experienced the military in a television program, and addressing students directly shows them what the military is all about to help them make informed decisions later on.
"It's a way to show them it's not so bad. Or maybe it is that bad, for you. But you get to see it with your own eyes," he said.
Bergheger's ultimate takeaway for students, he said, is that the military is more than how it appears in the media. It forces soldiers out of their comfort zones and into an opportunity for personal growth. And for those who still want to attend college after service, said Bergheger, the military will supply free education.
"My message is to steer away from being selfish. We all serve a higher purpose," he said. "Whether it's patriotism or college, you can get whatever you want out of the military."