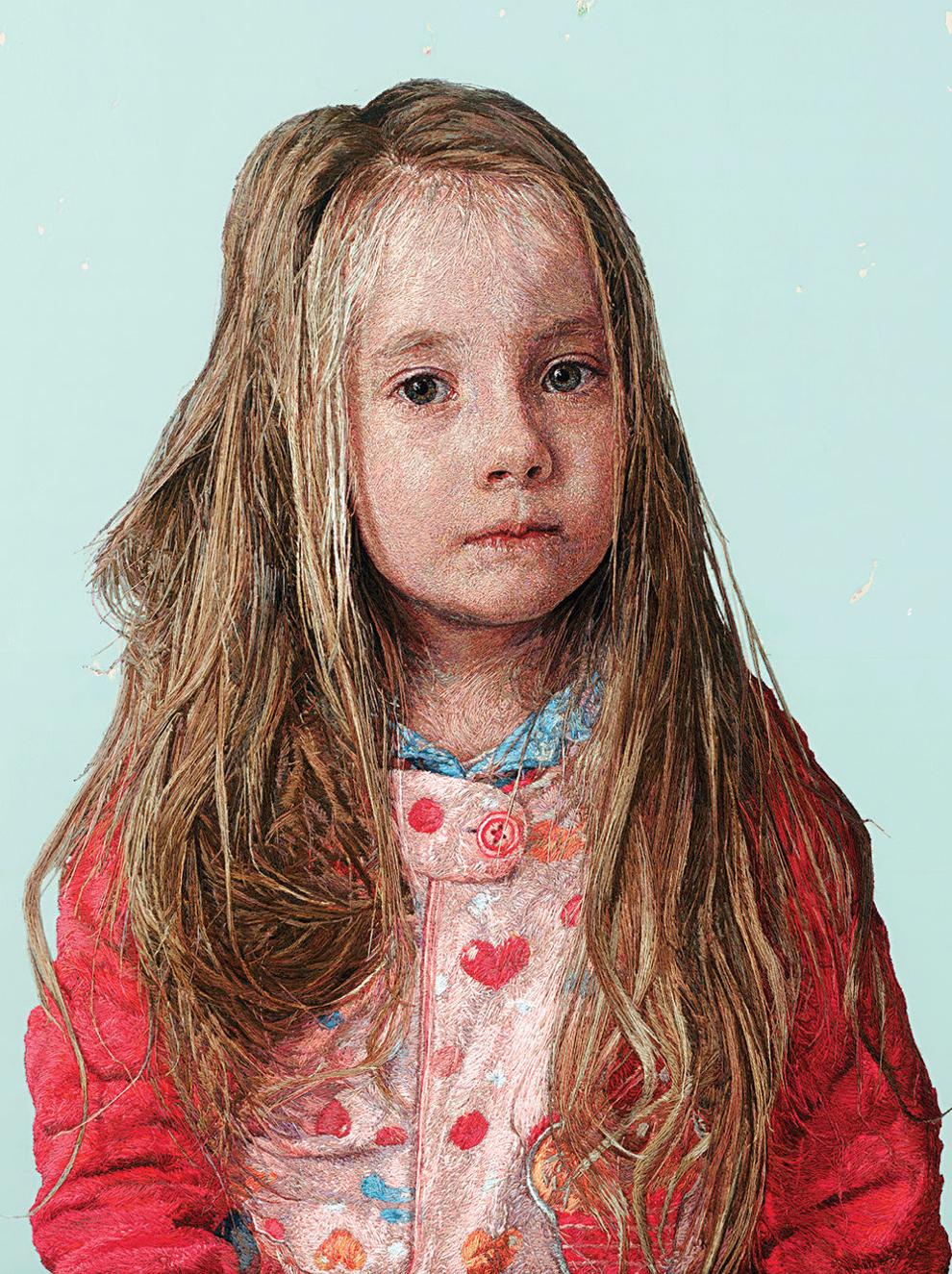 Cayce Zavaglia has earned a national reputation for her detailed, embroidered portraits. It takes the St. Louis artist about six to eight weeks to make a portrait. Her subjects are ordinary folks, her family and close friends, and her materials are ordinary, but the results are stunning, and might help us see our own family and friends in a new light.
In graduate school, Zavaglia created large portraits in oil. When she became a mother, Zavaglia began to experiment with nontoxic mediums in her home studio. Embroidery allowed her to work in short bursts of creativity.
As new processes to her, embroidery and acrylic required experimentation and patience. Twenty years in, Zavaglia has honed her techniques and created a new kind of portraiture. From a distance, the faces look photographic. As you get closer, they reveal themselves as hand-stitched threads of colored wool. Zavalgia's stitching mimics techniques used in traditional oil painting, and she achieves a hyper-realism without blending colors or layering brush strokes.
In art, the recto is the front or main image, and the verso is the back or secondary image. On the verso of her new portraits, Zavaglia discovered a "haphazard beauty," a world of "loose ends, knots, and chaos" that stood in contrast to the meticulous stitching and subtle tonalities of the recto. It's not a picture of the way a person looks, but it might be a private and more profound depiction of the person's identity, memories, and emotions. I am reminded of Willa Cather's comments on her novel "My Ántonia," which she likened to "the other side of the rug, the pattern that is supposed not to count in a story." But what is hidden makes possible what is seen, and Zavaglia gives equal attention to both the recto and verso images of her pieces.
Zavaglia spent the last eight months creating her latest piece: "Unseen," a 6 x 7-foot hand embroidered portrait.
From now until Nov. 27, 2019, this and many of her other portraits are on display at the William Shearburn Gallery near Forest Park.
Learn more about Zavaglia at www.caycezavaglia.com and on Instagram@caycezavagliastudio.