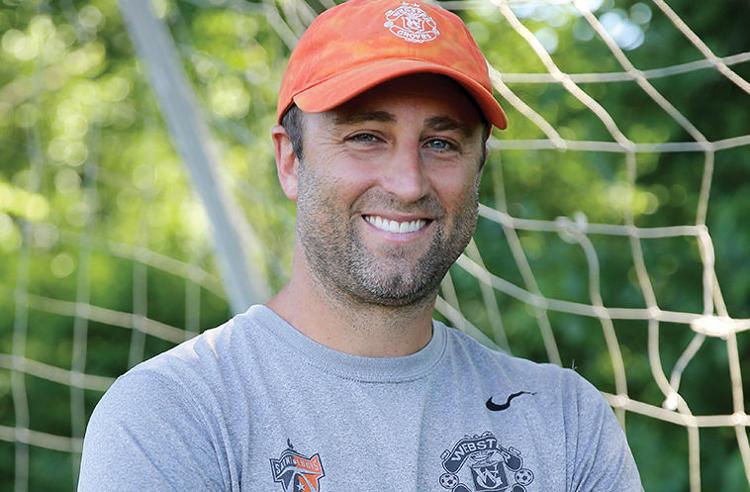 The honeymoon for Statesmen soccer coach Tim Velten will continue throughout this summer.
On June 7, Velten married his fiance Carly McAdams, whom he met during their first teaching jobs at a charter school in South (St. Louis) City. Once the couple returned from their honeymoon in the Bahamas, a honeymoon of a different kind continued for Velten as he prepares for his first season as the Webster Groves High School's varsity boys head soccer coach.
"It's been a whirlwind kind of summer," said Velten, who is the third head coach in the school's program, with Tim Cashel and Tom Holmes being the others.
Velten is already hard at work, planning out all 20 summer contact days of training with his players before fall practices begin on Aug. 12. He has scheduled four practice games, or "friendlies," as soccer fanatics call them.
The Statesmen lost 3-2 to rival and host Kirkwood in the first friendly. Webster Groves will also play Marquette, St. Louis University High School and Chaminade in friendlies at their schools before summer is through.
"I've gotten the nervousness and anxiousness out of my system," Velten said. "I was happy with the way the players played."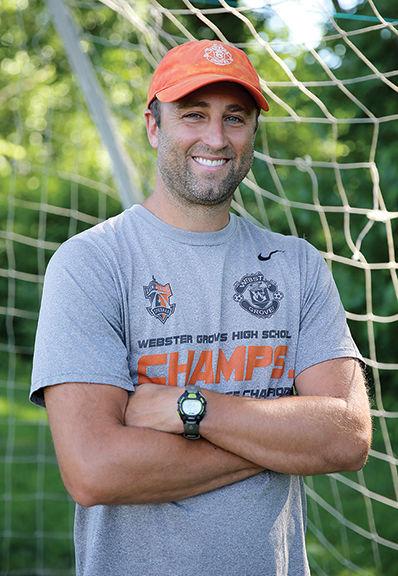 Velten, a 2001 Webster Groves High School graduate who was a three-sport standout in soccer, basketball and baseball, said he was ready to take over as head coach when Cashel decided to retire from teaching and coaching at the end of the school year.
Cashel, who took his coaching skills to the St. Louis Academy Club at the Soccer Park in Fenton, was head coach for the Webster Groves High School Statesmen varsity boys soccer team for the past 17 years.
Cashel's energy, passion and enthusiasm for Webster Groves soccer led to building a soccer team with state power. In the past five seasons, Webster Groves played in three Class 3 state championship games, winning in 2014 and 2015, and finishing second in 2018.
"He embodied Webster soccer for the last 20 years," Velten said. "We still talk. We're friends. He's still a mentor. He wants us to succeed."
Though some may view Velten as subdued compared to Cashel, the new coach assures he is just as passionate about the team and his players.
"I may appear to be laid back, but I am an intense person and am just as competitive," Velten said. "If the players aren't performing up to their capabilities, I will let them know. I want to win just as bad. I am a well-rounded coach."
Velten was Cashel's top assistant for the previous five seasons. He also helped as a volunteer coach while he played defense for four different professional teams from 2007-2010.
Velten was also an assistant boys basketball coach for the Statesmen under now-retired head coach Jay Blossom during the past five years, which includes being the head junior varsity coach last season.
"I loved every minute at Roberts Gym," Velten said of his time coaching Statesmen basketball.
He had planned to remain as an assistant coach under first-year basketball coach Justin Mathes, but recently stepped down to solely focus on his new job as head coach for the Statesmen soccer team.
Velten, 35, said he's had chances to become a head coach elsewhere, but his love for the Webster Statesmen kept him there while he waited for an opportunity at his alma mater.
Velten's top coaching assistant will be Brennan Wells, who was a former assistant coach at Kirkwood High School under former coach Chris Steinmetz.
"He's a great mentor for the game and has great relationships with the players," Velten said of Wells.
Velten's other assistants will include Cashel's son Sam, who is a 2016 Webster Groves High graduate, and Matt Hearty. Brad Jordan will lead the freshman squad and Doug Bambini will help coach the junior varsity team and run the feeder program, the Webster Groves Soccer Club.
"I always told him (Cashel) that I was happy in my role as an assistant," Velten said. "When he was ready to step down, I was ready to step up."
Velten inherits a state championship-caliber team. He said he doesn't feel pressure to maintain Webster Groves' winning tradition and success because at Webster Groves, "the Statesmen reload, not rebuild."
"It should be another exciting year for Statesmen soccer," Velten said.