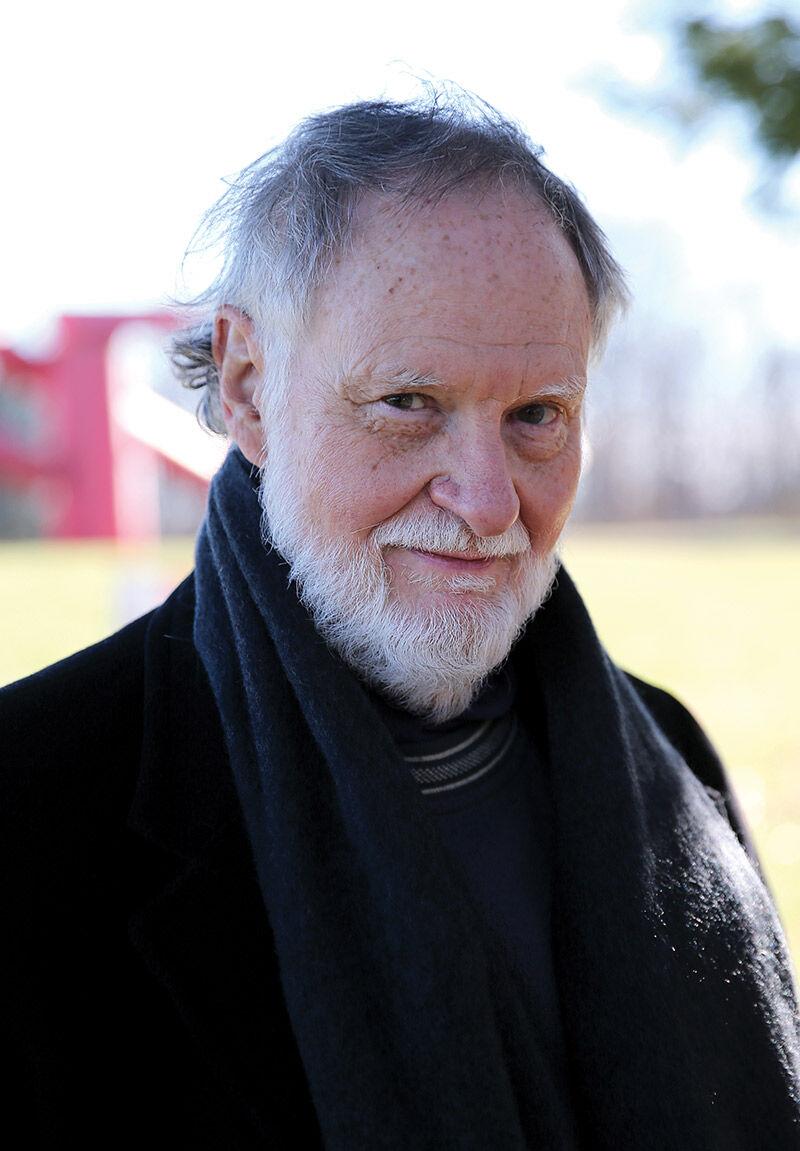 For those worried they are  being left behind in a world of interactive media and augmented reality, well, worry no more. Laumeier Sculpture Park is ready to present an easy way to understand alternate timelines and parallel worlds with a new digital art exhibit.
The digital art exhibit, "Time Fork," comes to Laumeier courtesy of Kirkwood resident Van McElwee, a longtime multimedia artist and professor of electronic and photographic media at Webster University. McElwee's work is expansive, and it actually required a 3D drone to map the Laumeier landscape. 
"Time Fork" can be experienced as a self-guided walking tour of Laumeier Sculpture Park through the lens of augmented reality.  Visitors can navigate the natural expanse of Laumeier while simultaneously experiencing a digital world from artist McElwee's imagination.
"A Kranzberg Exhibition Grant allowed me to hire people who could actually make this all happen," said McElwee. "I designed the structures and the space that make up the installation. A professional animator then built computer models that became architectural forms. 
"A 3D drone mapper photographed the terrain of the park," McElwee continued. "The company, Rampant Interactive, designed the amazing 'Time Fork App' that makes what I call 'World B' appear in augmented reality. We have all been testing the limits of the medium to do a virtual artwork on a large scale."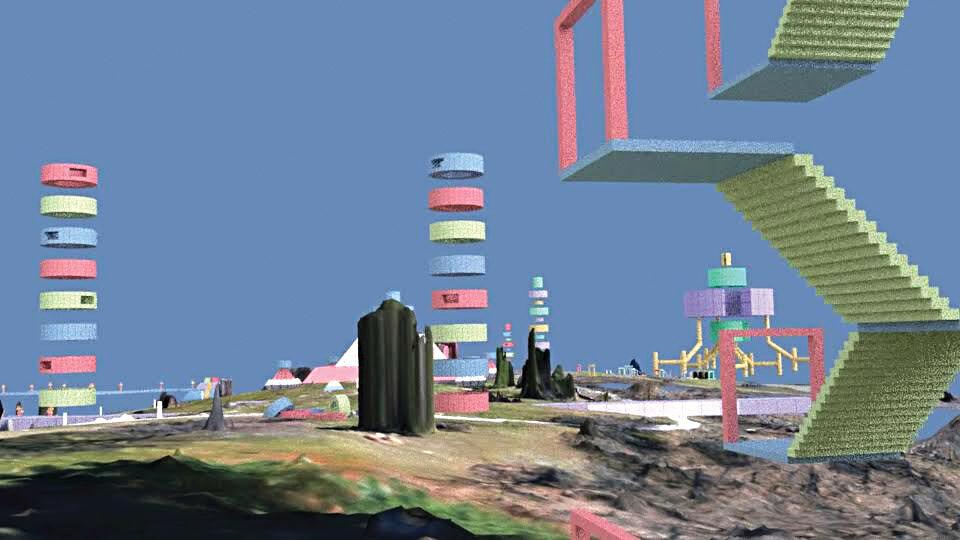 To view the virtual artwork, visitors download the free Time Fork app to their smart phones or tablets, and then follow four signs at Laumeier where the experience can be deployed. The first one is just behind the Kranzberg Education Center.
Visitors' mobile screens allow them to peer into an alternate world, to see structures that could be under construction or in ruin. The features of "World B" appear as self-luminous, abstract sculptures. Visitors become archaeologists of a parallel world passing through walls, tunnels and towers.
A Playful Fiction
McElwee's "Time Fork" is premised on the playful fiction that time forked or branched off to create a parallel world about a thousand years ago. His so-called "World B" invites participants to enter augmented reality to ponder time and reality itself.
"World B" originated with a split from the common timeline around 1054 C.E, concurrent with the appearance in the sky of Super Nova 1054. This celestial event was visible worldwide and is associated with the rise of Cahokian civilization near the Mississippi River.
Among the virtual structures in "Time Fork" are a ceremonial gate, small pyramid, modular tunnel, terminal or temple, building boat landings, an industrial site and multiple doors or thresholds. Perhaps most intriguing are the towers.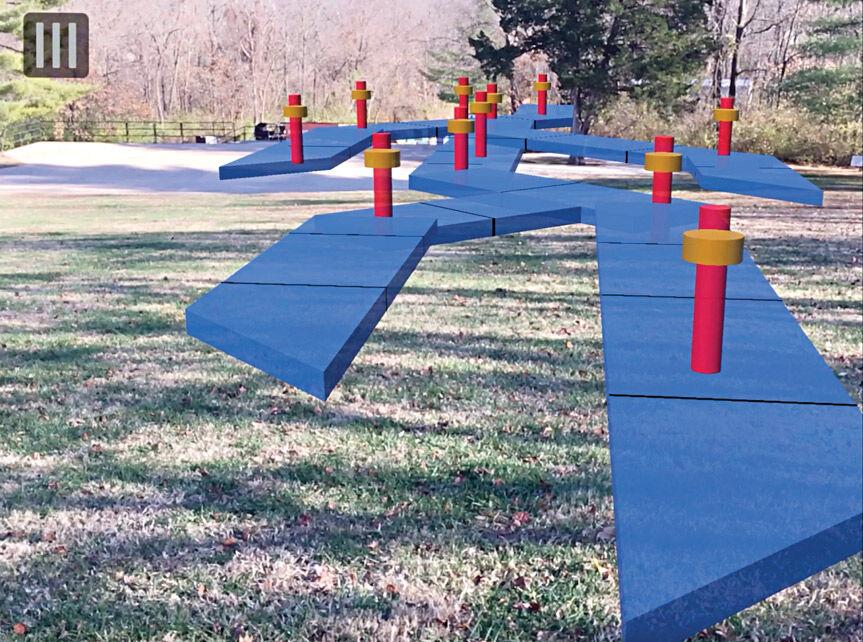 Tower windows point to previous human civilizations such as Cahokia Mounds, 26 miles away in Illinois; Winterville Mounds, 418 miles away in Mississippi; and Teotihuacan, located 1,700 miles from Laumeier in the country of Mexico. Scientists still debate why these older civilizations disappeared. 
"There are a lot of unanswered questions," said McElwee. "The fact that some windows point toward Cahokia, Winterville Mounds and Teotihuacan suggests that those sites have corollaries in 'World B,' that there are similarities between the worlds. 
 "The towers may have a religious or ritual function," continued McElwee. "They call to mind the large poles or obelisks that once topped numerous Mississippian mounds. Alternately,  they could be defensive towers or communication devices. Windows point to the mounds. Other windows open to unknown sites that have no correlation in our world."
A Parallel World
According to Laumeier Sculpture Park Curator Dana Turkovic, McElwee's project takes the idea of touring the park to another conceptual level. 
"Laumeier is so excited to present
this groundbreaking interactive project," said Turkovic. "It allows visitors to take a solo journey using their own devices to explore a parallel world built to excite curiosity and wonder." 
The outdoor exhibition will run through May 2021 and is free and open daily from 8 a.m. until 30 minutes past sunset. 
"Time Fork" is one component of Laumeier's thematic exploration of "The Future is Present: Art & Global Change," which runs through the late spring of 2021. The initiative will emphasize the urgency of topics ranging from deforestation and astronomical phenomena to tech waste. 
Artists will bring perspectives from across the planet, and use video, sound, virtual/augmented reality and "up-cycled materials" to address the global change theme. 
Because of closing the Aronson Fine Arts Center due to COVID-19, the larger exhibition has had to be rescheduled for this spring. McElwee's piece exists outside and can be experienced in a socially-distanced way, so the park opened his portion of the group exhibition as scheduled. 
McElwee's electronic and video exhibitions have found audiences in London, Vienna, Shanghai, Tokyo, Seoul and other world capitals. His awards include a Guggenheim Memorial Foundation Fellowship, St. Louis Regional Arts Commission Artist Fellowship, The American Film Institute Independent Filmmaker Award and more.
As a longtime media professor at Webster University, McElwee regrets what the pandemic of 2020 has done to face-to-face interaction with students and use of the traditional classroom setting.
"We've had a taste of interacting with others virtually and most of us don't like it," said McElwee of interacting on virtual platforms such as Zoom. "But as the medium evolves, I think it will always be a part of our lives now." 
"For better or worse, we will continue to explore virtual worlds," added McElwee. "This may illustrate one of media guru Marshall McLuhan's darker theories: He believed that each new technology extends our reach while it 'amputates' another inherent ability. Something's gained, but something's lost."