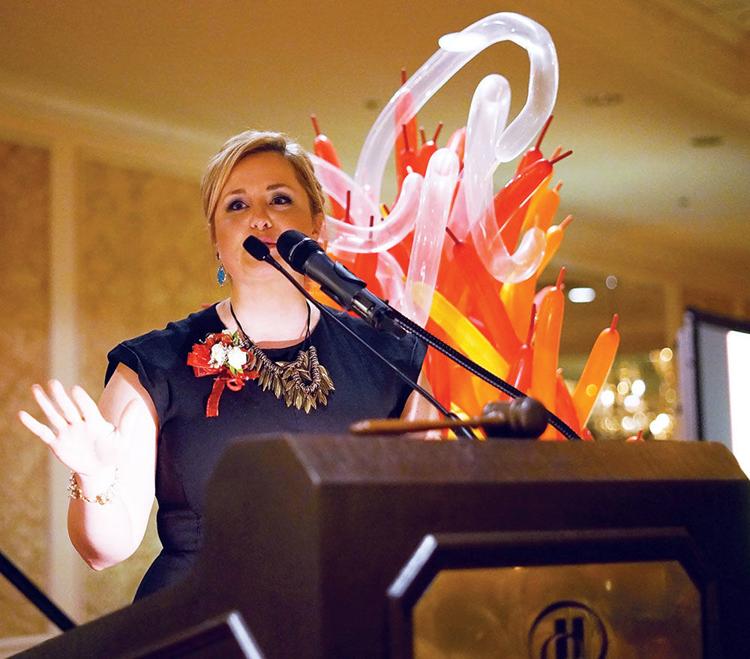 The Kirkwood-Des Peres Area Chamber of Commerce held its 73rd Annual Installation and Awards Gala on Feb. 1 at the Hilton St. Louis Frontenac. The annual event honors a top citizen, businessperson and several awards for community service.
Businessperson of the Year
Lydia Gwin
Lydia Gwin started as a waitress when Bravo opened its West County location some 10 years ago. She worked her way through the ranks as banquet coordinator, corporate trainer and, as of two years ago, was promoted to the restaurant's general manager.
Lovingly known as "mom" by her staff, Gwin is not only a manager, but is a chef and a mentor to many. She has appeared on numerous TV cooking segments on local stations. She also is known for her creativity in developing cocktails and drinks for the Bravo national stores.
But Gwin's contributions are not limited to the culinary arts. She contributes to many charitable events, including as a Crises Nursery Celebrity Server. She is active in her Glendale community, where she serves as vice president of the North Glendale PTO.
Gwin is also an award-winning short filmmaker, highly recognized by the Broadcast Education Association National Festival of Media Arts, and the Missouri Broadcast Association. She has had showings in the St. Louis Filmmakers Showcase Festival, Show-Me Missouri International Film Festival, and the Damah Film Festival in California.
Of all her accomplishments, Gwin said she is most proud of being the mother of two children, Miles, 7, and Piper, 4.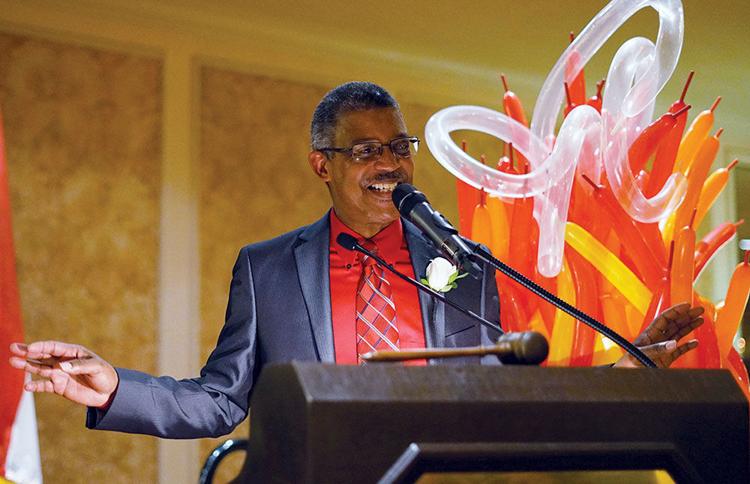 Commitment to Community Award
Alvin Reid
Alvin A. Reid is no stranger to community service. He said he is inspired by his mother, Erma Reid. Erma is described as "a pillar in the Kirkwood community" and is a past recipient of the chamber's Lifetime Achievement Award.
Reid is a weekly panelist on KETC-PBS' most-popular local TV show, "Donnybrook" and "Your Turn." He also sits in as "provocateur" for host Charlie Brennan when needed.
Reid has been active in the community, serving as chair of the 2016 Kirkwood Greentree Festival. He remains a member of the Greentree Committee. Reid served as president of the Kirkwood School District Foundation Board in 2014 and was a board member for six years.
Reid was honored as the 2017 "Best Sports Columnist – Weeklies" in the Missouri Press Association's Better Newspaper Contest. He also received this recognition in 2004 and 1999.
During his 12-year tenure as city editor of the St. Louis American, the newspaper was voted the nation's best African-American newspaper six times and also became one of Missouri's most honored weekly newspapers.
Reid is a former co-host of the interview/discussion show "In the Loop" on KETC. The show was honored with a regional Emmy Award in October 2002. He also co-authored the book, "Whitey's Boys: A Celebration of the 1982 World Champion St. Louis Cardinals."
Alvin Reid and his wife, Carmen, have been married 35 years and have two daughters. Bryson is an honor student in her sophomore year at Dominican University in Chicago, and Blaine is a senior at Kirkwood High School and National Honor Society member.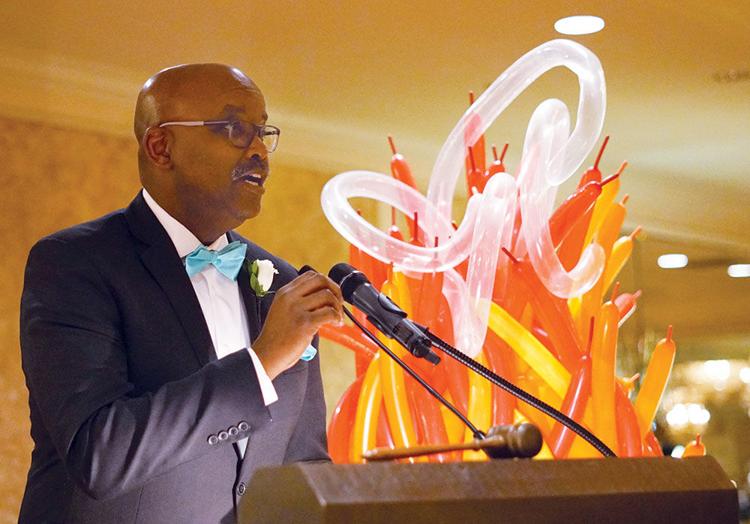 Citizen of the Year
Hardy Washington, Jr.
Hardy Washington, Jr., is a 29-year agent with State Farm Insurance. Washington's resumé of community service is extensive. He serves on the board of directors of The Scholarship Foundation of St. Louis, served on the board of trustees for John Burroughs School, and served as chairman and was on the board of directors for the Kirkwood–Des Peres Area Chamber of Commerce.
Washington was on the board of directors for the Rotary Club of Kirkwood, chaired and was on the board of directors for the Kirkwood Family YMCA, and is currently on the Metro Board of Directors for the Gateway Region YMCA.
He sits on the board of directors for Manor Grove Senior Care, is a church deacon board member at First Baptist Church, and is on the bord of directors at St. Luke's Des Peres Hospital.
He supports numerous local schools, both at the academic and sports levels. Married for 30 years to Carol, the couple have two children, Brandon and Brittany.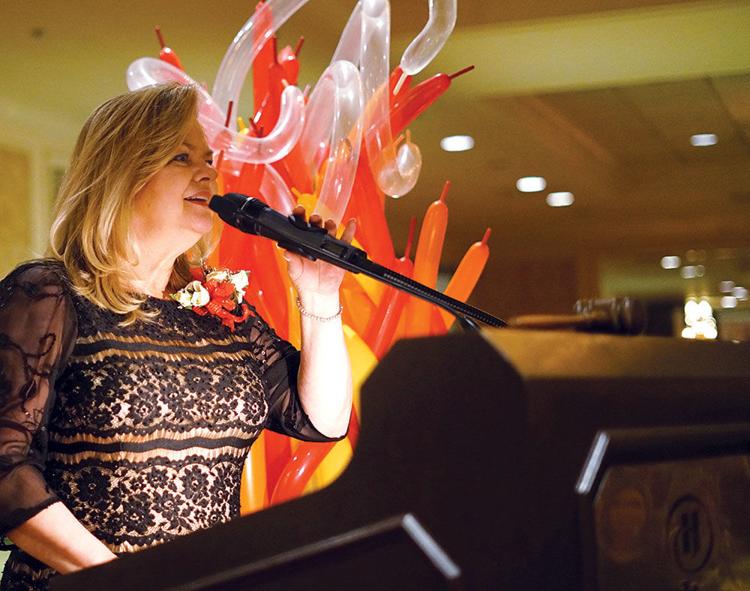 Volunteer of the Year
Lorilee Cummings
Lorilee Cummings is a realtor for Keller Williams Realty St. Louis, and is well known for serving clients to the fullest extent.
Though she graduated from Webster Groves High School, Cummings is described as "an active and essential member of the Kirkwood-Des Peres Area Chamber of Commerce. She has contributed her talents to several chamber committees.
Cumming is married to husband, Bill, is a Certified Senior Real Estate Specialist and a graduate of Missouri State University.
Lorilee Cummings recently established and currently leads the chamber Women's Entrepreneurial Group.
Information on award recipients supplied by the Kirkwood-Des Peres Area Chamber of Commerce. Photos provided by Chris Nelson of KMD Technologies & John Nelson of Virtual Dominion.