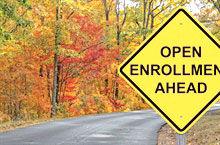 Whether you're new to Medicare, getting ready to turn 65, or preparing to retire, there are several  important decisions to be made about health coverage. Waiting to enroll may result in paying a penalty, and may leave a gap in coverage.
Use these steps to gather information to make informed decisions about Medicare:
Step 1: Learn about the different parts of Medicare
The different parts of Medicare help cover specific services. Medicare Part A (hospital insurance) covers inpatient hospital stays, care in a skilled nursing facility, hospice care and some home health care. Medicare Part B (medical insurance) covers certain doctors' services, outpatient care, medical supplies and preventive services.
Step 2: Find out when you can get Medicare
There are only certain times when people can enroll in Medicare. Depending on the situation, some people may get Medicare automatically, and others need to apply for Medicare. The first time you can enroll is called the Initial Enrollment Period. The seven-month Initial Enrollment Period usually:
• Begins three months before the month you turn 65;
• Includes the month you turn 65;
• Ends 3 months after the month you turn 65.
For those who don't enroll when they are first eligible, they may have to pay a Part B late enrollment penalty, and there may be a gap in coverage if you decide you want Part B later.
Step 3: Decide if you want Part A & Part B
Most people should enroll in Part A when they turn 65, even if they have health insurance from an employer. This is because most people paid Medicare taxes while they worked so they don't pay a monthly premium for Part A. Certain people may choose to delay Part B. In most cases, it depends on the type of health coverage you may have. Everyone pays a monthly premium for Part B. The premium varies depending on income and when you enroll in Part B. Most people will pay the standard premium amount of $135 (in 2019).
It's important to stay abreast of changes that happen from year-to-year with Medicare, so that you can make informed decisions about the coverage that works for you during Open Enrollment, which begins in October every year.
Article courtesy of St. Louis Oasis