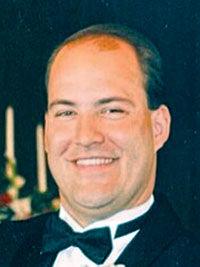 Poholsky II, Thomas George, age 54, passed away Wed. Oct 6, 2021. Born in Kirkwood, Missouri, he was the first child of Tom  and Dory Poholsky. 
He graduated from Kirkwood High School in 1985, where he was honored by the students, staff, and teachers as one of three outstanding graduating seniors. He loved playing his tenor saxophone in the KHS Jazz Band. He was the KHS football quarterback. 
He received a football scholarship to the University of Iowa, where he played quarterback for the Hawkeyes. The University of Iowa scheduled Tom for speaking engagements representing the university at various clubs and organizations across the state of Iowa. 
Tom graduated with a degree in business and master's in finance. He worked for several national medical supply companies supplying products worldwide. Through the course of his professional career, he lived in San Diego, Chicago, Atlanta, Dallas, Kansas City, and finally Evergreen, Colorado. 
After meeting Jennifer in San Diego, he proposed to her on bended knee in front of 6,000 people after Jennifer received her diploma from San Diego State University. They have been blessed with two children, Tom Poholsky III and Olivia Elaine. 
Tom was a strong Christian, attending Rockland Community Church in Golden, Colorado — he lived his faith. He was the Tight End/Wide Receiver coach for son Tommy's Evergreen High School football team, earning the respect and love of staff and players. Over the past 15 years in Evergreen, Tom served his community, passed on his love of sports, and was a champion for kids as a coach of youth baseball and football. He served as President of the Mountain Youth Football Association. He ensured the kids had every opportunity to participate in team sports and understand the value and lessons that come from it. 
He was a huge fan of the sports he coached, including his kids' basketball, soccer, and lacrosse teams, and was a faithful Hawkeye fan. 
Tom was a natural leader, loyal friend, loving husband and father, and a true gentleman. A recurring comment by many was that he was "always ready to be your friend and provide help when in need." 
He is survived by his wife Jennifer; children Tommy and Olivia; his mother, Dory Poholsky; brother Scott and his wife Terri of Dallas, Texas; brother Mike and wife Marsha of Lawrence, Kansas; brother Timothy of Kansas City, Missouri; and numerous aunts, uncles, nieces, nephews, cousins, loving in-laws, and many long-time friends. He was preceded in death by his father, Tom Poholsky Sr.; and his lovable, devoted buddy, Howie — his St. Bernard. 
A memorial service will be held at the Kirkwood United Methodist Church on Saturday, Nov. 13, 2021, at 11 a.m., with reception following with location TBD.