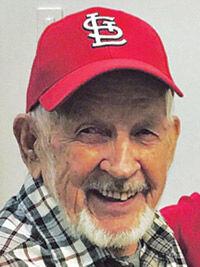 Brennan, Thomas G. Jr., 97, of Kirkwood, passed away Thursday, Dec. 10, 2020. He was a son, brother, father, uncle, grandfather, great-grandfather, friend.
Born Aug. 27, 1923 as one of 12 siblings, he grew up in North St. Louis during the Great Depression. He served in the Navy during WWII as an Aviation Metalsmith stationed in North Africa.  He came home and married Betty Jane Sum. They raised five kids in a house he built in Kirkwood.  Working as a carpenter, he later started his own business. After a divorce he married Pat Rodgers Brennan.
As he got older, when asked how he was doing, his answer was always, "I'm gettin' away with it."  Never a complaint, always positive. Always that killer smile.  He once said his secret was, "You have to have fun.  And sometimes get in a little trouble."  Getting away with it, indeed.
But it was more than that if you observed how he lived most of his life: he never coveted possessions; he didn't have any hate in his heart; he lived within his means; his body was always in motion; he gave of his time generously; he got out of the rat race as fast as he could with just enough money to be comfortable; he always had a network of friends; and he did what made him happy, even if it was just hanging out down by the river.  And it goes without saying, his cooler was always stocked, and everyone at some point had a soda, beer, BBQ, or bologna sandwich on him. His generosity to strangers was remarkable.
He was always surrounded by family.  The familiar knock on the door timed just right for dinner, countless games of Wiffle Ball, holidays, birthdays, sporting events, graduations, camping trips and sleep-overs. He was a constant in so many lives, and his extensive friendships kept him busy traveling the country like a rolling stone to see scattered siblings and relatives.  He was too modest to call these traditions, but his selfless behavior created life-lessons about belonging, comfort, a strong work-ethic, being present and not taking things for granted. But he didn't take life too seriously. He was well-known around Kirkwood for many years as the old guy with the blue pick-up truck with a plastic woodpecker fastened to the side. He was also well known at Central Hardware, George Winter Park, Shop & Save, County Brake, and his last residence, Kirkwood House. He could get away with it.
At 92, he participated in the Greater St. Louis Honor Flight with his son, Tom III. Like many men and women of The Greatest Generation, he didn't think he deserved it, believing that those who saw combat were more worthy of such praise. It was important to his family to see him visit the WWII Memorial built to honor his service and the thousands of other veterans who sacrificed for their country. One look at his face after arriving back in St. Louis to much fanfare and you knew his life was enriched by the experience.
We can all take a page from that playbook. The man we thought would live forever will, in all the amazing memories and stories he gave us, regardless of whether he was your brother, father, uncle, grandfather, great-grandfather or friend.  Cheers to you, Tom Brennan, with a cold one in a frosty mug.  Its why we will still keep one in the freezer.
He was preceded in death by his wife Pat Brennan, and survived by sons Terry Brennan (Nancy), Chris Brennan (Karen), and Tom Brennan III (Anne); daughters Vicky Nauman (Mark), and Carol Newton (Gary); 10 grandchildren; 22 great-grandchildren; brother Dennis Brennan; sisters Peggy Phillips, Madeleine Brennan, and Ellen Dwyer; and many nieces and nephews.
A private memorial service at Jefferson Barracks National Cemetery will be held at a later date.